SHIPPING POLICY
Try our new Shipping Calculator!
If you have something in your cart, our Shipping Calculator will tell you the exact day you will receive your package.
Works for US zip codes only
When will your order ship?
All expedited orders (overnight, 2nd day, 3rd day) ship the same day if received before 2:30PM EST on a business day.
Non-expedited orders generally ship the same day too, but could ship the next day, depending on order volumes.
Orders received after 2:30PM EST on Friday and weekend orders ship on Monday. We do not ship on Holidays.
When will you receive your order?
Below are the shipping guidelines from UPS and USPS.
UPS OVERNIGHT is delivered the next business day, if your order is placed before 2:30PM EST. Friday OVERNIGHT orders are delivered on Monday and do not include holidays.
UPS 2nd DAY and 3rd DAY are guaranteed, but they do not include Sat, Sun or Holiday deliveries. Start counting days the day AFTER you receive your tracking number. Thus, a 2nd DAY order placed before 2:00PM EST on a Monday is delivered on Wed, but orders received after 2:00PM EST would be delivered on Thurs.
UPS GROUND delivery times are based on your proximity to Buffalo, NY. Please see UPS shipping map below.
USPS Priority Mail delivers in 2-3 days and is trackable. Deliveries are faster if you are close to Buffalo, NY.
USPS 1st Class mail is not guaranteed and has limited tracking. Deliveries vary widely. As a guideline, allow 5-7 business days, though they sometimes take longer. Deliveries are faster if you are close to Buffalo, NY.
UPS GROUND shipping map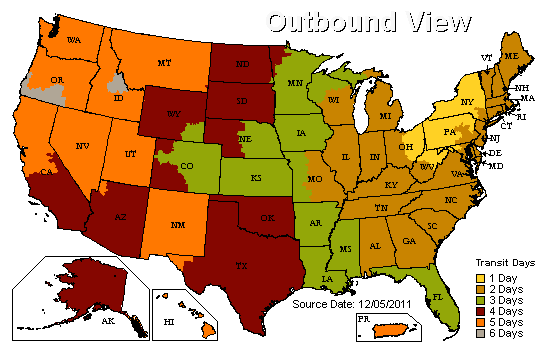 We do not ship on Sat, Sun or Holidays. Holidays include:
January 1 - New Year's Day
January - Martin Luther King Jr's Birthday
February - President's Day
May - Memorial Day
July - Independence Day
September - Labor Day
October - Columbus Day
November - Veterans Day
November - Thanksgiving Day Thursday and Friday
December 25 - Christmas Day
Please allow an extra shipping day from Dec 15 through Jan 15 due to heavy shipping volumes. Also allow an extra shipping day if there is severe weather in the Northeast or in your area of the country.
Pinewood Derby
Tips & Hints

Make your car slim. If your car is too chunky, there will be lots of weight in the wood, leaving less weight for your weights. You want lots of weight so you can move the center of gravity to the optimal point to maximize inertia.





Pinewood Derby
axles Tip

When your wheel rubs against the axle head it creates friction. To reduce this friction, file the head back slightly using an Axle File to reduce the friction area.




Pinewood Derby
building Hint

Don't attach feathers or big decorative parts that can cause drag. This will decrease your car speed



Helping Pinewood Derby Racers

...for over 15 years.
FREE Derby Help

Designing Your Car

Building Your Car

Making Your Car Fast

Finishing Touches

Pinewood Pro...

Information

Blastcar for Boy Scouts
Pinewood Pro Shipping Policy