SHIPPING POLICY
Estimated Shipping Time
When will your order ship?
All expedited orders (overnight, 2nd day, 3rd day) ship the same day if received before 2:30PM EST on a business day.
Non-expedited orders generally ship the same day too, but could ship the next day, depending on order volumes.
Orders received after 2:30PM EST on Friday and weekend orders ship on Monday. We do not ship on Holidays.
When will you receive your order?
Below are the shipping guidelines from UPS and USPS.
UPS OVERNIGHT is delivered the next business day, if your order is placed before 2:30PM EST. Friday OVERNIGHT orders are delivered on Monday and do not include holidays.
UPS 2nd DAY and 3rd DAY are guaranteed, but they do not include Sat, Sun or Holiday deliveries. Start counting days the day AFTER you receive your tracking number. Thus, a 2nd DAY order placed before 2:30PM EST on a Monday is delivered on Wed, but orders received after 2:00PM EST would be delivered on Thurs.
UPS GROUND delivery times are based on your proximity to Buffalo, NY. Please see UPS shipping map below.
USPS Priority Mail delivers in 2-4 days and is trackable. Deliveries are faster if you are close to Buffalo, NY.
USPS 1st Class mail is not guaranteed and has limited tracking. Deliveries vary widely. As a guideline, allow 5-8 business days, though they sometimes take longer. Deliveries are faster if you live close to Buffalo, NY.
UPS GROUND shipping map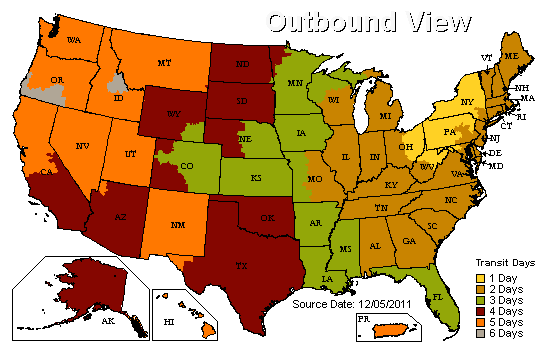 We do not ship on Sat, Sun or Holidays. Holidays include:
January 1 - New Year's Day
January - Martin Luther King Jr's Birthday
February - President's Day
May - Memorial Day
July - Independence Day
September - Labor Day
October - Columbus Day
November - Veterans Day
November - Thanksgiving Day Thursday and Friday
December 25 - Christmas Day
Please allow an extra shipping day from Dec 15 through Jan 15 due to heavy shipping volumes. Also allow an extra shipping day if there is severe weather in the Northeast or in your area of the country.
RETURNS POLICY
Unused items may be returned within 60 days of purchase.
Carefully repackage the item and be sure to include a note explaining why you are returning the item so we know if it is a simple return for credit, if there was a product defect or some other reason. Include the packing slip or your order number so we can trace your order to issue credit.

Ship to this address:
Pinewood Pro - RETURNS
10 Highwood Pl
Trumbull, CT 06611


Questions? Call 203-400-3713
Pinewood Derby
Tips & Hints

Spin each wheel on a polished axle with graphite and count the number of revolutions. If a wheel wobbles, try spinning it again. If it still wobbles, get another wheel that does not wobble.





Pinewood Derby
axles Tip

Just like the pistons in an engine block, you want your axles to be tight fitting in the wheel bore, to reduce wheel wobble. If your Rules allow, use one of our slightly oversized Speed Axle or PRO Super Speed Axle.




Pinewood Derby
weights Hint

Lead is denser than zinc but lead is toxic, so we do not recommend handling it. Use non-toxic weights like zinc or tungsten.



Helping Pinewood Derby Racers

...for over 15 years.
FREE Derby Help

Designing Your Car

Building Your Car

Making Your Car Fast

Finishing Touches

Pinewood Pro...

Information

Blastcar for Boy Scouts
Pinewood Pro Shipping Policy