Green Hornet Pinewood Derby Car Design Plan
The Green Hornet car is modeled to look like the Green Hornet movie car. While we can't make a replica, this car gives you the look and feel of the Green Hornet. We encouraged you to experiment with the car and send us pictures of for our picture gallery
Build the Pinewood Derby Green Hornet Car!
(Full Car Design Template Included)

Build the Green Hornet Pinewood Derby car with our easy step-by-step instructions, fully illustrated with 3D AutoCAD images that show each cut, along with weight placement, building hints, tips and painting guide.


The cut-out template guide your saw so you can't make a mistake.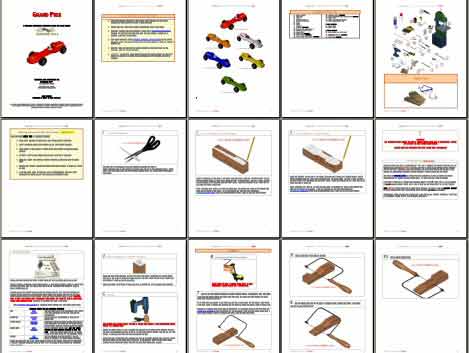 We even show your car in 6 different colors, plus give you a 360 degree animation of the final car so you can view it from all angles!
Download the Green Hornet direct to your computer in seconds to view on your screen and save to your computer.


Our 3D pinewood derby car designs are the best on the market,guaranteed!


Pinewood Derby
Tips & Hints

The stock BSA "nails" that come in your kit are mass produced. These nails have burrs, crimp marks and can also be crooked, all of which severely limits your car speed. An Axle Polishing Kit and Axle File are essential to fix your axles and increase your car speed.





Pinewood Derby
lubes Tip

Our PRO Graphite, with molybdenum disulfide, is a proven winner. Our Track Tests show an average speed increase of 17%.




Pinewood Derby
building Hint

Be sure any decorative parts are super glued into place! If you lose a piece off your car it will affect the weight of the car, resulting in loss of inertia, decreasing your speed.



Helping Pinewood Derby Racers

...for over 15 years.
FREE Derby Help

Designing Your Car

Building Your Car

Making Your Car Fast

Finishing Touches

Pinewood Pro...

Information

Blastcar for Boy Scouts
The Hornet Car Design Plan