Green Hornet Pinewood Derby Car Design Plan
The Green Hornet car is modeled to look like the Green Hornet movie car. While we can't make a replica, this car gives you the look and feel of the Green Hornet. We encouraged you to experiment with the car and send us pictures of for our picture gallery
Build the Pinewood Derby Green Hornet Car!
(Full Car Design Template Included)

Build the Green Hornet Pinewood Derby car with our easy step-by-step instructions, fully illustrated with 3D AutoCAD images that show each cut, along with weight placement, building hints, tips and painting guide.


The cut-out template guide your saw so you can't make a mistake.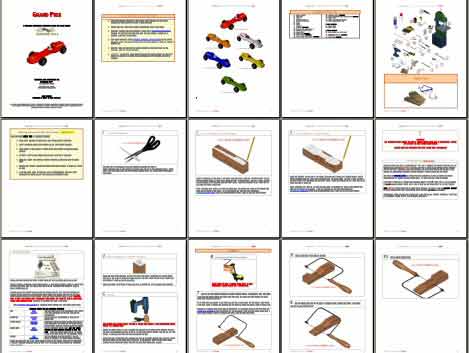 We even show your car in 6 different colors, plus give you a 360 degree animation of the final car so you can view it from all angles!
Download the Green Hornet direct to your computer in seconds to view on your screen and save to your computer.


Our 3D pinewood derby car designs are the best on the market,guaranteed!


Pinewood Derby
Tips & Hints

Lead is denser than zinc but lead is toxic, so we do not recommend handling it. Use non-toxic weights like zinc or tungsten.





Pinewood Derby
lubes Tip

Our PRO Graphite, with molybdenum disulfide, is a proven winner. Our Track Tests show an average speed increase of 17%.




Pinewood Derby
painting Hint

When painting with children, it is better to use a paint brush rather than spray paint because spray paint can cause vapors. If the child is spray painting, be sure to use a breathing mask and be in an open area.



Helping Pinewood Derby Racers

...for over 15 years.
FREE Derby Help

Designing Your Car

Building Your Car

Making Your Car Fast

Finishing Touches

Pinewood Pro...

Information

Blastcar for Boy Scouts
The Hornet Car Design Plan