How to Exchange Links
Pinewood Pro wants to link with your pinewood derby site!
Just add our link to your site using one of the descriptions below.
Then fill out our form so we can create a link for you.
It's as easy as that!
Select one of the following, then cut and paste into your website.
Pinewood Derby Cars and Winning Secrets - Build a winning pinewood derby car with our design plans, polished axles, lathed wheels plus full line of speed products and free guides. Exclusive pinewood derby videos, eBooks and picture gallery.
Or if you prefer a shorter version...
Pinewood Pro - Your complete source for pinewood derby car design plans, speed axles, wheels and guides, plus free tips, car idea guide, Derby Racer's license, award certificates and more!
Or if you prefer a one-liner version...
Pinewood Pro - Derby Car Experts
Car designs, polished axles, speed wheels, Winning Secrets, videos plus free tips and guides!
Add the Pinewood Pro logo to spice up your links page...just right click and select "save as"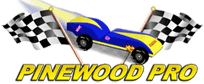 HTML code - Just copy and paste...
If you want HTML code, You may copy and paste this into your page...
<B><a href="http://www.pinewoodpro.com/">Pinewood Derby Cars and Winning Secrets </a></B> - pinewood derby car design plans, speed axles and wheels, eBooks, videos, picture gallery, free guides and full line of pinewood derby supplies.
Next, give us your information and click Submit.
FREE Derby Help

Designing Your Car

Building Your Car

Making Your Car Fast

Finishing Touches

Pinewood Pro...

Information
Didn't lose a race all day! Key was... PRO Speed Axles and Wheels.

Randy





Smoked everybody in our class!!
from GRAND PRIX Winner
A big thanks to all the folks at Pinewood Pro!! This was a great night, my car (daughters car) took first place in speed.





Thanks for the tips in the books. This was my 7 year old son's first Pinewood Derby race and I would have paid 100 times the price just to see the expression on his face when he took first place. Your information was invaluable!
Fred & Vincent




1st year, 2nd Place Finish!
Mikey from Miami
My six year old was second in his Pack, being beat only by an older cub scout (the son of a "real" rocket scientist !





Once we ordered your tips and tricks we won 1st place every year since.
Thank You so much for this information and making my son's pinewood derby career a success.
- Keith





First Place Derby Car
from Utah
My son's car easily won 1st place w/ a decent margin over the next fastest car. These tips, along w/ the purchased items were the secret to winning.







My daughter won 1st place, and my son won 3rd place. It was very fun and hope to do again next year. Thanks for your great information,
- Barry





Wow, we did it! Dad, I'll never forget this night.
Steven Gargiulo Trumbull, CT




Winner!
JF from California
My son was so happy. He was second overall for the pack and only lost by a photo finish in the finals.





We won! In the championships we beat 24 other Bears and won every heat.
Kevin K.




You people offer the very finest support and equipment for Pinewood derby cars on the planet! We went undefeated for the second year in a row. Cheers!
- Wayne





Awesome!
Sarah from Syracuse, UT
Our son had THE fastest car out there... and he won the entire pinewood derby! Will be back again next year!