Pinewood Derby Authority
Pinewood Pro is a leading pinewood derby supplier
Welcome to Pinewood Pro,
the pinewood derby experts since 1999!
Why do we consider ourselves experts, or a pinewood derby authority?
Well, we are proud to have helped so many people and proud to have supported, and donated to, the pinewood derby community for over 10 years that we humbly consider ourselves an authority.
But you can be the judge of that as you scan our accomplishments, read our customer reviews, donations, our picture gallery and view some of our 1000's of pinewood derby winners over the past 12+ years.
And we would love to hear from you with your comments, feedback or suggestions...God Bless and Happy Racing!
We wrote the book!

Winning Pinewood Derby Secrets was released in 1999 and has helped thousands learn how to build a car and make it fast.
Check out some of our winners and read some of over 40 customer reviews!
We are Scouts
I built my first pinewood derby car with my Dad in 1966. When my son joined scouts in 1995, I volunteered to lead the pinewood derby for his Pack and we've been actively involved with the cub scouts and boy scouts ever since.
Products Designed by Engineers
As an engineer, I take my work very seriously. I don't claim to be perfect, but I've worked hard to design the best products I can.
Many of my products were invented by me or my fellow engineers such as my PRO Super Speed Axles, Graphite-coated Axles, and Graphite-coated Wheels.
track tested for speed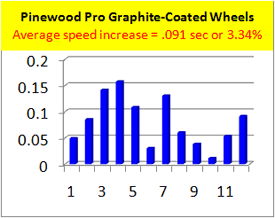 All of our products have been track-tested to prove that they are fast.
3D Car Design plans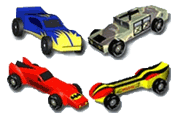 Pinewood Pro offers the only 3D Car Design Plans, that feature 3D AutoCAD images so you can see your car taking shape step-by-step.
We even animate your car in 360 degress so you can see it from all angles. You won't find anything better, or cooler.
Proven Results
Don't take our word for it, read what others say, and check out our Picture Gallery.
Over 500 Product Reviews
We do our best to make the best products, offered at a fair price.... read our Customer Reviews.
We Give Back
We are happy to have donated part of our profits back to the Cub Scouts and Boy Scouts every year since we started Pinewood Pro in 1999.
In addition, we continue to volunteer for pinewood derby fund raiser events or simply help support our local Packs.
Pinewood Pro is also proud to donate back to our Military, help with disaster relief along with other organizations such as the MS Society and American Cancer Society.
Exclusive Seller of Don Murphy's (inventor of Pinewood Derby) book
Pinewood Pro is the exclusive seller of the book written by the inventor of Pinewood Derby, Don Murphy.
Please pick up a copy of Pinewood! The Story of the Pinewood Derby to support pinewood derby racing and honor the founder.
Pinewood Pro donates all proceeds back and is happy to honor the inventor of pinewood derby racing.
Exclusive Interview with Donn Murphy

Joe Gargiulo interviews Donn Murphy, son of the inventor.
In this exclusive interview, Donn talks about his father, the Cub Master of Pack 280c and how he invented the Pinewood Derby in 1953.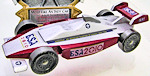 Pinewood Pro is the proud sponsor of the Pinewood Derby Museum in El Segundo, CA, which opened in April 2011. The museum features the only known car that raced in the very first race at the Scout House in Manhattan Beach in 1953.
There are four displays of memorabilia, one of which contains a Pinewood Pro Indy F1 racer, honoring 100 years of scouting.
Pinewood Derby
Tips & Hints

Lead is denser than zinc but lead is toxic, so we do not recommend handling it. Use non-toxic weights like zinc or tungsten.





Pinewood Derby
lubes Tip

Our PRO Graphite, with molybdenum disulfide, is a proven winner. Our Track Tests show an average speed increase of 17%.




Pinewood Derby
painting Hint

Put a clear Gloss Paint Sealer on your car to protect your cool paint job from dirt and graphite smudges.



Helping Pinewood Derby Racers

...for over 15 years.
After 4 years of not winning, we finally did it!! Your book truly worked!!
- Wayne from CA





Thank you for your help, my grandson took first place in his pinewood derby race!
- Grandpa Jim from PA





My son peter took first place with his car. Thanks for your products,
- Tony from TX




FREE Derby Help

Designing Your Car

Building Your Car

Making Your Car Fast

Finishing Touches

Pinewood Pro...

Information

Blastcar for Boy Scouts
Thank you for all of the information. We had fun making the car! We're going on to the Regionals, as our car to 1st place in our den!
- Lou from IN

We got a "Most Realistic" for the Humvee and an 4th place with the "wedge." You would have thought my seven-year-old twin grandsons had won college scholarships! I was a hero. Thanks, again. I'll probably be back next year, Lord willing.
- Mike from KS
Pinewood Derby Authority