Army Truck Pinewood Derby Car Design Plan
Pinewood Derby Army Truck Design Plan
The Army Truck Pinewood Derby is an easy and cool car design. Each plan includes cut-out template patterns so you can make a mistake.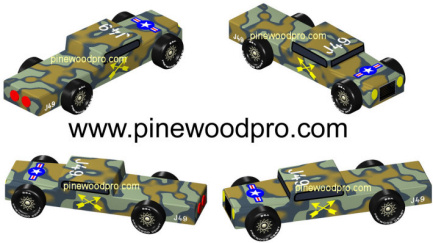 Each of our car plans include step-by-step 3D images so you can see the car taking shape with each cut.

Each car design plan is over 30 pages.

Plan includes building hints, tips, how to place weights for speed, painting ideas, tools list and links for help to everything you need.

Take a peek inside...Below are some sample pages from one of our car design plans: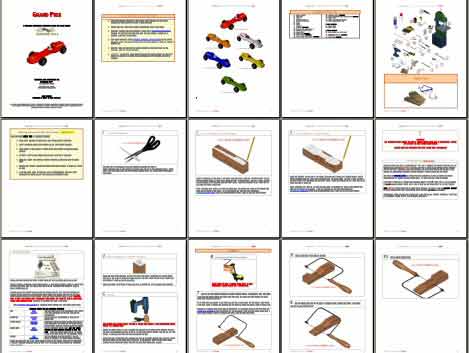 Plus, we even animate your car so you can see it rotating 360 degrees!
only $4.95
Pinewood Derby
Tips & Hints

Tungsten Putty is ideal for getting your car up to the maximum 5 oz limit. Drill a hole in the bottom of your car and insert Pinewood Pro Putty as the last step to bring your car to 5.0 oz. If the official scale weighs you in at 5.1 oz, simply remove a small amount of putty to bring it back to 5.0 oz.





Pinewood Derby
lubes Tip

When lubing your wheels and axles, shoot graphite powder into the wheel bore, spin your wheels, and repeat. Do this over newspaper in your garage or outside the house.




Pinewood Derby
painting Hint

Put a clear Gloss Paint Sealer on your car to protect your cool paint job from dirt and graphite smudges.



Helping Pinewood Derby Racers

...for over 15 years.
My son placed 1st place in the St. David's Cup.
- Wayne





Thank you for the great service. I will be coming back to purchase fo my grandson's pinewood derby. Thanks again, it's been great doing business with Pinewood Pro. Blessings to you and your staff.
- Jim from IL





My son won the entire event, even against the older scouts. Thanks
- Rodd




FREE Derby Help

Designing Your Car

Building Your Car

Making Your Car Fast

Finishing Touches

Pinewood Pro...

Information

Blastcar for Boy Scouts
Thanks to your detailed instructions, speed tips and parts, we won 1st place! Thanks so much.
- Joe from ME

This was my 7 year old son's first Pinewood Derby and I would have paid 100 times the price just to see the expression on his face when he took first! Your information was invaluable!
Fred & Vincent

Using the tips on your website, Daniel's car won every race for his den, and won the district races. It seemed that his car got faster with every run. We have memories that will last.
- David
Pinewood Derby Design - Army Truck