Army Truck Pinewood Derby Car Design Plan
Pinewood Derby Army Truck Design Plan
The Army Truck Pinewood Derby is an easy and cool car design. Each plan includes cut-out template patterns so you can make a mistake.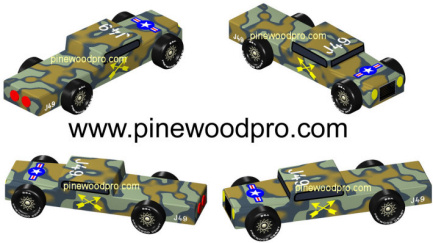 Each of our car plans include step-by-step 3D images so you can see the car taking shape with each cut.

Each car design plan is over 30 pages.

Plan includes building hints, tips, how to place weights for speed, painting ideas, tools list and links for help to everything you need.

Take a peek inside...Below are some sample pages from one of our car design plans: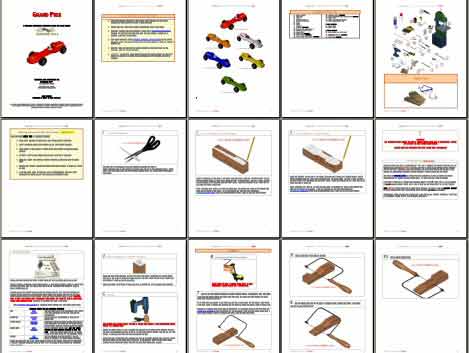 Plus, we even animate your car so you can see it rotating 360 degrees!
only $4.95
Pinewood Derby
Tips & Hints

Many of the BSA "nails" that come in your kit are crooked. Chuck each axle in your drill and spin them. If the axle looks blurry as it spins, that axle is crooked. Replace crooked axles or consider getting an Axle Press Tool to straighten crooked axles.





Pinewood Derby
lubes Tip

When lubing your wheels and axles, shoot graphite powder into the wheel bore, spin your wheels, and repeat. Do this over newspaper in your garage or outside the house.




Pinewood Derby
building Hint

If your block is cracked, don't panic! The only problem with a cracked block is if the crack is near the axle, which can cause the axle to move. Random cracks in safe areas can simply be filled with wood filler.



Helping Pinewood Derby Racers

...for over 15 years.
Once we ordered your tips and tricks we won 1st place every year since. Thank You so much for this information and making my son's pinewood derby career a success.
- Keith





Thank you for your help, my grandson took first place in his pinewood derby race!
- Grandpa Jim from PA





Hey Joe- Just wanted to pass on the good news- and a few nice pix. We ended up in 2nd place out of 63 cars racing. Not too bad, and we'll be at district in a few weeks.
- David from IL




FREE Derby Help

Designing Your Car

Building Your Car

Making Your Car Fast

Finishing Touches

Pinewood Pro...

Information

Blastcar for Boy Scouts
This was my 7-year-old's first Pinewood Derby and he won 1st! We followed your Winning Pinewood Derby Secrets and his car smoked other the cars by 4-5 car lengths each race. Thanks again.
- John

Using these axles and BSA speed wheels, we set a track record, went undefeated and won the pack championship. My son is thrilled to be heading to districts and let me tell you, a winning scout is a happy scout. Can't recommend these enough!
- Natalie from CO

James won his first pack race and also won the district race. He never lost a race using your products. Thank you for all you are doing.
- Jim
Pinewood Derby Design - Army Truck