Army Truck Pinewood Derby Car Design Plan
Pinewood Derby Army Truck Design Plan
The Army Truck Pinewood Derby is an easy and cool car design. Each plan includes cut-out template patterns so you can make a mistake.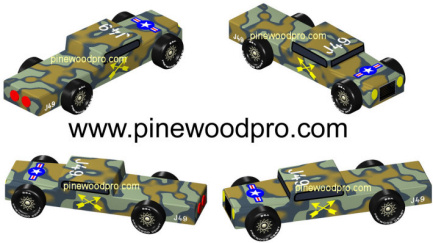 Each of our car plans include step-by-step 3D images so you can see the car taking shape with each cut.

Each car design plan is over 30 pages.

Plan includes building hints, tips, how to place weights for speed, painting ideas, tools list and links for help to everything you need.

Take a peek inside...Below are some sample pages from one of our car design plans: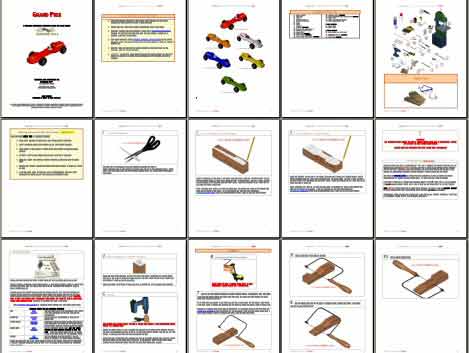 Plus, we even animate your car so you can see it rotating 360 degrees!
only $4.95
Pinewood Derby
Tips & Hints

A lathed wheel means the wheel was turned at a high speed and "sanded" with a cutting tool. Lathed Wheels are perfectly tuned around the axis of rotation giving you the highest performance.





Pinewood Derby
weights Tip

Need a little extra weight on weigh in but didn't bring extra weight with you? Use a coin! Here are the weights of US coins in ounces: penny .11 oz, nickel .17 oz, dime .07 oz, quarter .18 oz




Pinewood Derby
building Hint

Be sure any decorative parts are super glued into place! If you lose a piece off your car it will affect the weight of the car, resulting in loss of inertia, decreasing your speed.



Helping Pinewood Derby Racers

...for over 15 years.
My grandson placed won his races! Your speed secrets and products made the difference. To see his smiles get bigger with each win was worth it.
- Cliff





After winning 1st place overall for his pack my son went to the district race and won first place for the Bears using your wheels and speed axles. Great products, Pinewood Pro!
- Teddy from OH





Your Products performed flawlessly. Thank you for your awesome quality products.
- Chris N from NJ




FREE Derby Help

Designing Your Car

Building Your Car

Making Your Car Fast

Finishing Touches

Pinewood Pro...

Information

Blastcar for Boy Scouts
Just wanted to say THANK YOU! I received my items. I have used you guys for 3 or 4 years now, ALWAYS fast, great products, I am very happy with you guys. AND we have won AT LEAST our den every year! Cheers!
- Paul from MO





We won! In the championships we beat 24 other Bears and won every heat.
- Kevin K. from CA





Thanks for all your help to get first place in tiger cub class.
- Chris




Pinewood Derby Design - Army Truck