Army Truck Pinewood Derby Car Design Plan
Pinewood Derby Army Truck Design Plan
The Army Truck Pinewood Derby is an easy and cool car design. Each plan includes cut-out template patterns so you can make a mistake.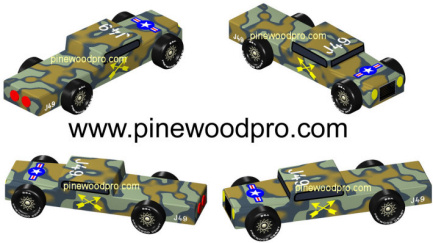 Each of our car plans include step-by-step 3D images so you can see the car taking shape with each cut.

Each car design plan is over 30 pages.

Plan includes building hints, tips, how to place weights for speed, painting ideas, tools list and links for help to everything you need.

Take a peek inside...Below are some sample pages from one of our car design plans: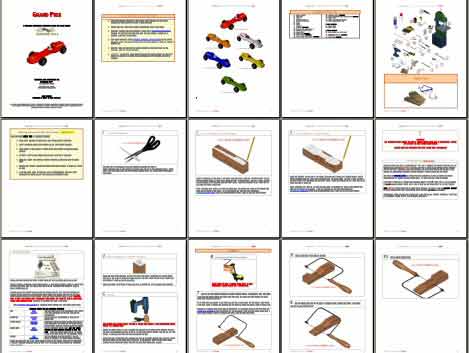 Plus, we even animate your car so you can see it rotating 360 degrees!
only $4.95
Pinewood Derby
Tips & Hints

Looking for a pinewood derby car design template? Select from over 30 of Pinewood Pro's award winning Pinewood Derby Car Designs. They include everything from race cars to Military cars to a Nike Sneaker!





Pinewood Derby
axles Tip

The axle slots that are cut into standard blocks are too tight for BSA axles that are .089" diameter. Small axle slots make it difficult to get your axles in straight. A #44 drill bit is .086", which I find too tight. Consider a #43 Drill Bit, which is a perfect match at .089" for a snug fit.




Pinewood Derby
winning Hint

Winning Pinewood Derby Secrets contains all the tips you need to win your race. Updated annually with the latest tips and speed products, our book has proven results with 1000's of winners... but don't take our word for it! Read over 90 Customer Reviews and check out our Winners Gallery!



Helping Pinewood Derby Racers

...for over 15 years.
I ordered a set of your BSA wheels and axels last minute on Wednesday for overnight delivery. Our race was on Friday. We finished in 6th out of 80 cars, and will be going to the Divisional Race! My son was never happier! Thanks again!
- Steve from KY





This was our very first time building a Pine Derby car for Awana Club. We won first place in our age class and 3rd place over all the age classes up to high school. Thanks, Pinewood Pro!
- Kirk





Just wanted to say THANK YOU! I received my items. I have used you guys for 3 or 4 years now, ALWAYS fast, great products, I am very happy with you guys. AND we have won AT LEAST our den every year! Cheers!
- Paul from MO




FREE Derby Help

Designing Your Car

Building Your Car

Making Your Car Fast

Finishing Touches

Pinewood Pro...

Information

Blastcar for Boy Scouts
This was my 7 year old son's first Pinewood Derby and I would have paid 100 times the price just to see the expression on his face when he took first! Your information was invaluable!
Fred & Vincent





Hey Joe- Just wanted to pass on the good news- and a few nice pix. We ended up in 2nd place out of 63 cars racing. Not too bad, and we'll be at district in a few weeks.
- David from IL





My son won an award for most futuristic design. We really appereciated all your help. Thanks for all the help and guidance.
- Greg from CT




Pinewood Derby Design - Army Truck