Army Truck Pinewood Derby Car Design Plan
Pinewood Derby Army Truck Design Plan
The Army Truck Pinewood Derby is an easy and cool car design. Each plan includes cut-out template patterns so you can make a mistake.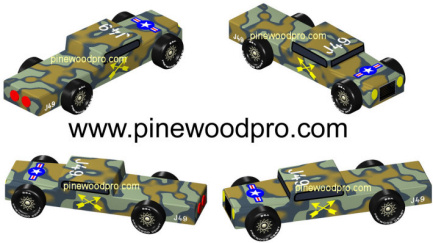 Each of our car plans include step-by-step 3D images so you can see the car taking shape with each cut.

Each car design plan is over 30 pages.

Plan includes building hints, tips, how to place weights for speed, painting ideas, tools list and links for help to everything you need.

Take a peek inside...Below are some sample pages from one of our car design plans: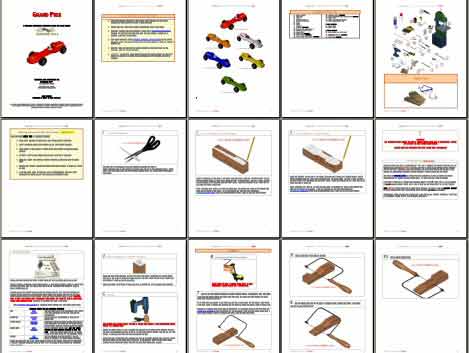 Plus, we even animate your car so you can see it rotating 360 degrees!
only $4.95
Pinewood Derby
Tips & Hints

A lathed wheel means the wheel was turned at a high speed and "sanded" with a cutting tool. Lathed Wheels are perfectly tuned around the axis of rotation giving you the highest performance.





Pinewood Derby
axles Tip

Spin each wheel and axle and count the number of revolutions. Keep the slowest pair together and replace them with a faster set.




Pinewood Derby
weights Hint

Tungsten weights are ideal for pinewood derby cars. Tungsten is about 1/3 smaller than a zinc piece with the same weight. Therefore, you can pack Tungsten weights in a smaller area to optimize your center of gravity to maximize inertia giving you greater speed at the finish gate.



Helping Pinewood Derby Racers

...for over 15 years.
James won his first pack race and also won the district race. He never lost a race using your products. Thank you for all you are doing.
- Jim





Thank you very much! I've always had very good luck with your products and I will continue to purchase everything I need from you!
- Jenna from AL





We ran our 3 cars at a local pack meet, and what a great time my kids had. Both of my two boys prepared their cars with your tooling. My boys were given first and second place.
- Brian from DE




FREE Derby Help

Designing Your Car

Building Your Car

Making Your Car Fast

Finishing Touches

Pinewood Pro...

Information

Blastcar for Boy Scouts
Thank you for the great service. I will be coming back to purchase fo my grandson's pinewood derby. Thanks again, it's been great doing business with Pinewood Pro. Blessings to you and your staff.
- Jim from IL

Thank you for your help, my grandson took first place in his pinewood derby race!
- Grandpa Jim from PA

Didn't lose a race all day! Key was...PRO Speed Axles and Wheels.
- Randy from NM
Pinewood Derby Design - Army Truck