Guitar Car Pinewood Derby Car Plan
Look at your guitar car rotate 360 degrees so you can see it from all angles!
You can build this Pinewood Derby Guitar Car
(Full Car Design Template Included)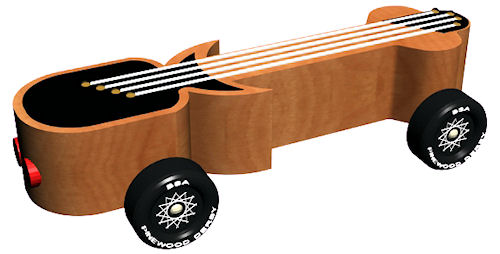 Take a peek inside...


You can build this car...we show you how to do it, step-by-step with simple, clear, 3D images so you can't make a mistake.


Each car design plan is over 30 pages.

Plan includes building hints, tips, how to place weights for speed, painting ideas, tools list and links for help to everything you need...

Below are some sample pages from one of our car design plans: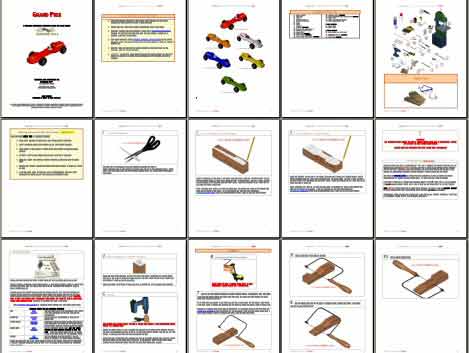 Plus, look at your car rotate with these 360 degree animations!
only $4.95
Pinewood Derby
Tips & Hints

Before cutting your car, use a straight edge to draw lines down the center lengthwise and widthwise across your car. Then draw your car design template over these straight lines. The template and straight lines help guide your cutting on both sides of the car so everything is square.





Pinewood Derby
wheels Tip

A lathed wheel means the wheel was turned at a high speed and "sanded" with a cutting tool. Lathed Wheels are perfectly tuned around the axis of rotation giving you the highest performance.




Pinewood Derby
rules Hint

When it comes to Pinewood Derby racing, Rules are not meant to be broken. Check with other racers or your race manager before your race to clarify what is allowed and how your car will be inspected when it is checked in.



Helping Pinewood Derby Racers

...for over 15 years.
My daughter won 1st place, and my son won 3rd place. It was very fun and hope to do again next year. Thanks for your great information,
- Barry from MI





We got a "Most Realistic" for the Humvee and an 4th place with the "wedge." You would have thought my seven-year-old twin grandsons had won college scholarships! I was a hero. Thanks, again. I'll probably be back next year, Lord willing.
- Mike from KS





My son peter took first place with his car. Thanks for your products,
- Tony from TX




FREE Derby Help

Designing Your Car

Building Your Car

Making Your Car Fast

Finishing Touches

Pinewood Pro...

Information

Blastcar for Boy Scouts
My son--a first time Pinewood Derby participant--won his Den, Pack, and District championships thanks to Pinewood Pro! Also won design and workmanship awards. Thanks, Pinewood Pro!
- Mike

1st Place!! Thanks for the everlasting memories you have made possible!
- Williiam from IN

This will be my 3rd year ordering from you. This year I have an 8 year old son, a ten year old son, and my 12 year old daughter's young women group is also doing the pinewood derby. We are still undefeated – Last year we purchased your wheels and axles and won 1st place again, 2 years running!
- Kirk from UT
Pinewood Derby Design - Guitar Car