Guitar Car Pinewood Derby Car Plan
Look at your guitar car rotate 360 degrees so you can see it from all angles!
You can build this Pinewood Derby Guitar Car
(Full Car Design Template Included)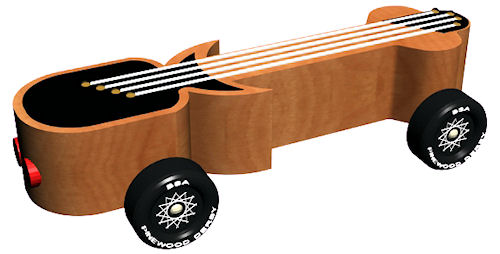 Take a peek inside...


You can build this car...we show you how to do it, step-by-step with simple, clear, 3D images so you can't make a mistake.


Each car design plan is over 30 pages.

Plan includes building hints, tips, how to place weights for speed, painting ideas, tools list and links for help to everything you need...

Below are some sample pages from one of our car design plans: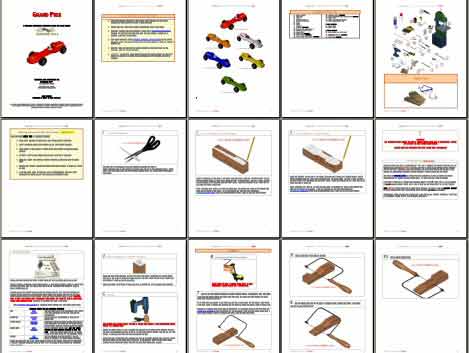 Plus, look at your car rotate with these 360 degree animations!
only $4.95
Pinewood Derby
Tips & Hints

The stock BSA "nails" that come in your kit are mass produced. These nails have burrs, crimp marks and can also be crooked, all of which severely limits your car speed. An Axle Polishing Kit and Axle File are essential to fix your axles and increase your car speed.





Pinewood Derby
lubes Tip

When lubing your wheels and axles, shoot graphite powder into the wheel bore, spin your wheels, and repeat. Do this over newspaper in your garage or outside the house.




Pinewood Derby
building Hint

Be sure any decorative parts are super glued into place! If you lose a piece off your car it will affect the weight of the car, resulting in loss of inertia, decreasing your speed.



Helping Pinewood Derby Racers

...for over 15 years.
Thanks a ton for all the tips and the Wheels and Axles! We beat cars that had taken district and region in Georgia! This was my last race with my two boys. Great way to end! Thanks again!
- David





I can't describe how happy my Son was to win! I'm a single Mom and didn't know how to build a car. I was so happy to find your amazing site. I'm beaming with happiness for my son.
- Miss M from MO





After 4 years of not winning, we finally did it!! Your book truly worked!!
- Wayne from CA




FREE Derby Help

Designing Your Car

Building Your Car

Making Your Car Fast

Finishing Touches

Pinewood Pro...

Information

Blastcar for Boy Scouts
We took first in our pack of 60 cars. It was an amazing day. Thanks again Joe. Your info is the best out there!
- Gina

I have purchased from you for two consecutive years and am an extremely satisfied customer. The order arrived promptly and I am very pleased with your products and service. Thank you so much!
- Trey from SC

He took first place in his wolf pack and then took first place as the Grand Champion. Thank You for the awesome axles they did the trick!
- Keith
Pinewood Derby Design - Guitar Car