Lightning Mcqueen Pinewood Derby Car Plan
Look at your lightning mcqueen car rotate 360 degrees so you can see it from all angles!
You can build this Pinewood Derby Lightning Mcqueen!
(Full Car Design Template Included)

Take a peek inside...

Our derby car design plans are second to none!
You can build this car...we show you how to do it, step-by-step with simple, clear, 3D images so you can't make a mistake.


Each car design plan is over 30 pages.

Plan includes building hints, tips, how to place weights for speed, painting ideas, tools list and links for help to everything you need...

Below are some sample pages from one of our car design plans: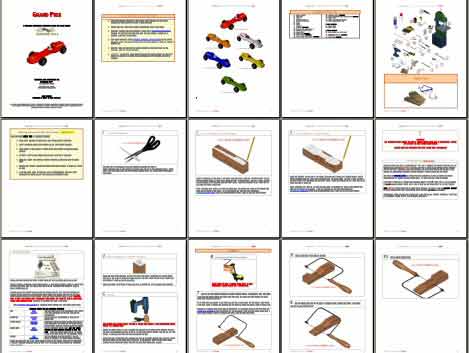 Plus, look at your car rotate with these 360 degree animations!
only $4.95
Pinewood Derby
Tips & Hints

Need a little extra weight on weigh in but didn't bring extra weight with you? Use a coin! Here are the weights of US coins in ounces: penny .11 oz, nickel .17 oz, dime .07 oz, quarter .18 oz





Pinewood Derby
lubes Tip

Nyoil stays on your axles throughout the race, unlike powdered graphite that blows off every time your car goes down the track. This gives Nyoil coated axles a speed advantage if your car keeps racing.




Pinewood Derby
painting Hint

When painting with children, it is better to use a paint brush rather than spray paint because spray paint can cause vapors. If the child is spray painting, be sure to use a breathing mask and be in an open area.



Helping Pinewood Derby Racers

...for over 15 years.
He took first place in his wolf pack and then took first place as the Grand Champion. Thank You for the awesome axles they did the trick!
- Keith





After winning 1st place overall for his pack my son went to the district race and won first place for the Bears using your wheels and speed axles. Great products, Pinewood Pro!
- Teddy from OH





One of my girls won the "girls fav" car which was picked by all the girl scouts as their fav. Thanks
- Stephanie




FREE Derby Help

Designing Your Car

Building Your Car

Making Your Car Fast

Finishing Touches

Pinewood Pro...

Information

Blastcar for Boy Scouts
Using the tips on your website, Daniel's car won every race for his den, and won the district races. It seemed that his car got faster with every run. We have memories that will last.
- David

My son peter took first place with his car. Thanks for your products,
- Tony from TX

My son won the entire event, even against the older scouts. Thanks
- Rodd
Pinewood Derby Design -
Lightning Mcqueen