Lightning Mcqueen Pinewood Derby Car Plan
Look at your lightning mcqueen car rotate 360 degrees so you can see it from all angles!
You can build this Pinewood Derby Lightning Mcqueen!
(Full Car Design Template Included)

Take a peek inside...

Our derby car design plans are second to none!
You can build this car...we show you how to do it, step-by-step with simple, clear, 3D images so you can't make a mistake.


Each car design plan is over 30 pages.

Plan includes building hints, tips, how to place weights for speed, painting ideas, tools list and links for help to everything you need...

Below are some sample pages from one of our car design plans: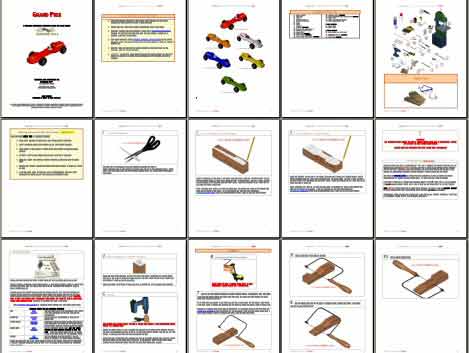 Plus, look at your car rotate with these 360 degree animations!
only $4.95
Pinewood Derby
Tips & Hints

Looking for a pinewood derby car design template? Select from over 30 of Pinewood Pro's award winning Pinewood Derby Car Designs. They include everything from race cars to Military cars to a Nike Sneaker!





Pinewood Derby
weights Tip

Tungsten Putty is ideal for getting your car up to the maximum 5 oz limit. Drill a hole in the bottom of your car and insert Pinewood Pro Putty as the last step to bring your car to 5.0 oz. If the official scale weighs you in at 5.1 oz, simply remove a small amount of putty to bring it back to 5.0 oz.




Pinewood Derby
lubes Hint

When lubing your wheels and axles, shoot graphite powder into the wheel bore, spin your wheels, and repeat. Do this over newspaper in your garage or outside the house.



Helping Pinewood Derby Racers

...for over 15 years.
My son won 2nd place Medals. This was made possible by your personal assistance and Pinewood Pro products. Thank you, Joe for being the man you are and providing a service to our Youth.
- Mark from HI





My son won the entire event, even against the older scouts. Thanks
- Rodd





After winning 1st place overall for his pack my son went to the district race and won first place for the Bears using your wheels and speed axles. Great products, Pinewood Pro!
- Teddy from OH




FREE Derby Help

Designing Your Car

Building Your Car

Making Your Car Fast

Finishing Touches

Pinewood Pro...

Information

Blastcar for Boy Scouts
My son's car won every heat it raced. Thanks again Joe. Your info is the best out there!
- Gina

Thanks a ton for all the tips and the Wheels and Axles! We beat cars that had taken district and region in Georgia! This was my last race with my two boys. Great way to end! Thanks again!
- David

This is our last year of Pinewood Derby. We have shopped with you all 5 years and our son won his Pack 2x, Districts 1x and placed 2nd the other times. Thank you!
- Lloyd from NH
Pinewood Derby Design -
Lightning Mcqueen