Lightning Mcqueen Pinewood Derby Car Plan
Look at your lightning mcqueen car rotate 360 degrees so you can see it from all angles!
You can build this Pinewood Derby Lightning Mcqueen!
(Full Car Design Template Included)

Take a peek inside...

Our derby car design plans are second to none!
You can build this car...we show you how to do it, step-by-step with simple, clear, 3D images so you can't make a mistake.


Each car design plan is over 30 pages.

Plan includes building hints, tips, how to place weights for speed, painting ideas, tools list and links for help to everything you need...

Below are some sample pages from one of our car design plans: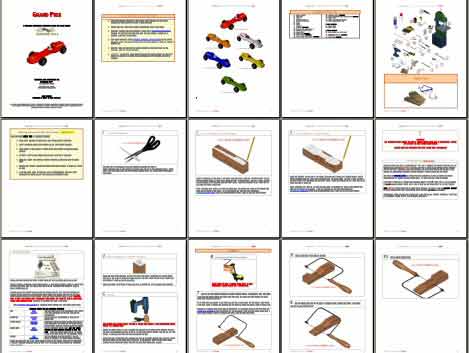 Plus, look at your car rotate with these 360 degree animations!
only $4.95
Pinewood Derby
Tips & Hints

Lighter wheels turn easier (they require less inertia). Lighten your wheels, as much as your Rules allow, which will give you a fast start out of the gate and faster speed down the track.





Pinewood Derby
axles Tip

Spin each wheel and axle and count the number of revolutions. Keep the slowest pair together and replace them with a faster set.




Pinewood Derby
weights Hint

Tungsten Putty is ideal for getting your car up to the maximum 5 oz limit. Drill a hole in the bottom of your car and insert Pinewood Pro Putty as the last step to bring your car to 5.0 oz. If the official scale weighs you in at 5.1 oz, simply remove a small amount of putty to bring it back to 5.0 oz.



Helping Pinewood Derby Racers

...for over 15 years.
My son and I finished 1st in our race! My son won the championship, and my daugther's car won 2nd place in the Family division. We were all very happy! Thank you from the entire family!
- Josh, Haley and Philip





My son, won his pack derby today on our first attempt! He won 9 races in a row and none of them were even close. Thanks for your assist in this father & son memory.
- Kevin from VT





Hey Joe- Just wanted to pass on the good news- and a few nice pix. We ended up in 2nd place out of 63 cars racing. Not too bad, and we'll be at district in a few weeks.
- David from IL




FREE Derby Help

Designing Your Car

Building Your Car

Making Your Car Fast

Finishing Touches

Pinewood Pro...

Information

Blastcar for Boy Scouts
After winning 1st place overall for his pack my son went to the district race and won first place for the Bears using your wheels and speed axles. Great products, Pinewood Pro!
- Teddy from OH

This will be my 3rd year ordering from you. This year I have an 8 year old son, a ten year old son, and my 12 year old daughter's young women group is also doing the pinewood derby. We are still undefeated – Last year we purchased your wheels and axles and won 1st place again, 2 years running!
- Kirk from UT

My son won third in his pack, and we are waiting the district race. Thanks again for all of your wonderful products!
- Tom from AZ
Pinewood Derby Design -
Lightning Mcqueen