Lightning Mcqueen Pinewood Derby Car Plan
Look at your lightning mcqueen car rotate 360 degrees so you can see it from all angles!
You can build this Pinewood Derby Lightning Mcqueen!
(Full Car Design Template Included)

Take a peek inside...

Our derby car design plans are second to none!
You can build this car...we show you how to do it, step-by-step with simple, clear, 3D images so you can't make a mistake.


Each car design plan is over 30 pages.

Plan includes building hints, tips, how to place weights for speed, painting ideas, tools list and links for help to everything you need...

Below are some sample pages from one of our car design plans: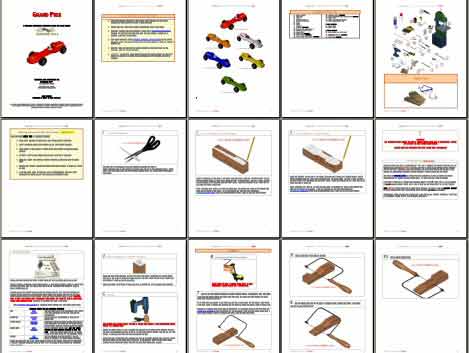 Plus, look at your car rotate with these 360 degree animations!
only $4.95
Pinewood Derby
Tips & Hints

Many of the BSA "nails" that come in your kit are crooked. Chuck each axle in your drill and spin them. If the axle looks blurry as it spins, that axle is crooked. Replace crooked axles or consider getting an Axle Press Tool to straighten crooked axles.





Pinewood Derby
lubes Tip

Nyoil stays on your axles throughout the race, unlike powdered graphite that blows off every time your car goes down the track. This gives Nyoil coated axles a speed advantage if your car keeps racing.




Pinewood Derby
building Hint

If your block is cracked, don't panic! The only problem with a cracked block is if the crack is near the axle, which can cause the axle to move. Random cracks in safe areas can simply be filled with wood filler.



Helping Pinewood Derby Racers

...for over 15 years.
This was my 7-year-old's first Pinewood Derby and he won 1st! We followed your Winning Pinewood Derby Secrets and his car smoked other the cars by 4-5 car lengths each race. Thanks again.
- John





This will be my 3rd year ordering from you. This year I have an 8 year old son, a ten year old son, and my 12 year old daughter's young women group is also doing the pinewood derby. We are still undefeated – Last year we purchased your wheels and axles and won 1st place again, 2 years running!
- Kirk from UT





My grandson placed won his races! Your speed secrets and products made the difference. To see his smiles get bigger with each win was worth it.
- Cliff




FREE Derby Help

Designing Your Car

Building Your Car

Making Your Car Fast

Finishing Touches

Pinewood Pro...

Information

Blastcar for Boy Scouts
My son--a first time Pinewood Derby participant--won his Den, Pack, and District championships thanks to Pinewood Pro! Also won design and workmanship awards. Thanks, Pinewood Pro!
- Mike

My daughter won 1st place, and my son won 3rd place. It was very fun and hope to do again next year. Thanks for your great information,
- Barry from MI

My son and I finished 1st in our race! My son won the championship, and my daugther's car won 2nd place in the Family division. We were all very happy! Thank you from the entire family!
- Josh, Haley and Philip
Pinewood Derby Design -
Lightning Mcqueen