Lightning Mcqueen Pinewood Derby Car Plan
Look at your lightning mcqueen car rotate 360 degrees so you can see it from all angles!
You can build this Pinewood Derby Lightning Mcqueen!
(Full Car Design Template Included)

Take a peek inside...

Our derby car design plans are second to none!
You can build this car...we show you how to do it, step-by-step with simple, clear, 3D images so you can't make a mistake.


Each car design plan is over 30 pages.

Plan includes building hints, tips, how to place weights for speed, painting ideas, tools list and links for help to everything you need...

Below are some sample pages from one of our car design plans: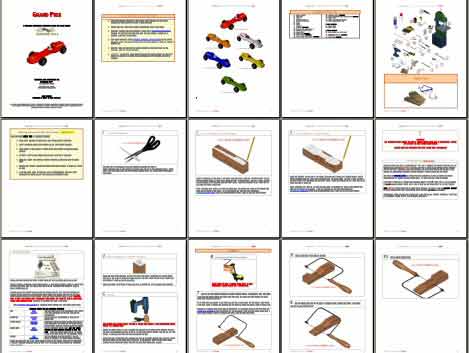 Plus, look at your car rotate with these 360 degree animations!
only $4.95
Pinewood Derby
Tips & Hints

Lighter wheels turn easier (they require less inertia). Lighten your wheels, as much as your Rules allow, which will give you a fast start out of the gate and faster speed down the track.





Pinewood Derby
weights Tip

Lead is denser than zinc but lead is toxic, so we do not recommend handling it. Use non-toxic weights like zinc or tungsten.




Pinewood Derby
building Hint

Be sure any decorative parts are super glued into place! If you lose a piece off your car it will affect the weight of the car, resulting in loss of inertia, decreasing your speed.



Helping Pinewood Derby Racers

...for over 15 years.
My son won 1st place for the fastest car. Thank you for all of your tips and tricks they were a big help.
- Rob





My son won 2nd place Medals. This was made possible by your personal assistance and Pinewood Pro products. Thank you, Joe for being the man you are and providing a service to our Youth.
- Mark from HI





You guys are amazing. Thank you for such prompt attention. We will deal with you from now on. I have at least 9 more years of pinewood cars to make, and it's your products that will help us through them. Thank you soooo much!
- Lisa from CA




FREE Derby Help

Designing Your Car

Building Your Car

Making Your Car Fast

Finishing Touches

Pinewood Pro...

Information

Blastcar for Boy Scouts
Thank you for all of the information. We had fun making the car! We're going on to the Regionals, as our car to 1st place in our den!
- Lou from IN





My son's car won every heat it raced. Thanks again Joe. Your info is the best out there!
- Gina





Once we ordered your tips and tricks we won 1st place every year since. Thank You so much for this information and making my son's pinewood derby career a success.
- Keith




Pinewood Derby Design -
Lightning Mcqueen