build the Pixar Pinewood Derby Sally Car!
(Full Car Design Plan with Templates)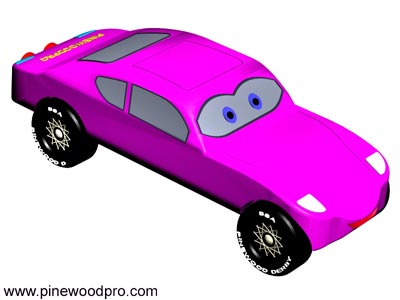 Take a peek inside...

Our derby car design plans are second to none!

You can build this car...we show you how to do it, step-by-step with simple, clear, 3D images so you can't make a mistake.



Each car design plan is over 30 pages.



Car design plans include:

Cut-out printable car design template patterns
Building hints and shortcuts
Safety tips
Weight placement to maximize speed
Six painting schemes
cut-out decorative patterns
360 animation so you can see your car from all angles
Tools list and embedded links for help and everything you need...


Below are some sample pages from one of our car design plans: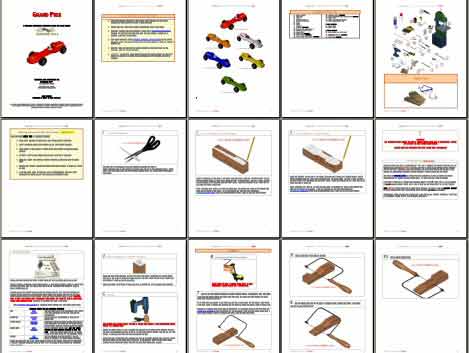 only $4.95
Pinewood Derby
Tips & Hints

Make your car slim. If your car is too chunky, there will be lots of weight in the wood, leaving less weight for your weights. You want lots of weight so you can move the center of gravity to the optimal point to maximize inertia.





Pinewood Derby
axles Tip

When your wheel rubs against the axle head it creates friction. To reduce this friction, file the head back slightly using an Axle File to reduce the friction area.




Pinewood Derby
winning Hint

Winning Pinewood Derby Secrets contains all the tips you need to win your race. Updated annually with the latest tips and speed products, our book has proven results with 1000's of winners... but don't take our word for it! Read over 90 Customer Reviews and check out our Winners Gallery!



Helping Pinewood Derby Racers

...for over 15 years.
Last year we took 1st place in our pack I am sold on your speed axles and speed wheels. We raced the car in his elementary school, and he won 1st place in the whole school. Thanks so much!
- Kirk from UT





With the help of your block, axes, wheels, and lube we went from last place 3 years running to 1st place overall. Thanks!

- Roger




I ordered a set of your BSA wheels and axels last minute on Wednesday for overnight delivery. Our race was on Friday. We finished in 6th out of 80 cars, and will be going to the Divisional Race! My son was never happier! Thanks again!
- Steve from KY




FREE Derby Help

Designing Your Car

Building Your Car

Making Your Car Fast

Finishing Touches

Pinewood Pro...

Information

Blastcar for Boy Scouts
We ran our 3 cars at a local pack meet, and what a great time my kids had. Both of my two boys prepared their cars with your tooling. My boys were given first and second place.
- Brian from DE





We won! In the championships we beat 24 other Bears and won every heat.
- Kevin K. from CA





Just wanted to say THANK YOU! I received my items. I have used you guys for 3 or 4 years now, ALWAYS fast, great products, I am very happy with you guys. AND we have won AT LEAST our den every year! Cheers!
- Paul from MO




Pinewood Derby Design - Sally