build the Pixar Pinewood Derby Sally Car!
(Full Car Design Plan with Templates)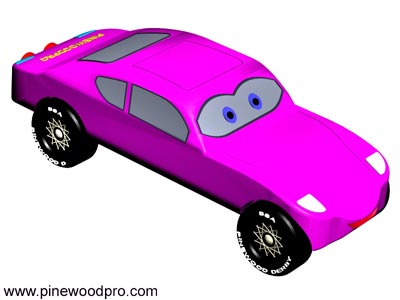 Take a peek inside...

Our derby car design plans are second to none!

You can build this car...we show you how to do it, step-by-step with simple, clear, 3D images so you can't make a mistake.



Each car design plan is over 30 pages.



Car design plans include:

Cut-out printable car design template patterns
Building hints and shortcuts
Safety tips
Weight placement to maximize speed
Six painting schemes
cut-out decorative patterns
360 animation so you can see your car from all angles
Tools list and embedded links for help and everything you need...


Below are some sample pages from one of our car design plans: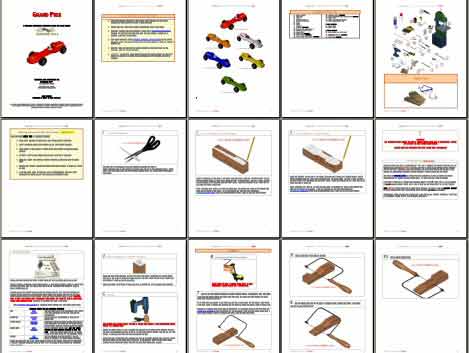 only $4.95
Pinewood Derby
Tips & Hints

Spin each wheel on a polished axle with graphite and count the number of revolutions. If a wheel wobbles, try spinning it again. If it still wobbles, get another wheel that does not wobble.





Pinewood Derby
weights Tip

Tungsten Putty is ideal for getting your car up to the maximum 5 oz limit. Drill a hole in the bottom of your car and insert Pinewood Pro Putty as the last step to bring your car to 5.0 oz. If the official scale weighs you in at 5.1 oz, simply remove a small amount of putty to bring it back to 5.0 oz.




Pinewood Derby
building Hint

If your block is cracked, don't panic! The only problem with a cracked block is if the crack is near the axle, which can cause the axle to move. Random cracks in safe areas can simply be filled with wood filler.



Helping Pinewood Derby Racers

...for over 15 years.
My son's car won every heat it raced. Thanks again Joe. Your info is the best out there!
- Gina





Using these axles and BSA speed wheels, we set a track record, went undefeated and won the pack championship. My son is thrilled to be heading to districts and let me tell you, a winning scout is a happy scout. Can't recommend these enough!
- Natalie from CO





Your tips were Fabulous! Competing in the District Race tomorrow...Our first time making a car! You ROCK!!!!
- Nancy B from NC




FREE Derby Help

Designing Your Car

Building Your Car

Making Your Car Fast

Finishing Touches

Pinewood Pro...

Information

Blastcar for Boy Scouts
I ordered a set of your BSA wheels and axels last minute on Wednesday for overnight delivery. Our race was on Friday. We finished in 6th out of 80 cars, and will be going to the Divisional Race! My son was never happier! Thanks again!
- Steve from KY





My son, won his pack derby today on our first attempt! He won 9 races in a row and none of them were even close. Thanks for your assist in this father & son memory.
- Kevin from VT





The speed axles did the trick second year in a row!
- Debbie & Frank




Pinewood Derby Design - Sally