build the Pixar Pinewood Derby Sally Car!
(Full Car Design Plan with Templates)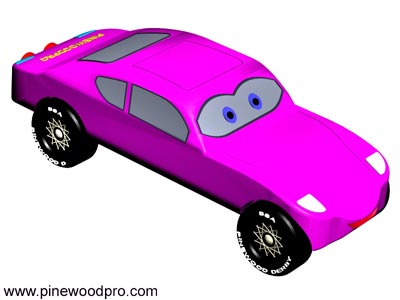 Take a peek inside...

Our derby car design plans are second to none!

You can build this car...we show you how to do it, step-by-step with simple, clear, 3D images so you can't make a mistake.



Each car design plan is over 30 pages.



Car design plans include:

Cut-out printable car design template patterns
Building hints and shortcuts
Safety tips
Weight placement to maximize speed
Six painting schemes
cut-out decorative patterns
360 animation so you can see your car from all angles
Tools list and embedded links for help and everything you need...


Below are some sample pages from one of our car design plans: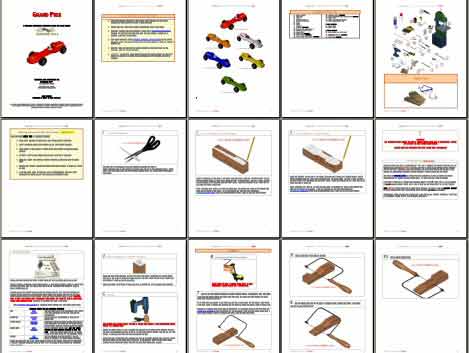 only $4.95
Pinewood Derby
Tips & Hints

Before cutting your car, use a straight edge to draw lines down the center lengthwise and widthwise across your car. Then draw your car design template over these straight lines. The template and straight lines help guide your cutting on both sides of the car so everything is square.





Pinewood Derby
axles Tip

Spin each wheel and axle and count the number of revolutions. Keep the slowest pair together and replace them with a faster set.




Pinewood Derby
building Hint

Be sure any decorative parts are super glued into place! If you lose a piece off your car it will affect the weight of the car, resulting in loss of inertia, decreasing your speed.



Helping Pinewood Derby Racers

...for over 15 years.
Didn't lose a race all day! Key was...PRO Speed Axles and Wheels.
- Randy from NM





This was our very first time building a Pine Derby car for Awana Club. We won first place in our age class and 3rd place over all the age classes up to high school. Thanks, Pinewood Pro!
- Kirk





Using these axles and BSA speed wheels, we set a track record, went undefeated and won the pack championship. My son is thrilled to be heading to districts and let me tell you, a winning scout is a happy scout. Can't recommend these enough!
- Natalie from CO




FREE Derby Help

Designing Your Car

Building Your Car

Making Your Car Fast

Finishing Touches

Pinewood Pro...

Information

Blastcar for Boy Scouts
The speed axles did the trick second year in a row!
- Debbie & Frank

This is our last year of Pinewood Derby. We have shopped with you all 5 years and our son won his Pack 2x, Districts 1x and placed 2nd the other times. Thank you!
- Lloyd from NH

We placed an amazing 2nd out of 28 cars. We only lost to first place by half an inch. Our car ran consistently all night. We won 2nd place overall! You will be our first stop next year!
- John
Pinewood Derby Design - Sally