build the Pixar Pinewood Derby Sally Car!
(Full Car Design Plan with Templates)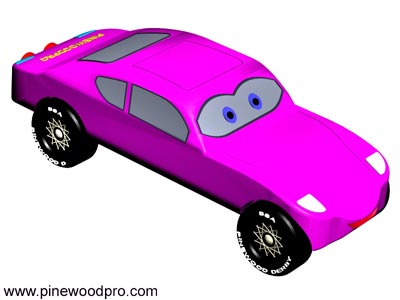 Take a peek inside...

Our derby car design plans are second to none!

You can build this car...we show you how to do it, step-by-step with simple, clear, 3D images so you can't make a mistake.



Each car design plan is over 30 pages.



Car design plans include:

Cut-out printable car design template patterns
Building hints and shortcuts
Safety tips
Weight placement to maximize speed
Six painting schemes
cut-out decorative patterns
360 animation so you can see your car from all angles
Tools list and embedded links for help and everything you need...


Below are some sample pages from one of our car design plans: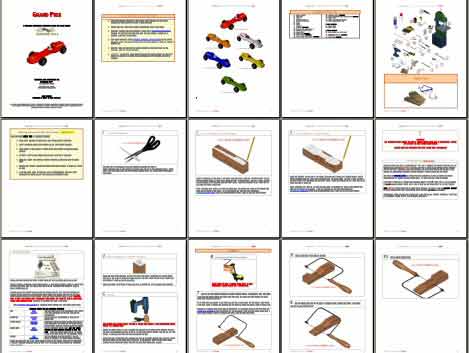 only $4.95
Pinewood Derby
Tips & Hints

Spin each wheel on a polished axle with graphite and count the number of revolutions. If a wheel wobbles, try spinning it again. If it still wobbles, get another wheel that does not wobble.





Pinewood Derby
axles Tip

When your car wheel rubs against the axle head it can cause the wheel to wobble because the corner of the axle head is not a perfect 90 degrees. Cutting a groove directly under the axle head removes this source of wheel wobble. Cutting this groove is difficult to do by hand, but it can be done with an axle file. Our grooved Speed Axles and Pro Super Speed axles have this groove, exclusive to Pinewood Pro, cut directly under the axle head.




Pinewood Derby
weights Hint

Lead is denser than zinc but lead is toxic, so we do not recommend handling it. Use non-toxic weights like zinc or tungsten.



Helping Pinewood Derby Racers

...for over 15 years.
My son won 1st place for the fastest car. Thank you for all of your tips and tricks they were a big help.
- Rob





Thank you for the great service. I will be coming back to purchase fo my grandson's pinewood derby. Thanks again, it's been great doing business with Pinewood Pro. Blessings to you and your staff.
- Jim from IL




.

Jonah's car won 1st place in his Den, first place in the Pack and I couldn't believe it but he also won for Best looking car!
- Thomas from FL




FREE Derby Help

Designing Your Car

Building Your Car

Making Your Car Fast

Finishing Touches

Pinewood Pro...

Information

Blastcar for Boy Scouts
This will be my 3rd year ordering from you. This year I have an 8 year old son, a ten year old son, and my 12 year old daughter's young women group is also doing the pinewood derby. We are still undefeated – Last year we purchased your wheels and axles and won 1st place again, 2 years running!
- Kirk from UT

This is year #3 with you and we just keep winning!!! We did the Red thunderbolt and the Black Lightning cars. Thanks for the great products!
- Phil from CA

My son won 2nd place Medals. This was made possible by your personal assistance and Pinewood Pro products. Thank you, Joe for being the man you are and providing a service to our Youth.
- Mark from HI
Pinewood Derby Design - Sally