Tank Car Design Pinewood Derby Car Design Plan

You can build this Pinewood Derby Tank!
(Full Car Design Template Included)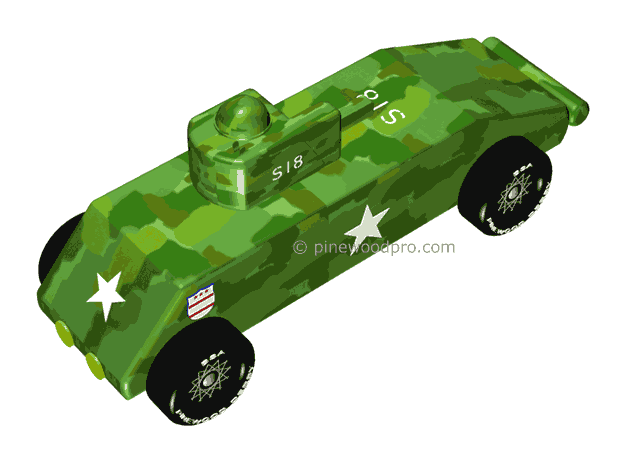 You can build this tank!

Our car design plans are the best on the market, guaranteed.

We show you how with simple step-by-step clear, 3D images.

We show you every cut so you can't make a mistake...

Plan includes cut-out car design template, building hints, tips, weight placement for speed, six painting schemes, tools list, links for help and everything else you need.

Below are some sample pages from one of our car design plans: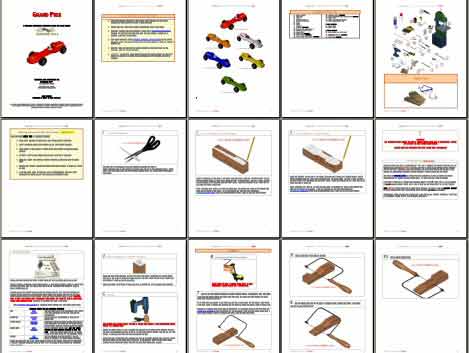 only $4.95
Pinewood Derby
Tips & Hints

Looking for more cool car design ideas? Our free Pinewood Derby Car Design Guide has over 100 cool pinewood derby car design ideas.





Pinewood Derby
axles Tip

The axle slots that are cut into standard blocks are too tight for BSA axles that are .089" diameter. Small axle slots make it difficult to get your axles in straight. A #44 drill bit is .086", which I find too tight. Consider a #43 Drill Bit, which is a perfect match at .089" for a snug fit.




Pinewood Derby
building Hint

Wood filler is your best friend when it comes to building a pinewood derby car. Use wood filler to fill holes, gouges and other cutting mistakes. You can even use it to add a bubble, racer cockpit, spoiler, etc.



Helping Pinewood Derby Racers

...for over 15 years.
After 4 years of not winning, we finally did it!! Your book truly worked!!
- Wayne from CA





This is my son's first Derby car as a Tiger Cub Scout. We had a lot of fun working on this together. Even though he didn't place it was a rewarding experience. Next year we plan to build something even more unique and perhaps a little more challenging. Thanks for a great web site!
- Shawn from CA





I ordered a set of your BSA wheels and axels last minute on Wednesday for overnight delivery. Our race was on Friday. We finished in 6th out of 80 cars, and will be going to the Divisional Race! My son was never happier! Thanks again!
- Steve from KY




FREE Derby Help

Designing Your Car

Building Your Car

Making Your Car Fast

Finishing Touches

Pinewood Pro...

Information

Blastcar for Boy Scouts
Hey Joe- Just wanted to pass on the good news- and a few nice pix. We ended up in 2nd place out of 63 cars racing. Not too bad, and we'll be at district in a few weeks.
- David from IL

Your Products performed flawlessly. Thank you for your awesome quality products.
- Chris N from NJ

This was our very first time building a Pine Derby car for Awana Club. We won first place in our age class and 3rd place over all the age classes up to high school. Thanks, Pinewood Pro!
- Kirk
Pinewood Derby Design - Tank Car