Tank Car Design Pinewood Derby Car Design Plan

You can build this Pinewood Derby Tank!
(Full Car Design Template Included)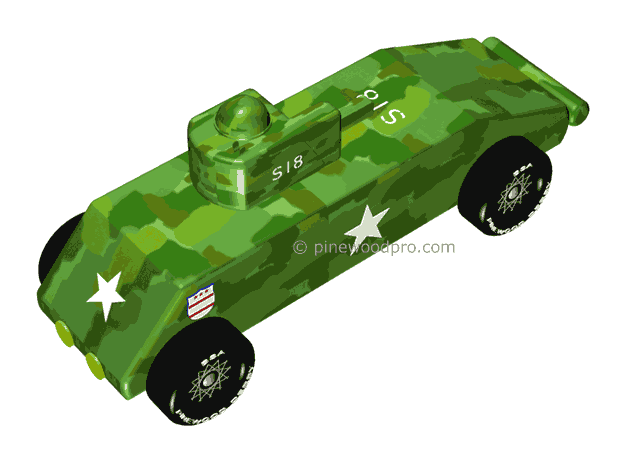 You can build this tank!

Our car design plans are the best on the market, guaranteed.

We show you how with simple step-by-step clear, 3D images.

We show you every cut so you can't make a mistake...

Plan includes cut-out car design template, building hints, tips, weight placement for speed, six painting schemes, tools list, links for help and everything else you need.

Below are some sample pages from one of our car design plans: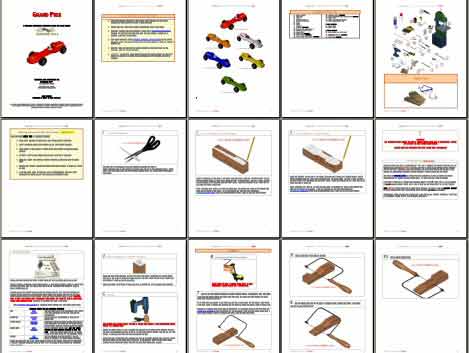 only $4.95
Pinewood Derby
Tips & Hints

Just like the pistons in an engine block, you want your axles to be tight fitting in the wheel bore, to reduce wheel wobble. If your Rules allow, use one of our slightly oversized Speed Axle or PRO Super Speed Axle.





Pinewood Derby
lubes Tip

Our PRO Graphite, with molybdenum disulfide, is a proven winner. Our Track Tests show an average speed increase of 17%.




Pinewood Derby
building Hint

A warped block is ok, as long as your axles are square to the block. Use the PRO Driller Tool to drill perfectly straight axle holes which insures your car will roll straight.



Helping Pinewood Derby Racers

...for over 15 years.
My grandson placed won his races! Your speed secrets and products made the difference. To see his smiles get bigger with each win was worth it.
- Cliff





Everything was great! It was my son's first Kubcar race...approx 60 cars, and he took 1st place! He was so excited... Thanks again. Your Winning Pinewood Derby Secrets book really helped!
- Glenn from Toronto





Thank you for the great Pinewood Derby tips! My son was so excited when he got the 1st place trophy!
- Kevin from AZ




FREE Derby Help

Designing Your Car

Building Your Car

Making Your Car Fast

Finishing Touches

Pinewood Pro...

Information

Blastcar for Boy Scouts
My son won 1st place for the fastest car. Thank you for all of your tips and tricks they were a big help.
- Rob

Last year we took 1st place in our pack I am sold on your speed axles and speed wheels. We raced the car in his elementary school, and he won 1st place in the whole school. Thanks so much!
- Kirk from UT

Once we ordered your tips and tricks we won 1st place every year since. Thank You so much for this information and making my son's pinewood derby career a success.
- Keith
Pinewood Derby Design - Tank Car