Tank Car Design Pinewood Derby Car Design Plan
Look at your army tank rotate 360 degrees so you can see it from all angles!

You can build this Pinewood Derby Tank!
(Full Car Design Template Included)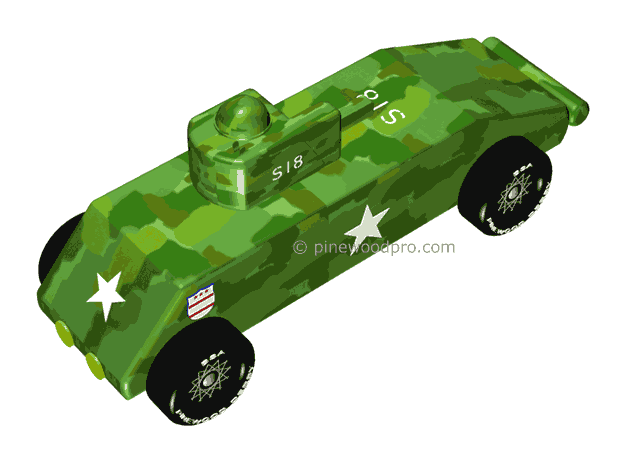 You can build this tank!

Our car design plans are the best on the market, guaranteed.

We show you how with simple step-by-step clear, 3D images.

We show you every cut so you can't make a mistake...

Plan includes cut-out car design template, building hints, tips, weight placement for speed, six painting schemes, tools list, links for help and everything else you need.

Below are some sample pages from one of our car design plans: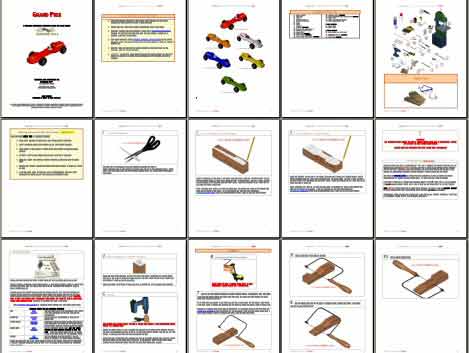 Plus, look at your tank car rotate with these 360 degree animations!

See big version of your tank rotate 360 degrees!
Tank Pinewood Derby Car



only $4.95
Pinewood Derby
Tips & Hints

Before cutting your car, use a straight edge to draw lines down the center lengthwise and widthwise across your car. Then draw your car design template over these straight lines. The template and straight lines help guide your cutting on both sides of the car so everything is square.





Pinewood Derby
winning Tip

Winning Pinewood Derby Secrets contains all the tips you need to win your race. Updated annually with the latest tips and speed products, our book has proven results with 1000's of winners... but don't take our word for it! Read over 90 Customer Reviews and check out our Winners Gallery!




Pinewood Derby
painting Hint

When painting with children, it is better to use a paint brush rather than spray paint because spray paint can cause vapors. If the child is spray painting, be sure to use a breathing mask and be in an open area.



Helping Pinewood Derby Racers

...for over 15 years.
Thanks a ton for all of the tips and of course the Wheels and Axles! We beat cars that had taken district and region in Georgia! This was my last race with my two boys. Great way to end! Thanks again!
- David





Thank you for the great Pinewood Derby tips! My son was so excited when he got the 1st place trophy!
- Kevin





He took first place in his wolf pack and then took first place as the Grand Champion. Thank You for the awesome axles they did the trick!
- Keith




FREE Derby Help

Designing Your Car

Building Your Car

Making Your Car Fast

Finishing Touches

Pinewood Pro...

Information

Blastcar for Boy Scouts
Once we ordered your tips and tricks we won 1st place every year since.
Thank You so much for this information and making my son's pinewood derby career a success.
- Keith





We won every race we entered as well as the grand prize for the fastest car! Thanks for your help and interest.
- Debra





My son's car won every heat it raced. Thanks again Joe. Your info is the best out there!
- Gina




Pinewood Derby Design - Tank Car