Tiger Pinewood Derby Car Design Plan
You can build this Pinewood Derby Tiger Car!
(Full Car Design Template Included)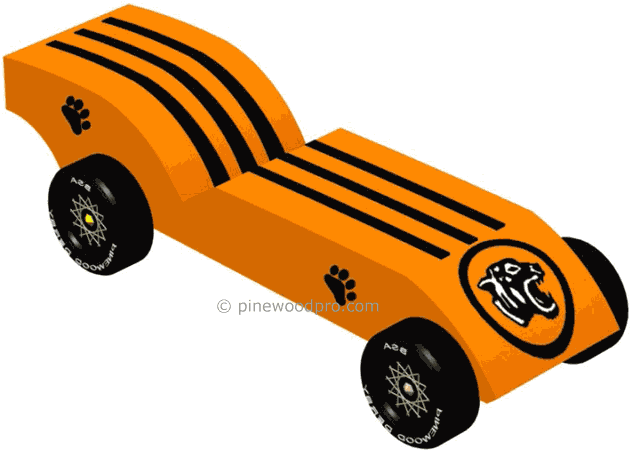 You can build this tiger car!

Our car design plans are the best on the market, guaranteed.


We show you how with simple step-by-step clear, 3D images.

We show you every cut so you can't make a mistake...


Plan includes cut-out car design template, building hints, tips, weight placement for speed, six painting schemes, tools list, links for help and everything else you need.


Below are some sample pages from one of our car design plans: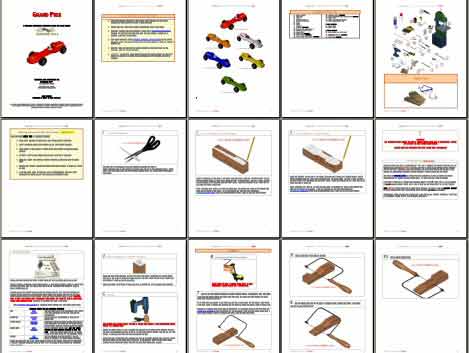 only $4.95
Pinewood Derby
Tips & Hints

Need a little extra weight on weigh in but didn't bring extra weight with you? Use a coin! Here are the weights of US coins in ounces: penny .11 oz, nickel .17 oz, dime .07 oz, quarter .18 oz





Pinewood Derby
lubes Tip

Nyoil stays on your axles throughout the race, unlike powdered graphite that blows off every time your car goes down the track. This gives Nyoil coated axles a speed advantage if your car keeps racing.




Pinewood Derby
painting Hint

When painting with children, it is better to use a paint brush rather than spray paint because spray paint can cause vapors. If the child is spray painting, be sure to use a breathing mask and be in an open area.



Helping Pinewood Derby Racers

...for over 15 years.
We placed an amazing 2nd out of 28 cars. We only lost to first place by half an inch. Our car ran consistently all night. We won 2nd place overall! You will be our first stop next year!
- John





Thank you for your help, my grandson took first place in his pinewood derby race!
- Grandpa Jim from PA





Pinewood Pro gets 'er done cuz we finished No.#1, thanks Joe!!!
- Bruce from WA




FREE Derby Help

Designing Your Car

Building Your Car

Making Your Car Fast

Finishing Touches

Pinewood Pro...

Information

Blastcar for Boy Scouts
Just wanted to say THANK YOU! I received my items. I have used you guys for 3 or 4 years now, ALWAYS fast, great products, I am very happy with you guys. AND we have won AT LEAST our den every year! Cheers!
- Paul from MO

.

Jonah's car won 1st place in his Den, first place in the Pack and I couldn't believe it but he also won for Best looking car!
- Thomas from FL

Armed with tips from your Winning Pine Wood Derby Secrets, and graphite powder, Sean's car raced ahead of the wolf pack! Thanks again for you excellent website, materials, and products!
- Mark & Sean
Pinewood Derby Design - Tiger Car