Tiger Pinewood Derby Car Design Plan
You can build this Pinewood Derby Tiger Car!
(Full Car Design Template Included)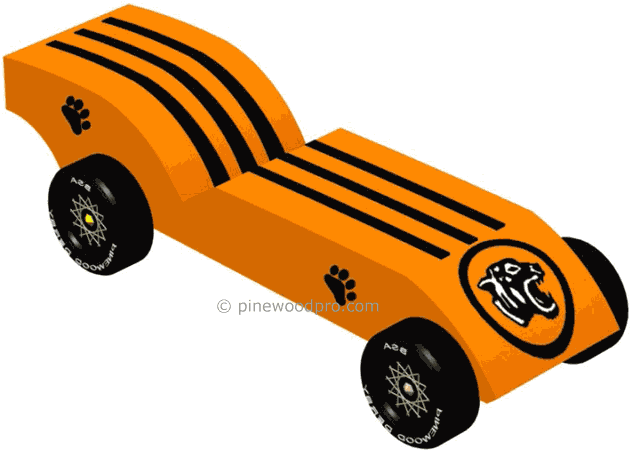 You can build this tiger car!

Our car design plans are the best on the market, guaranteed.


We show you how with simple step-by-step clear, 3D images.

We show you every cut so you can't make a mistake...


Plan includes cut-out car design template, building hints, tips, weight placement for speed, six painting schemes, tools list, links for help and everything else you need.


Below are some sample pages from one of our car design plans: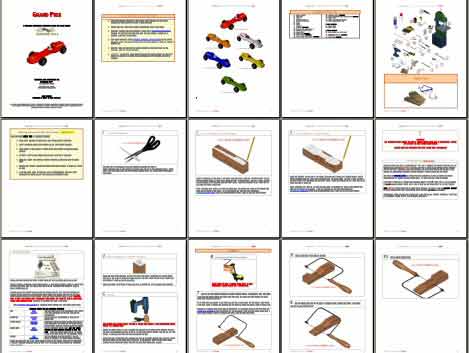 only $4.95
Pinewood Derby
Tips & Hints

Looking for a pinewood derby car design template? Select from over 30 of Pinewood Pro's award winning Pinewood Derby Car Designs. They include everything from race cars to Military cars to a Nike Sneaker!





Pinewood Derby
weights Tip

Tungsten Putty is ideal for getting your car up to the maximum 5 oz limit. Drill a hole in the bottom of your car and insert Pinewood Pro Putty as the last step to bring your car to 5.0 oz. If the official scale weighs you in at 5.1 oz, simply remove a small amount of putty to bring it back to 5.0 oz.




Pinewood Derby
lubes Hint

When lubing your wheels and axles, shoot graphite powder into the wheel bore, spin your wheels, and repeat. Do this over newspaper in your garage or outside the house.



Helping Pinewood Derby Racers

...for over 15 years.
Using these axles and BSA speed wheels, we set a track record, went undefeated and won the pack championship. My son is thrilled to be heading to districts and let me tell you, a winning scout is a happy scout. Can't recommend these enough!
- Natalie from CO





My son peter took first place with his car. Thanks for your products,
- Tony from TX





This will be my 3rd year ordering from you. This year I have an 8 year old son, a ten year old son, and my 12 year old daughter's young women group is also doing the pinewood derby. We are still undefeated – Last year we purchased your wheels and axles and won 1st place again, 2 years running!
- Kirk from UT




FREE Derby Help

Designing Your Car

Building Your Car

Making Your Car Fast

Finishing Touches

Pinewood Pro...

Information

Blastcar for Boy Scouts
My son, won his pack derby today on our first attempt! He won 9 races in a row and none of them were even close. Thanks for your assist in this father & son memory.
- Kevin from VT

Didn't lose a race all day! Key was...PRO Speed Axles and Wheels.
- Randy from NM

Pinewood Pro gets 'er done cuz we finished No.#1, thanks Joe!!!
- Bruce from WA
Pinewood Derby Design - Tiger Car