Wolf Pinewood Derby Car Design Plan
Look at your wolf car rotate 360 degrees so you can see it from all angles!


You can build this Pinewood Derby Wolf Car!
(Full Car Design Template Included)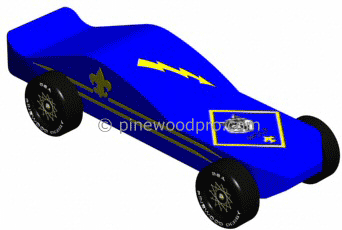 You can build this wolf car!

Our car design plans are the best on the market, guaranteed.

We show you how with simple step-by-step clear, 3D images.
We show you every cut so you can't make a mistake...

Plan includes cut-out car design template, building hints, tips, weight placement for speed, six painting schemes, tools list, links for help and everything else you need.

Below are some sample pages from one of our car design plans: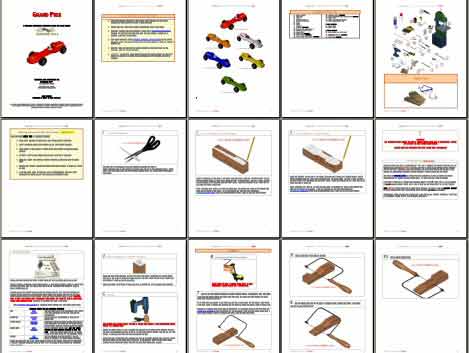 Plus, look at your wolf car rotate with these 360 degree animations!
only $4.95
Pinewood Derby
Tips & Hints

Make your car slim. If your car is too chunky, there will be lots of weight in the wood, leaving less weight for your weights. You want lots of weight so you can move the center of gravity to the optimal point to maximize inertia.





Pinewood Derby
wheels Tip

If you have a bad wheel and you don't have time to replace it, Raise that Wheel so it doesn't touch the track. Since it doesn't touch the track, it won't have any negative affect on your car's speed.




Pinewood Derby
rules Hint

If it isn't explicitly stated in the rules, then you can do it. If you have questions about your rules, ask your race manager, since all races have different rules.



Helping Pinewood Derby Racers

...for over 15 years.
After winning 1st place overall for his pack my son went to the district race and won first place for the Bears using your wheels and speed axles. Great products, Pinewood Pro!
- Teddy from OH





Just wanted to say THANK YOU! I received my items. I have used you guys for 3 or 4 years now, ALWAYS fast, great products, I am very happy with you guys. AND we have won AT LEAST our den every year! Cheers!
- Paul from MO





Thanks to your detailed instructions, speed tips and parts, we won 1st place! Thanks so much.
- Joe from ME




FREE Derby Help

Designing Your Car

Building Your Car

Making Your Car Fast

Finishing Touches

Pinewood Pro...

Information

Blastcar for Boy Scouts
With the help of your block, axes, wheels, and lube we went from last place 3 years running to 1st place overall. Thanks!

- Roger

Your tips were Fabulous! Competing in the District Race tomorrow...Our first time making a car! You ROCK!!!!
- Nancy B from NC

This is our last year of Pinewood Derby. We have shopped with you all 5 years and our son won his Pack 2x, Districts 1x and placed 2nd the other times. Thank you!
- Lloyd from NH
Pinewood Derby Design - Wolf Car