build the Pinewood Derby arrow Car!
(Complete Car Design plan with Templates and full 3D illustrations)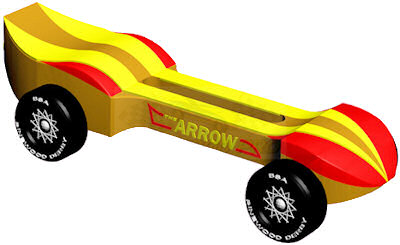 You can build this car!

Our car design plans are the best on the market, guaranteed!

We show you how with simple step-by-step clear, 3D images.
We show you every cut so you can't make a mistake...



Car design plans include:

Cut-out printable car design template patterns
Building hints and shortcuts
Safety tips
Weight placement to maximize speed
Six painting schemes
cut-out decorative patterns
360 animation so you can see your car from all angles
Tools list and embedded links for help and everything you need...


Below are some sample pages from one of our car design plans: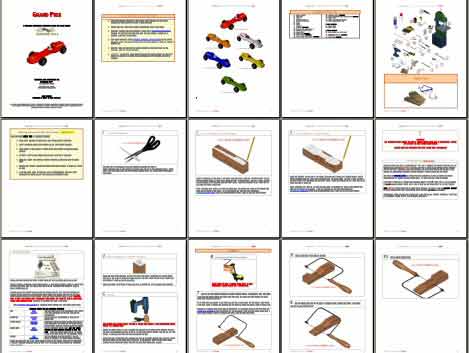 Download the Arrow Template direct to your computer instantly.

Our 3D derby car designs are the best on the market, guaranteed!











Pinewood Derby
Tips & Hints

The stock BSA "nails" that come in your kit are mass produced. These nails have burrs, crimp marks and can also be crooked, all of which severely limits your car speed. An Axle Polishing Kit and Axle File are essential to fix your axles and increase your car speed.





Pinewood Derby
lubes Tip

When adding Nyoil to your axles, "less is more"! Only use one or two drops per axle and wipe off any excess oil. The oil should not be run down your axle.




Pinewood Derby
building Hint

Be sure any decorative parts are super glued into place! If you lose a piece off your car it will affect the weight of the car, resulting in loss of inertia, decreasing your speed.



Helping Pinewood Derby Racers

...for over 15 years.
My son's car won every heat it raced. Thanks again Joe. Your info is the best out there!
- Gina





We placed an amazing 2nd out of 28 cars. We only lost to first place by half an inch. Our car ran consistently all night. We won 2nd place overall! You will be our first stop next year!
- John





My son won an award for most futuristic design. We really appereciated all your help. Thanks for all the help and guidance.
- Greg from CT




FREE Derby Help

Designing Your Car

Building Your Car

Making Your Car Fast

Finishing Touches

Pinewood Pro...

Information

Blastcar for Boy Scouts
Thanks a ton for all the tips and the Wheels and Axles! We beat cars that had taken district and region in Georgia! This was my last race with my two boys. Great way to end! Thanks again!
- David

We came in fourth place; very respectable, given it was our first time. Thanks very much for helping us overcome our building weaknesses with great products.
- Doug and Taiki from VA

My son placed 1st place in the St. David's Cup.
- Wayne
Pinewood Derby Design - Arrow