Fire Engine Truck Pinewood Derby Car Design Plan

You can build this Pinewood Derby Fire Truck!
(Full Car Design Template Included)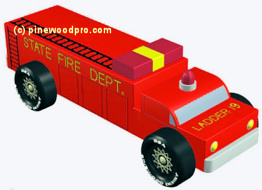 You can build this fire engine truck!

Our car design plans are the best on the market, guaranteed.


We show you how with simple step-by-step clear, 3D images.
We show you every cut so you can't make a mistake...


Plan includes cut-out car design template, building hints, tips, weight placement for speed, six painting schemes, tools list, links for help and everything else you need.

Below are some sample pages from one of our car design plans: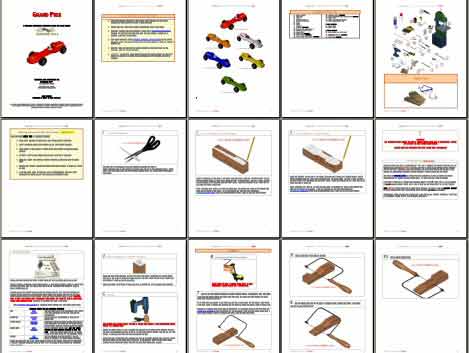 Plus, look at your fire engine truck car rotate with these 360 degree animations!
only $4.95
Pinewood Derby
Tips & Hints

A lathed wheel means the wheel was turned at a high speed and "sanded" with a cutting tool. Lathed Wheels are perfectly tuned around the axis of rotation giving you the highest performance.





Pinewood Derby
weights Tip

Need a little extra weight on weigh in but didn't bring extra weight with you? Use a coin! Here are the weights of US coins in ounces: penny .11 oz, nickel .17 oz, dime .07 oz, quarter .18 oz




Pinewood Derby
building Hint

Don't put a round peg (axle) in a square hole! Axle slots are square but your axles are round, making it difficult to get them to go in straight. Use a drill press or the PRO Driller to redrill the axle slot so you have a straight round hole to insert your axles



Helping Pinewood Derby Racers

...for over 15 years.
The speed axles did the trick second year in a row!
- Debbie & Frank





I ordered a set of your BSA wheels and axels last minute on Wednesday for overnight delivery. Our race was on Friday. We finished in 6th out of 80 cars, and will be going to the Divisional Race! My son was never happier! Thanks again!
- Steve from KY





As soon as he got home, he ran up stairs to his room to put his trophy of his shelf. I will defiantly be buying from you. Thanks for the Winning Secrets!
- Phil from NV




FREE Derby Help

Designing Your Car

Building Your Car

Making Your Car Fast

Finishing Touches

Pinewood Pro...

Information

Blastcar for Boy Scouts
Thank you for the great service. I will be coming back to purchase fo my grandson's pinewood derby. Thanks again, it's been great doing business with Pinewood Pro. Blessings to you and your staff.
- Jim from IL





My son won an award for most futuristic design. We really appereciated all your help. Thanks for all the help and guidance.
- Greg from CT





Hey Joe- Just wanted to pass on the good news- and a few nice pix. We ended up in 2nd place out of 63 cars racing. Not too bad, and we'll be at district in a few weeks.
- David from IL




Pinewood Derby Design - Fire Engine Truck