Firebird Pinewood Derby Car Design Plan

You can build this Pinewood Derby Firebird Car!
(Full Car Design Template Included)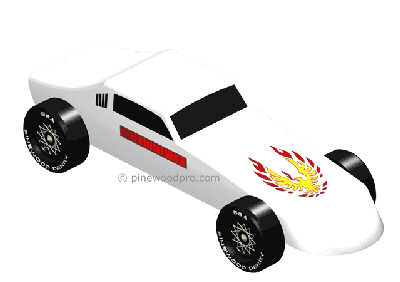 You can build this car!

Our car design plans are the best on the market, guaranteed!
We show you how with simple step-by-step clear, 3D images.
We show you every cut so you can't make a mistake...

Plan includes cut-out car design template, building hints, tips,
weight placement for speed, six painting schemes, tools list,
links for help and everything else you need.

Below are some sample pages from one of our car design plans: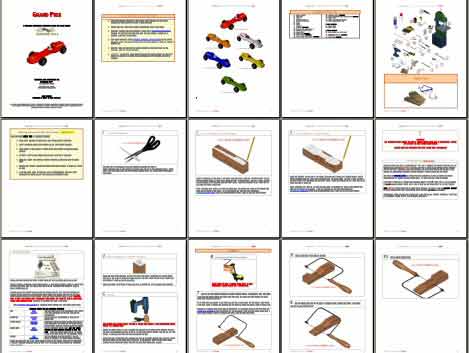 Plus, look at your Firebird car rotate with these 360 degree animations!


Download the Firebird Template direct to your computer in minutes.
Our 3D derby car designs are the best on the market, guaranteed!


Pinewood Derby
Tips & Hints

If you have a bad wheel and you don't have time to replace it, Raise that Wheel so it doesn't touch the track. Since it doesn't touch the track, it won't have any negative affect on your car's speed.





Pinewood Derby
axles Tip

When your wheel rubs against the axle head it creates friction. To reduce this friction, file the head back slightly using an Axle File to reduce the friction area.




Pinewood Derby
weights Hint

Need a little extra weight on weigh in but didn't bring extra weight with you? Use a coin! Here are the weights of US coins in ounces: penny .11 oz, nickel .17 oz, dime .07 oz, quarter .18 oz



Helping Pinewood Derby Racers

...for over 15 years.
We won every race we entered as well as the grand prize for the fastest car! Thanks for your help and interest.
- Debra





I just read your Winning Pinewood Derby Secrets book and I can not wait to apply the information. Thanks for the help!
- Tully from TX





After winning 1st place overall for his pack my son went to the district race and won first place for the Bears using your wheels and speed axles. Great products, Pinewood Pro!
- Teddy from OH




FREE Derby Help

Designing Your Car

Building Your Car

Making Your Car Fast

Finishing Touches

Pinewood Pro...

Information

Blastcar for Boy Scouts
Your Products performed flawlessly. Thank you for your awesome quality products.
- Chris N from NJ

This was our first year racing in the Pinewood Derby. We came out in second place. Thanks for all your help, without your book, we would not have won!! Look at that big smile.
- Eli from TN

My son won an award for most futuristic design. We really appereciated all your help. Thanks for all the help and guidance.
- Greg from CT
Pinewood Derby Car Design - Firebird