Firebird Pinewood Derby Car Design Plan

You can build this Pinewood Derby Firebird Car!
(Full Car Design Template Included)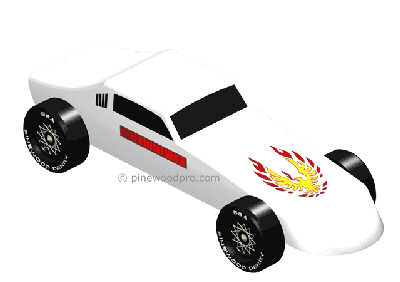 You can build this car!

Our car design plans are the best on the market, guaranteed!
We show you how with simple step-by-step clear, 3D images.
We show you every cut so you can't make a mistake...

Plan includes cut-out car design template, building hints, tips,
weight placement for speed, six painting schemes, tools list,
links for help and everything else you need.

Below are some sample pages from one of our car design plans: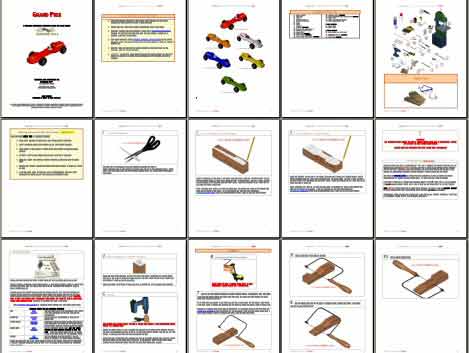 Plus, look at your Firebird car rotate with these 360 degree animations!


Download the Firebird Template direct to your computer in minutes.
Our 3D derby car designs are the best on the market, guaranteed!


Pinewood Derby
Tips & Hints

Lead is denser than zinc but lead is toxic, so we do not recommend handling it. Use non-toxic weights like zinc or tungsten.





Pinewood Derby
lubes Tip

Our PRO Graphite, with molybdenum disulfide, is a proven winner. Our Track Tests show an average speed increase of 17%.




Pinewood Derby
painting Hint

When painting with children, it is better to use a paint brush rather than spray paint because spray paint can cause vapors. If the child is spray painting, be sure to use a breathing mask and be in an open area.



Helping Pinewood Derby Racers

...for over 15 years.
Hey Joe- Just wanted to pass on the good news- and a few nice pix. We ended up in 2nd place out of 63 cars racing. Not too bad, and we'll be at district in a few weeks.
- David from IL





Your Products performed flawlessly. Thank you for your awesome quality products.
- Chris N from NJ





Thanks a ton for all the tips and the Wheels and Axles! We beat cars that had taken district and region in Georgia! This was my last race with my two boys. Great way to end! Thanks again!
- David




FREE Derby Help

Designing Your Car

Building Your Car

Making Your Car Fast

Finishing Touches

Pinewood Pro...

Information

Blastcar for Boy Scouts
We won! In the championships we beat 24 other Bears and won every heat.
- Kevin K. from CA

My son, won his pack derby today on our first attempt! He won 9 races in a row and none of them were even close. Thanks for your assist in this father & son memory.
- Kevin from VT

My son's car won every heat it raced. Thanks again Joe. Your info is the best out there!
- Gina
Pinewood Derby Car Design - Firebird