Firebird Pinewood Derby Car Design Plan

You can build this Pinewood Derby Firebird Car!
(Full Car Design Template Included)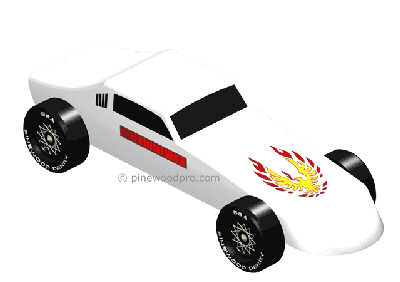 You can build this car!

Our car design plans are the best on the market, guaranteed!
We show you how with simple step-by-step clear, 3D images.
We show you every cut so you can't make a mistake...

Plan includes cut-out car design template, building hints, tips,
weight placement for speed, six painting schemes, tools list,
links for help and everything else you need.

Below are some sample pages from one of our car design plans: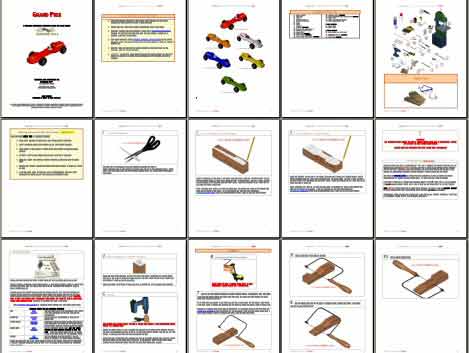 Plus, look at your Firebird car rotate with these 360 degree animations!


Download the Firebird Template direct to your computer in minutes.
Our 3D derby car designs are the best on the market, guaranteed!


Pinewood Derby
Tips & Hints

Make your car slim. If your car is too chunky, there will be lots of weight in the wood, leaving less weight for your weights. You want lots of weight so you can move the center of gravity to the optimal point to maximize inertia.





Pinewood Derby
winning Tip

Winning Pinewood Derby Secrets contains all the tips you need to win your race. Updated annually with the latest tips and speed products, our book has proven results with 1000's of winners... but don't take our word for it! Read over 90 Customer Reviews and check out our Winners Gallery!




Pinewood Derby
painting Hint

Put a coat of wood primer on your car before painting it because pine wood is porous and will absorb the first coat of paint. Lightly sand the primer after it dries, then apply a final coat (or two) for a clean, finished look.



Helping Pinewood Derby Racers

...for over 15 years.
My son won an award for most futuristic design. We really appereciated all your help. Thanks for all the help and guidance.
- Greg





This was our very first time building a Pine Derby car for Awana Club. We won first place in our age class and 3rd place over all the age classes up to high school. Thanks, Pinewood Pro!
- Kirk





One of my girls won the "girls fav" car which was picked by all the girl scouts as their fav. Thanks
- Stephanie




FREE Derby Help

Designing Your Car

Building Your Car

Making Your Car Fast

Finishing Touches

Pinewood Pro...

Information

Blastcar for Boy Scouts
Thanks a ton for all of the tips and of course the Wheels and Axles! We beat cars that had taken district and region in Georgia! This was my last race with my two boys. Great way to end! Thanks again!
- David





Thanks a ton for all of the tips and of course the Wheels and Axles! We beat cars that had taken district and region in Georgia! This was my last race with my two boys. Great way to end! Thanks again!
- David





Hey Joe- Just wanted to pass on the good news- and a few nice pix. We ended up in 2nd place out of 63 cars racing. Not too bad, and we'll be at district in a few weeks.
- David




Pinewood Derby Car Design - Firebird