build this Cool Nike Sneaker Car!
(Four Car Design Template patterns Included to build this car)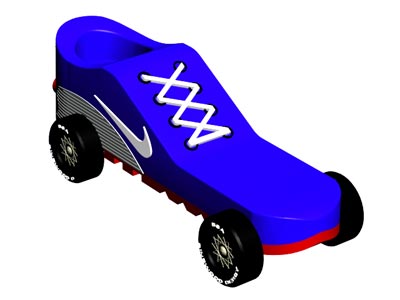 You can build the NIKE Sneaker car with our pinewood derby car design plans,

Building this car is as easy as tying your shoes!

We show you how with simple step-by-step clear, 3D images.

We show you every cut so you can't make a mistake...



Car design plans include:

Cut-out printable car design template patterns
Building hints and shortcuts
Safety tips
Weight placement to maximize speed
Six painting schemes
cut-out decorative patterns
360 animation so you can see your car from all angles
Tools list and embedded links for help and everything you need...


Below are some sample pages from one of our car design plans: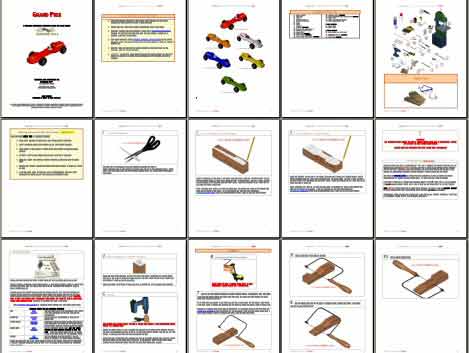 Plus, we animate your Nike Sneaker car so you can view it from all angles!


Download the Nike Sneaker car design with template patterns direct to your computer instantly.

Pinewood Pro 3D derby car designs - best on the market, guaranteed!


Pinewood Derby
Tips & Hints

Tungsten weights are ideal for pinewood derby cars. Tungsten is about 1/3 smaller than a zinc piece with the same weight. Therefore, you can pack Tungsten weights in a smaller area to optimize your center of gravity to maximize inertia giving you greater speed at the finish gate.





Pinewood Derby
lubes Tip

When adding Nyoil to your axles, "less is more"! Only use one or two drops per axle and wipe off any excess oil. The oil should not be run down your axle.




Pinewood Derby
painting Hint

Put a coat of wood primer on your car before painting it because pine wood is porous and will absorb the first coat of paint. Lightly sand the primer after it dries, then apply a final coat (or two) for a clean, finished look.



Helping Pinewood Derby Racers

...for over 15 years.
This is my son's first Derby car as a Tiger Cub Scout. We had a lot of fun working on this together. Even though he didn't place it was a rewarding experience. Next year we plan to build something even more unique and perhaps a little more challenging. Thanks for a great web site!
- Shawn from CA





As soon as he got home, he ran up stairs to his room to put his trophy of his shelf. I will defiantly be buying from you. Thanks for the Winning Secrets!
- Phil from NV





Thanks for offering such great products to beginners. My son finished 1st in his pack, 2nd in his district, and 6th overall for his first year. Will definitely order from you again.
- Matthew from TN




FREE Derby Help

Designing Your Car

Building Your Car

Making Your Car Fast

Finishing Touches

Pinewood Pro...

Information

Blastcar for Boy Scouts
Thanks for helping out with these orders. I appreciate the quality of your customer service and will definitely recommend your company to others in my son's pack. Cheers!
- Thomas from NC

We got a "Most Realistic" for the Humvee and an 4th place with the "wedge." You would have thought my seven-year-old twin grandsons had won college scholarships! I was a hero. Thanks, again. I'll probably be back next year, Lord willing.
- Mike from KS

This was my 7-year-old's first Pinewood Derby and he won 1st! We followed your Winning Pinewood Derby Secrets and his car smoked other the cars by 4-5 car lengths each race. Thanks again.
- John
Pinewood Derby Design - Nike Shoe