build this Cool Nike Sneaker Car!
(Four Car Design Template patterns Included to build this car)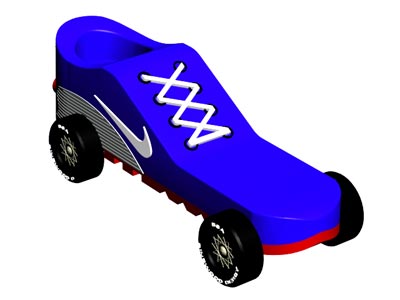 You can build the NIKE Sneaker car with our pinewood derby car design plans,

Building this car is as easy as tying your shoes!

We show you how with simple step-by-step clear, 3D images.

We show you every cut so you can't make a mistake...



Car design plans include:

Cut-out printable car design template patterns
Building hints and shortcuts
Safety tips
Weight placement to maximize speed
Six painting schemes
cut-out decorative patterns
360 animation so you can see your car from all angles
Tools list and embedded links for help and everything you need...


Below are some sample pages from one of our car design plans: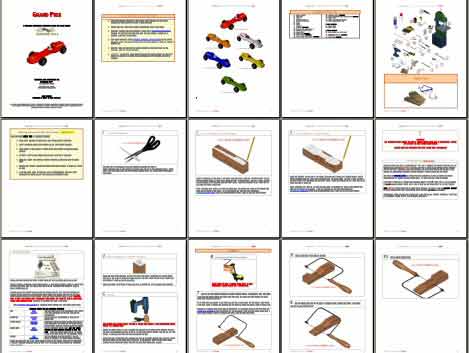 Plus, we animate your Nike Sneaker car so you can view it from all angles!


Download the Nike Sneaker car design with template patterns direct to your computer instantly.

Pinewood Pro 3D derby car designs - best on the market, guaranteed!


Pinewood Derby
Tips & Hints

Looking for a pinewood derby car design template? Select from over 30 of Pinewood Pro's award winning Pinewood Derby Car Designs. They include everything from race cars to Military cars to a Nike Sneaker!





Pinewood Derby
wheels Tip

Spin each wheel on a polished axle with graphite and count the number of revolutions. If a wheel wobbles, try spinning it again. If it still wobbles, get another wheel that does not wobble.




Pinewood Derby
rules Hint

When it comes to Pinewood Derby racing, Rules are not meant to be broken. Check with other racers or your race manager before your race to clarify what is allowed and how your car will be inspected when it is checked in.



Helping Pinewood Derby Racers

...for over 15 years.
Just wanted to say THANK YOU! I received my items. I have used you guys for 3 or 4 years now, ALWAYS fast, great products, I am very happy with you guys. AND we have won AT LEAST our den every year! Cheers!
- Paul from MO





Thank you very much! I've always had very good luck with your products and I will continue to purchase everything I need from you!
- Jenna from AL





My son's car won every heat it raced. Thanks again Joe. Your info is the best out there!
- Gina




FREE Derby Help

Designing Your Car

Building Your Car

Making Your Car Fast

Finishing Touches

Pinewood Pro...

Information

Blastcar for Boy Scouts
One of my girls won the "girls fav" car which was picked by all the girl scouts as their fav. Thanks
- Stephanie

As soon as he got home, he ran up stairs to his room to put his trophy of his shelf. I will defiantly be buying from you. Thanks for the Winning Secrets!
- Phil from NV

Your Products performed flawlessly. Thank you for your awesome quality products.
- Chris N from NJ
Pinewood Derby Design - Nike Shoe