build this Cool Nike Sneaker Car!
(Four Car Design Template patterns Included to build this car)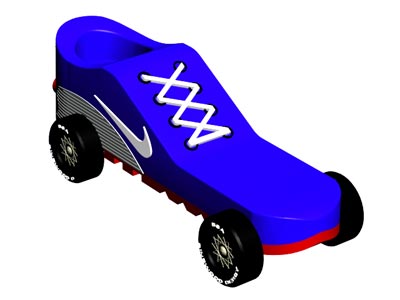 You can build the NIKE Sneaker car with our pinewood derby car design plans,

Building this car is as easy as tying your shoes!

We show you how with simple step-by-step clear, 3D images.

We show you every cut so you can't make a mistake...



Car design plans include:

Cut-out printable car design template patterns
Building hints and shortcuts
Safety tips
Weight placement to maximize speed
Six painting schemes
cut-out decorative patterns
360 animation so you can see your car from all angles
Tools list and embedded links for help and everything you need...


Below are some sample pages from one of our car design plans: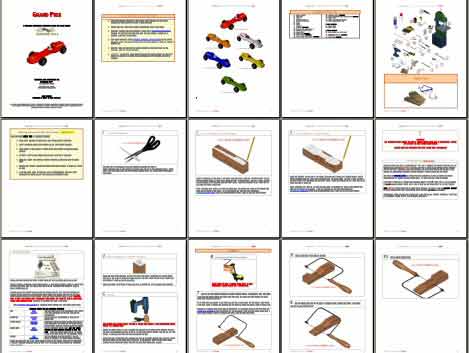 Plus, we animate your Nike Sneaker car so you can view it from all angles!


Download the Nike Sneaker car design with template patterns direct to your computer instantly.

Pinewood Pro 3D derby car designs - best on the market, guaranteed!


Pinewood Derby
Tips & Hints

Need a little extra weight on weigh in but didn't bring extra weight with you? Use a coin! Here are the weights of US coins in ounces: penny .11 oz, nickel .17 oz, dime .07 oz, quarter .18 oz





Pinewood Derby
lubes Tip

Nyoil stays on your axles throughout the race, unlike powdered graphite that blows off every time your car goes down the track. This gives Nyoil coated axles a speed advantage if your car keeps racing.




Pinewood Derby
painting Hint

Put a coat of wood primer on your car before painting it because pine wood is porous and will absorb the first coat of paint. Lightly sand the primer after it dries, then apply a final coat (or two) for a clean, finished look.



Helping Pinewood Derby Racers

...for over 15 years.
The speed axles did the trick second year in a row!
- Debbie & Frank





This is our last year of Pinewood Derby. We have shopped with you all 5 years and our son won his Pack 2x, Districts 1x and placed 2nd the other times. Thank you!
- Lloyd from NH





Using the tips on your website, Daniel's car won every race for his den, and won the district races. It seemed that his car got faster with every run. We have memories that will last.
- David




FREE Derby Help

Designing Your Car

Building Your Car

Making Your Car Fast

Finishing Touches

Pinewood Pro...

Information

Blastcar for Boy Scouts
After 4 years of not winning, we finally did it!! Your book truly worked!!
- Wayne from CA

Thank you for all of the information. We had fun making the car! We're going on to the Regionals, as our car to 1st place in our den!
- Lou from IN

Thanks to your detailed instructions, speed tips and parts, we won 1st place! Thanks so much.
- Joe from ME
Pinewood Derby Design - Nike Shoe