Pencil Pinewood Derby Car Design Plan
See your pencil pinewood derby car rotate 360 degrees!

You can build this Pinewood Derby pencil Car!
(Full Car Design Template Included)
You can build this car!

Our car design plans are the best on the market, guaranteed!

We show you how with simple step-by-step clear, 3D images.
We show you every cut so you can't make a mistake...

Plan includes cut-out car design template, building hints, tips,
weight placement for speed, six painting schemes, tools list,
links for help and everything else you need.

Below are some sample pages from one of our car design plans: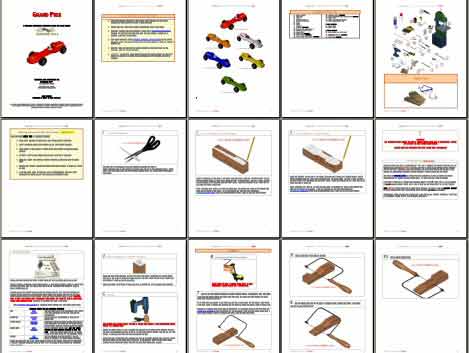 Plus, look at your Pencil car rotate with these 360 degree animations!


Download the Pencil Template direct to your computer in minutes.
Our 3D derby car designs are the best on the market, guaranteed!


Pinewood Derby
Tips & Hints

Make your car slim. If your car is too chunky, there will be lots of weight in the wood, leaving less weight for your weights. You want lots of weight so you can move the center of gravity to the optimal point to maximize inertia.





Pinewood Derby
weights Tip

Need a little extra weight on weigh in but didn't bring extra weight with you? Use a coin! Here are the weights of US coins in ounces: penny .11 oz, nickel .17 oz, dime .07 oz, quarter .18 oz




Pinewood Derby
lubes Hint

Nyoil stays on your axles throughout the race, unlike powdered graphite that blows off every time your car goes down the track. This gives Nyoil coated axles a speed advantage if your car keeps racing.



Helping Pinewood Derby Racers

...for over 15 years.
I just read your Winning Pinewood Derby Secrets book and I can not wait to apply the information. Thanks for the help!
- Tully from TX





Hey Joe- Just wanted to pass on the good news- and a few nice pix. We ended up in 2nd place out of 63 cars racing. Not too bad, and we'll be at district in a few weeks.
- David from IL





I have a Webelo 1 and Webelo II Scout and they placed 1st and 2nd in this year's Pinewood Derby and will now go on to compete in the regional race. Thank you for all the good that you are doing and helping make kids dreams come true.
- Craig from CA




FREE Derby Help

Designing Your Car

Building Your Car

Making Your Car Fast

Finishing Touches

Pinewood Pro...

Information

Blastcar for Boy Scouts
After winning 1st place overall for his pack my son went to the district race and won first place for the Bears using your wheels and speed axles. Great products, Pinewood Pro!
- Teddy from OH

My son won 2nd place Medals. This was made possible by your personal assistance and Pinewood Pro products. Thank you, Joe for being the man you are and providing a service to our Youth.
- Mark from HI

This was our very first time building a Pine Derby car for Awana Club. We won first place in our age class and 3rd place over all the age classes up to high school. Thanks, Pinewood Pro!
- Kirk
Pinewood Derby Design - Pencil