Pencil Pinewood Derby Car Design Plan
See your pencil pinewood derby car rotate 360 degrees!

You can build this Pinewood Derby pencil Car!
(Full Car Design Template Included)
You can build this car!

Our car design plans are the best on the market, guaranteed!

We show you how with simple step-by-step clear, 3D images.
We show you every cut so you can't make a mistake...

Plan includes cut-out car design template, building hints, tips,
weight placement for speed, six painting schemes, tools list,
links for help and everything else you need.

Below are some sample pages from one of our car design plans: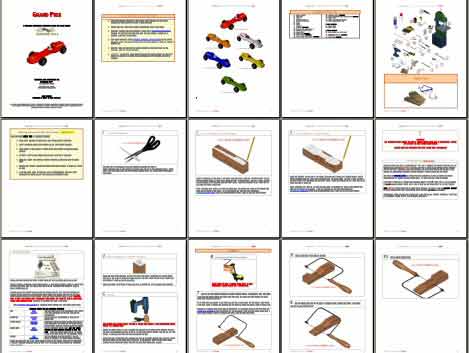 Plus, look at your Pencil car rotate with these 360 degree animations!


Download the Pencil Template direct to your computer in minutes.
Our 3D derby car designs are the best on the market, guaranteed!


Pinewood Derby
Tips & Hints

If you are using 3/8" round weights, drill your 3/8" weight holes before cutting out the rest of the car because it is easier to hold the full block. Always use a clamp to hold your block before drilling or cutting. Safety First!





Pinewood Derby
axles Tip

When your car wheel rubs against the axle head it can cause the wheel to wobble because the corner of the axle head is not a perfect 90 degrees. Cutting a groove directly under the axle head removes this source of wheel wobble. Cutting this groove is difficult to do by hand, but it can be done with an axle file. Our grooved Speed Axles and Pro Super Speed axles have this groove, exclusive to Pinewood Pro, cut directly under the axle head.




Pinewood Derby
building Hint

If your block is cracked, don't panic! The only problem with a cracked block is if the crack is near the axle, which can cause the axle to move. Random cracks in safe areas can simply be filled with wood filler.



Helping Pinewood Derby Racers

...for over 15 years.
My son won 2nd place Medals. This was made possible by your personal assistance and Pinewood Pro products. Thank you, Joe for being the man you are and providing a service to our Youth.
- Mark from HI





With the help of your block, axes, wheels, and lube we went from last place 3 years running to 1st place overall. Thanks!

- Roger




I just read your Winning Pinewood Derby Secrets book and I can not wait to apply the information. Thanks for the help!
- Tully from TX




FREE Derby Help

Designing Your Car

Building Your Car

Making Your Car Fast

Finishing Touches

Pinewood Pro...

Information

Blastcar for Boy Scouts
After 4 years of not winning, we finally did it!! Your book truly worked!!
- Wayne from CA

Thank you for your help, my grandson took first place in his pinewood derby race!
- Grandpa Jim from PA

My son and I finished 1st in our race! My son won the championship, and my daugther's car won 2nd place in the Family division. We were all very happy! Thank you from the entire family!
- Josh, Haley and Philip
Pinewood Derby Design - Pencil