Pencil Pinewood Derby Car Design Plan
See your pencil pinewood derby car rotate 360 degrees!

You can build this Pinewood Derby pencil Car!
(Full Car Design Template Included)
You can build this car!

Our car design plans are the best on the market, guaranteed!

We show you how with simple step-by-step clear, 3D images.
We show you every cut so you can't make a mistake...

Plan includes cut-out car design template, building hints, tips,
weight placement for speed, six painting schemes, tools list,
links for help and everything else you need.

Below are some sample pages from one of our car design plans: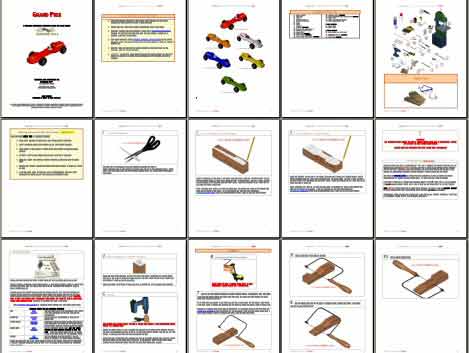 Plus, look at your Pencil car rotate with these 360 degree animations!


Download the Pencil Template direct to your computer in minutes.
Our 3D derby car designs are the best on the market, guaranteed!


Pinewood Derby
Tips & Hints

The best part of pinewood derby is designing a unique, cool car that you can call your own. Don't worry about aerodynamics because it is almost insignificant. We identify dozens of other speed tips in Winning Pinewood Derby Secrets that rank far above aerodynamics.





Pinewood Derby
winning Tip

Winning Pinewood Derby Secrets contains all the tips you need to win your race. Updated annually with the latest tips and speed products, our book has proven results with 1000's of winners... but don't take our word for it! Read over 90 Customer Reviews and check out our Winners Gallery!




Pinewood Derby
painting Hint

Put a clear Gloss Paint Sealer on your car to protect your cool paint job from dirt and graphite smudges.



Helping Pinewood Derby Racers

...for over 15 years.
We won! In the championships we beat 24 other Bears and won every heat.
Kevin K.





My son won third in his pack, and we are waiting the district race. Thanks again for all of your wonderful products!
- Tom





Didn't lose a race all day! Key was...PRO Speed Axles and Wheels.
- Randy




FREE Derby Help

Designing Your Car

Building Your Car

Making Your Car Fast

Finishing Touches

Pinewood Pro...

Information

Blastcar for Boy Scouts
My son won 1st place for the fastest car. Thank you for all of your tips and tricks they were a big help.
- Rob




This is my son's first Derby car as a Tiger Cub Scout. We had a lot of fun working on this together. Even though he didn't place it was a rewarding experience. Next year we plan to build something even more unique and perhaps a little more challenging. Thanks for a great web site!




You people offer the very finest support and equipment for Pinewood derby cars on the planet! We went undefeated for the second year in a row. Cheers!
- Wayne




Pinewood Derby Design - Pencil