Pencil Pinewood Derby Car Design Plan
See your pencil pinewood derby car rotate 360 degrees!

You can build this Pinewood Derby pencil Car!
(Full Car Design Template Included)
You can build this car!

Our car design plans are the best on the market, guaranteed!

We show you how with simple step-by-step clear, 3D images.
We show you every cut so you can't make a mistake...

Plan includes cut-out car design template, building hints, tips,
weight placement for speed, six painting schemes, tools list,
links for help and everything else you need.

Below are some sample pages from one of our car design plans: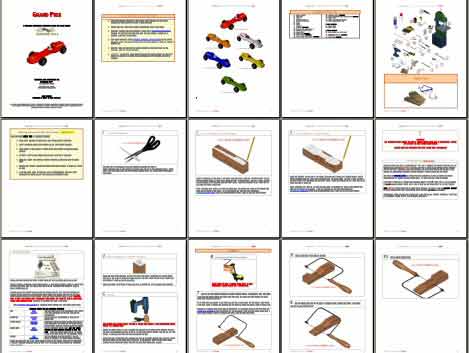 Plus, look at your Pencil car rotate with these 360 degree animations!


Download the Pencil Template direct to your computer in minutes.
Our 3D derby car designs are the best on the market, guaranteed!


Pinewood Derby
Tips & Hints

A lathed wheel means the wheel was turned at a high speed and "sanded" with a cutting tool. Lathed Wheels are perfectly tuned around the axis of rotation giving you the highest performance.





Pinewood Derby
axles Tip

The axle slots that are cut into standard blocks are too tight for BSA axles that are .089" diameter. Small axle slots make it difficult to get your axles in straight. A #44 drill bit is .086", which I find too tight. Consider a #43 Drill Bit, which is a perfect match at .089" for a snug fit.




Pinewood Derby
weights Hint

Tungsten weights are ideal for pinewood derby cars. Tungsten is about 1/3 smaller than a zinc piece with the same weight. Therefore, you can pack Tungsten weights in a smaller area to optimize your center of gravity to maximize inertia giving you greater speed at the finish gate.



Helping Pinewood Derby Racers

...for over 15 years.
Thanks a ton for all the tips and the Wheels and Axles! We beat cars that had taken district and region in Georgia! This was my last race with my two boys. Great way to end! Thanks again!
- David





This will be my 3rd year ordering from you. This year I have an 8 year old son, a ten year old son, and my 12 year old daughter's young women group is also doing the pinewood derby. We are still undefeated – Last year we purchased your wheels and axles and won 1st place again, 2 years running!
- Kirk from UT





Thank you very much! I've always had very good luck with your products and I will continue to purchase everything I need from you!
- Jenna from AL




FREE Derby Help

Designing Your Car

Building Your Car

Making Your Car Fast

Finishing Touches

Pinewood Pro...

Information

Blastcar for Boy Scouts
I have a Webelo 1 and Webelo II Scout and they placed 1st and 2nd in this year's Pinewood Derby and will now go on to compete in the regional race. Thank you for all the good that you are doing and helping make kids dreams come true.
- Craig from CA

Thank you for the tips in your Winning Secrets book. Out of 116 cars in our AWANA Grand Prix, my boys came in first in their divisions and 1st and 3rd overall. They were thrilled!
- Carl

My daughter won 1st place, and my son won 3rd place. It was very fun and hope to do again next year. Thanks for your great information,
- Barry from MI
Pinewood Derby Design - Pencil