Rocket Pinewood Derby Car Design Plan
You can build this Pinewood Derby Car!
(Full Car Design Template Included)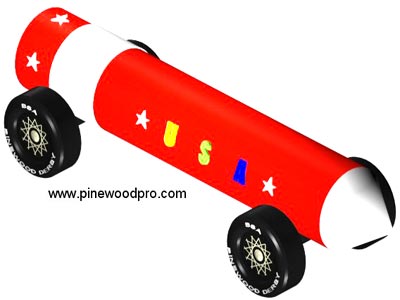 You can build this car!

Our car design plans are the best on the market, guaranteed!

We show you how with simple step-by-step clear, 3D images.
We show you every cut so you can't make a mistake...

Plan includes cut-out car design template, building hints, tips,
weight placement for speed, six painting schemes, tools list,
links for help and everything else you need.

Below are some sample pages from one of our car design plans: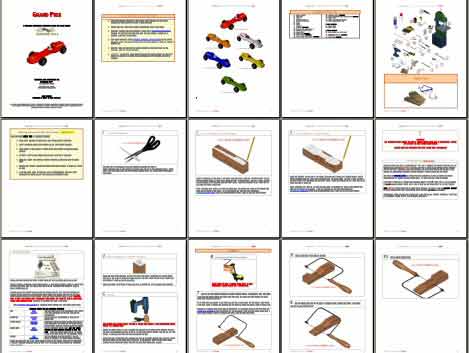 Plus, look at your Rocket car rotate with these 360 degree animations!


Download the Rocket Template direct to your computer in minutes.
Our 3D derby car designs are the best on the market, guaranteed!


Pinewood Derby
Tips & Hints

The axle slots that are cut into standard blocks are too tight for BSA axles that are .089" diameter. Small axle slots make it difficult to get your axles in straight. A #44 drill bit is .086", which I find too tight. Consider a #43 Drill Bit, which is a perfect match at .089" for a snug fit.





Pinewood Derby
lubes Tip

Our PRO Graphite, with molybdenum disulfide, is a proven winner. Our Track Tests show an average speed increase of 17%.




Pinewood Derby
building Hint

Don't attach feathers or big decorative parts that can cause drag. This will decrease your car speed



Helping Pinewood Derby Racers

...for over 15 years.
Thanks to your detailed instructions, speed tips and parts, we won 1st place! Thanks so much.
- Joe from ME





Thank you for the tips in your Winning Secrets book. Out of 116 cars in our AWANA Grand Prix, my boys came in first in their divisions and 1st and 3rd overall. They were thrilled!
- Carl





My son, won his pack derby today on our first attempt! He won 9 races in a row and none of them were even close. Thanks for your assist in this father & son memory.
- Kevin from VT




FREE Derby Help

Designing Your Car

Building Your Car

Making Your Car Fast

Finishing Touches

Pinewood Pro...

Information

Blastcar for Boy Scouts
Using the tips on your website, Daniel's car won every race for his den, and won the district races. It seemed that his car got faster with every run. We have memories that will last.
- David

Your Products performed flawlessly. Thank you for your awesome quality products.
- Chris N from NJ

Thanks a ton for all the tips and the Wheels and Axles! We beat cars that had taken district and region in Georgia! This was my last race with my two boys. Great way to end! Thanks again!
- David
Pinewood Derby Design - Rocket