Rocket Pinewood Derby Car Design Plan
You can build this Pinewood Derby Car!
(Full Car Design Template Included)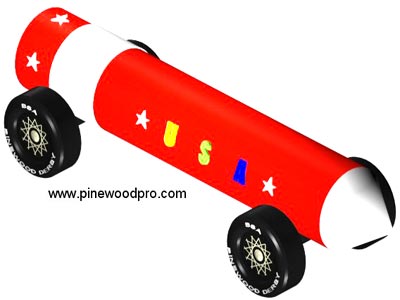 You can build this car!

Our car design plans are the best on the market, guaranteed!

We show you how with simple step-by-step clear, 3D images.
We show you every cut so you can't make a mistake...

Plan includes cut-out car design template, building hints, tips,
weight placement for speed, six painting schemes, tools list,
links for help and everything else you need.

Below are some sample pages from one of our car design plans: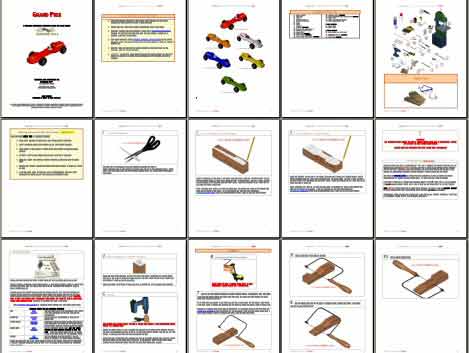 Plus, look at your Rocket car rotate with these 360 degree animations!


Download the Rocket Template direct to your computer in minutes.
Our 3D derby car designs are the best on the market, guaranteed!


Pinewood Derby
Tips & Hints

Before cutting your car, use a straight edge to draw lines down the center lengthwise and widthwise across your car. Then draw your car design template over these straight lines. The template and straight lines help guide your cutting on both sides of the car so everything is square.





Pinewood Derby
wheels Tip

If you have a bad wheel and you don't have time to replace it, Raise that Wheel so it doesn't touch the track. Since it doesn't touch the track, it won't have any negative affect on your car's speed.




Pinewood Derby
rules Hint

When it comes to Pinewood Derby racing, Rules are not meant to be broken. Check with other racers or your race manager before your race to clarify what is allowed and how your car will be inspected when it is checked in.



Helping Pinewood Derby Racers

...for over 15 years.
Great tips in your Winning Secrets book! This was our first year and my son was the overall District Winner. There were 250 racers at the District race so I'm guessing we have something like 1,000 scouts in our district. With that type of competition you need these tips to be competitive.
- Mike from FL





Using these axles and BSA speed wheels, we set a track record, went undefeated and won the pack championship. My son is thrilled to be heading to districts and let me tell you, a winning scout is a happy scout. Can't recommend these enough!
- Natalie from CO





Wow, we did it! Dad, I'll never forget this night.
- Steven Gargiulo
Trumbull, CT




FREE Derby Help

Designing Your Car

Building Your Car

Making Your Car Fast

Finishing Touches

Pinewood Pro...

Information

Blastcar for Boy Scouts
Keirsten's car won first place in her troop and grand champion out of all the other troops that participated.
- Melissa

This is year #3 with you and we just keep winning!!! We did the Red thunderbolt and the Black Lightning cars. Thanks for the great products!
- Phil from CA

1st Place!! Thanks for the everlasting memories you have made possible!
- Williiam from IN
Pinewood Derby Design - Rocket