Shark Pinewood Derby Car Design Plan
See your Shark pinewood derby car rotate 360 degrees!

You can build this Pinewood Derby Shark Car!
(Full Car Design Template Included)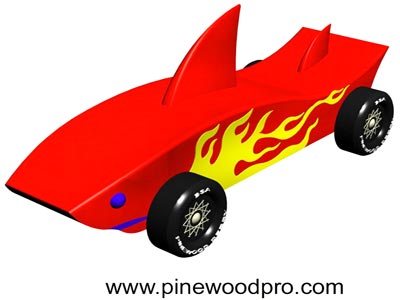 You can build this car!

Our car design plans are the best on the market, guaranteed!

We show you how with simple step-by-step clear, 3D images.
We show you every cut so you can't make a mistake...

Plan includes cut-out car design template, building hints, tips,
weight placement for speed, six painting schemes, tools list,
links for help and everything else you need.

Below are some sample pages from one of our car design plans: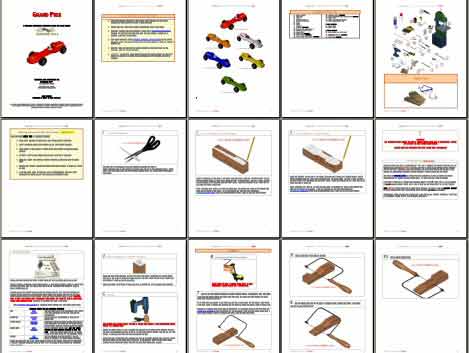 Plus, look at your Shark car rotate with these 360 degree animations!



Download the Shark Template direct to your computer in minutes.
Our 3D derby car designs are the best on the market, guaranteed!


Pinewood Derby
Tips & Hints

Before cutting your car, use a straight edge to draw lines down the center lengthwise and widthwise across your car. Then draw your car design template over these straight lines. The template and straight lines help guide your cutting on both sides of the car so everything is square.





Pinewood Derby
axles Tip

Just like the pistons in an engine block, you want your axles to be tight fitting in the wheel bore, to reduce wheel wobble. If your Rules allow, use one of our slightly oversized Speed Axle or PRO Super Speed Axle.




Pinewood Derby
building Hint

Don't put a round peg (axle) in a square hole! Axle slots are square but your axles are round, making it difficult to get them to go in straight. Use a drill press or the PRO Driller to redrill the axle slot so you have a straight round hole to insert your axles



Helping Pinewood Derby Racers

...for over 15 years.
Thank you for all of the information. We had fun making the car! We're going on to the Regionals, as our car to 1st place in our den!
- Lou from IN




FREE Derby Help

Designing Your Car

Building Your Car

Making Your Car Fast

Finishing Touches

Pinewood Pro...

Information

Blastcar for Boy Scouts
One of my girls won the "girls fav" car which was picked by all the girl scouts as their fav. Thanks
- Stephanie
Pinewood Derby Design - Shark