Spiderman Pinewood Derby Car Design Plan

You can build this Pinewood Derby Spiderman Car!
(Full Car Design Template Included)
You can build this car!

Our car design plans are the best on the market, guaranteed!

We show you how with simple step-by-step clear, 3D images.
We show you every cut so you can't make a mistake...

Plan includes cut-out car design template, building hints, tips,
weight placement for speed, six painting schemes, tools list,
links for help and everything else you need.

Below are some sample pages from one of our car design plans: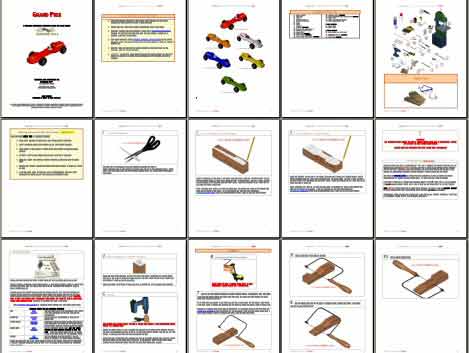 Download the Spiderman Template direct to your computer in minutes.
Our 3D derby car designs are the best on the market, guaranteed!






Pinewood Derby
Tips & Hints

Make your car slim. If your car is too chunky, there will be lots of weight in the wood, leaving less weight for your weights. You want lots of weight so you can move the center of gravity to the optimal point to maximize inertia.





Pinewood Derby
axles Tip

The stock BSA "nails" that come in your kit are mass produced. These nails have burrs, crimp marks and can also be crooked, all of which severely limits your car speed. An Axle Polishing Kit and Axle File are essential to fix your axles and increase your car speed.




Pinewood Derby
building Hint

A warped block is ok, as long as your axles are square to the block. Use the PRO Driller Tool to drill perfectly straight axle holes which insures your car will roll straight.



Helping Pinewood Derby Racers

...for over 15 years.
We won! In the championships we beat 24 other Bears and won every heat.
- Kevin K. from CA





We downloaded Winning Pinewood Derby Secrets and began reading and working. We won first place overall in our Pack! Alex is a Webelos 2 this year, so it was our last chance and we won!
- Brad and Alex





Thank you for the great service. I will be coming back to purchase fo my grandson's pinewood derby. Thanks again, it's been great doing business with Pinewood Pro. Blessings to you and your staff.
- Jim from IL




FREE Derby Help

Designing Your Car

Building Your Car

Making Your Car Fast

Finishing Touches

Pinewood Pro...

Information

Blastcar for Boy Scouts
Wow, we did it! Dad, I'll never forget this night.
- Steven Gargiulo
Trumbull, CT

We came in fourth place; very respectable, given it was our first time. Thanks very much for helping us overcome our building weaknesses with great products.
- Doug and Taiki from VA

This is my son's first Derby car as a Tiger Cub Scout. We had a lot of fun working on this together. Even though he didn't place it was a rewarding experience. Next year we plan to build something even more unique and perhaps a little more challenging. Thanks for a great web site!
- Shawn from CA
Pinewood Derby Car Design - Spiderman