Spiderman Pinewood Derby Car Design Plan

You can build this Pinewood Derby Spiderman Car!
(Full Car Design Template Included)
You can build this car!

Our car design plans are the best on the market, guaranteed!

We show you how with simple step-by-step clear, 3D images.
We show you every cut so you can't make a mistake...

Plan includes cut-out car design template, building hints, tips,
weight placement for speed, six painting schemes, tools list,
links for help and everything else you need.

Below are some sample pages from one of our car design plans: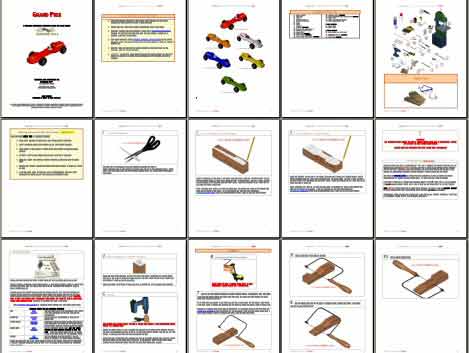 Download the Spiderman Template direct to your computer in minutes.
Our 3D derby car designs are the best on the market, guaranteed!






Pinewood Derby
Tips & Hints

If you are using 3/8" round weights, drill your 3/8" weight holes before cutting out the rest of the car because it is easier to hold the full block. Always use a clamp to hold your block before drilling or cutting. Safety First!





Pinewood Derby
weights Tip

Lead is denser than zinc but lead is toxic, so we do not recommend handling it. Use non-toxic weights like zinc or tungsten.




Pinewood Derby
lubes Hint

Our PRO Graphite, with molybdenum disulfide, is a proven winner. Our Track Tests show an average speed increase of 17%.



Helping Pinewood Derby Racers

...for over 15 years.
Thank you for the great service. I will be coming back to purchase fo my grandson's pinewood derby. Thanks again, it's been great doing business with Pinewood Pro. Blessings to you and your staff.
- Jim from IL





Thanks to your detailed instructions, speed tips and parts, we won 1st place! Thanks so much.
- Joe from ME





This is our last year of Pinewood Derby. We have shopped with you all 5 years and our son won his Pack 2x, Districts 1x and placed 2nd the other times. Thank you!
- Lloyd from NH




FREE Derby Help

Designing Your Car

Building Your Car

Making Your Car Fast

Finishing Touches

Pinewood Pro...

Information

Blastcar for Boy Scouts
.

Jonah's car won 1st place in his Den, first place in the Pack and I couldn't believe it but he also won for Best looking car!
- Thomas from FL

We won! In the championships we beat 24 other Bears and won every heat.
- Kevin K. from CA

Thanks for offering such great products to beginners. My son finished 1st in his pack, 2nd in his district, and 6th overall for his first year. Will definitely order from you again.
- Matthew from TN
Pinewood Derby Car Design - Spiderman