Spiderman Pinewood Derby Car Design Plan

You can build this Pinewood Derby Spiderman Car!
(Full Car Design Template Included)
You can build this car!

Our car design plans are the best on the market, guaranteed!

We show you how with simple step-by-step clear, 3D images.
We show you every cut so you can't make a mistake...

Plan includes cut-out car design template, building hints, tips,
weight placement for speed, six painting schemes, tools list,
links for help and everything else you need.

Below are some sample pages from one of our car design plans: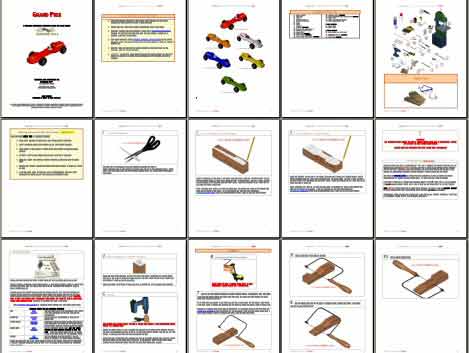 Download the Spiderman Template direct to your computer in minutes.
Our 3D derby car designs are the best on the market, guaranteed!






Pinewood Derby
Tips & Hints

Lighter wheels turn easier (they require less inertia). Lighten your wheels, as much as your Rules allow, which will give you a fast start out of the gate and faster speed down the track.





Pinewood Derby
weights Tip

Lead is denser than zinc but lead is toxic, so we do not recommend handling it. Use non-toxic weights like zinc or tungsten.




Pinewood Derby
building Hint

Crooked axle slots are perhaps the number one reason cars crash into the lane guides. Drill the axle slot with a drill press or the PRO Driller to be sure your axles go in straight and are square to the block.



Helping Pinewood Derby Racers

...for over 15 years.
Hey Joe- Just wanted to pass on the good news- and a few nice pix. We ended up in 2nd place out of 63 cars racing. Not too bad, and we'll be at district in a few weeks.
- David from IL





Thank you for the great service. I will be coming back to purchase fo my grandson's pinewood derby. Thanks again, it's been great doing business with Pinewood Pro. Blessings to you and your staff.
- Jim from IL





I can't even put into words how excited, proud and happy my daughter was each time her car won. Worth every penny, plus more. Thank you SO MUCH Pinwood Pro!
- Nina from PA




FREE Derby Help

Designing Your Car

Building Your Car

Making Your Car Fast

Finishing Touches

Pinewood Pro...

Information

Blastcar for Boy Scouts
You guys are amazing. Thank you for such prompt attention. We will deal with you from now on. I have at least 9 more years of pinewood cars to make, and it's your products that will help us through them. Thank you soooo much!
- Lisa from CA




.

Jonah's car won 1st place in his Den, first place in the Pack and I couldn't believe it but he also won for Best looking car!
- Thomas from FL





Wow, we did it! Dad, I'll never forget this night.
- Steven Gargiulo
Trumbull, CT




Pinewood Derby Car Design - Spiderman