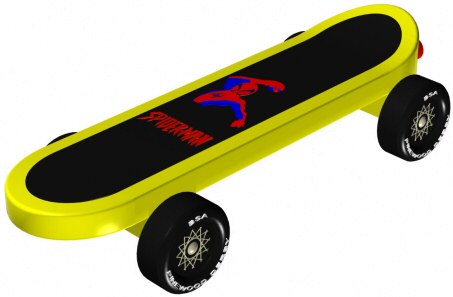 Kids love the Skateboard car because it looks just like the skateboard they fly down the street with. They can paint their skateboard car just like the one they roll around with or use our cut-out Spiderman template.

This car is deceptively easy to build but needs a lot of care around the wheel supports. Our cut-out templates and step-by-step instructions with fully illustrated with 3D AutoCAD images show each cut so anyone can build this car. The plan includes weight placement building hints, speed tips and a painting guide.

Skate by your competition on your very own skateboard derby car!



Each of our Car design plans include:
Cut-out printable car design template patterns
Building hints and shortcuts
Safety tips
Building tips, including do's and don'ts
Weight placement to maximize speed
Six painting schemes
cut-out decorative patterns
360 animations so you can see your car from all angles
Tools list
Embedded links for everything you need to build this car and make it fast.
Below are some sample pages from one of our car design plans: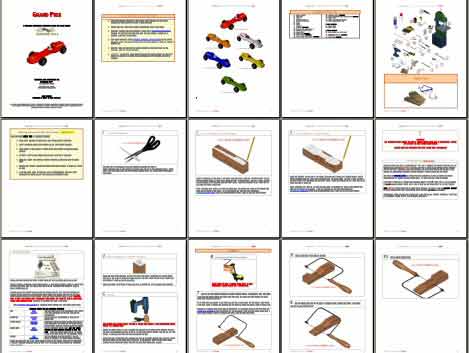 Download the Skateboard car plan direct to your computer instantly!


only $4.95

Pinewood Derby
Tips & Hints

Looking for a pinewood derby car design template? Select from over 30 of Pinewood Pro's award winning Pinewood Derby Car Designs. They include everything from race cars to Military cars to a Nike Sneaker!





Pinewood Derby
winning Tip

Winning Pinewood Derby Secrets contains all the tips you need to win your race. Updated annually with the latest tips and speed products, our book has proven results with 1000's of winners... but don't take our word for it! Read over 90 Customer Reviews and check out our Winners Gallery!




Pinewood Derby
painting Hint

When painting with children, it is better to use a paint brush rather than spray paint because spray paint can cause vapors. If the child is spray painting, be sure to use a breathing mask and be in an open area.



Helping Pinewood Derby Racers

...for over 15 years.
Hey Joe- Just wanted to pass on the good news- and a few nice pix. We ended up in 2nd place out of 63 cars racing. Not too bad, and we'll be at district in a few weeks.
- David




FREE Derby Help

Designing Your Car

Building Your Car

Making Your Car Fast

Finishing Touches

Pinewood Pro...

Information

Blastcar for Boy Scouts
We placed a spectacular 2nd out of 28 cars. We only lost to the first place car by half an inch. Our car ran consistently 3.11-3.22 times all night. Our tops was a blistering 202mph (simulated). We won 2nd place overall and got the most patriotic car award. YOU will be our first stop for next year!
- John




Pinewood Derby Skateboard Car Design Plan