You can make your own
Skateboard Car Design (Full Plan Included)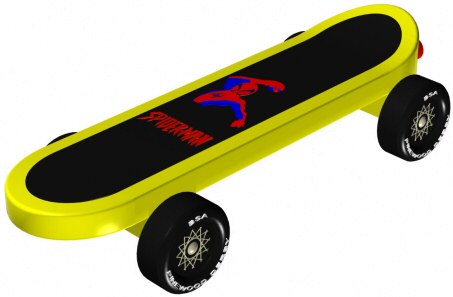 Kids love the Skateboard car because it looks just like the skateboard they fly down the street with. They can paint their skateboard car just like the one they roll around with or use our cut-out Spiderman template.

This car is deceptively easy to build but needs a lot of care around the wheel supports. Our cut-out templates and step-by-step instructions with fully illustrated with 3D AutoCAD images show each cut so anyone can build this car. The plan includes weight placement building hints, speed tips and a painting guide.

Skate by your competition on your very own skateboard derby car!



Each of our Car design plans include:
Cut-out printable car design template patterns
Building hints and shortcuts
Safety tips
Building tips, including do's and don'ts
Weight placement to maximize speed
Six painting schemes
cut-out decorative patterns
360 animations so you can see your car from all angles
Tools list
Embedded links for everything you need to build this car and make it fast.
Below are some sample pages from one of our car design plans: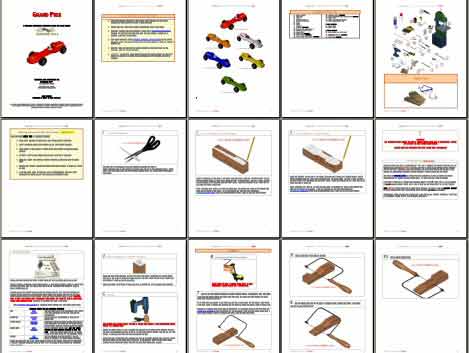 Download the Skateboard car plan direct to your computer instantly!


only $4.95

Pinewood Derby
Tips & Hints

Tungsten weights are ideal for pinewood derby cars. Tungsten is about 1/3 smaller than a zinc piece with the same weight. Therefore, you can pack Tungsten weights in a smaller area to optimize your center of gravity to maximize inertia giving you greater speed at the finish gate.





Pinewood Derby
lubes Tip

When adding Nyoil to your axles, "less is more"! Only use one or two drops per axle and wipe off any excess oil. The oil should not be run down your axle.




Pinewood Derby
painting Hint

Put a clear Gloss Paint Sealer on your car to protect your cool paint job from dirt and graphite smudges.



Helping Pinewood Derby Racers

...for over 15 years.
Keirsten's car won first place in her troop and grand champion out of all the other troops that participated.
- Melissa




FREE Derby Help

Designing Your Car

Building Your Car

Making Your Car Fast

Finishing Touches

Pinewood Pro...

Information

Blastcar for Boy Scouts
Thank you for the tips in your Winning Secrets book. Out of 116 cars in our AWANA Grand Prix, my boys came in first in their divisions and 1st and 3rd overall. They were thrilled!
- Carl
Pinewood Derby Skateboard Car Design Plan