You can make your own
Skateboard Car Design (Full Plan Included)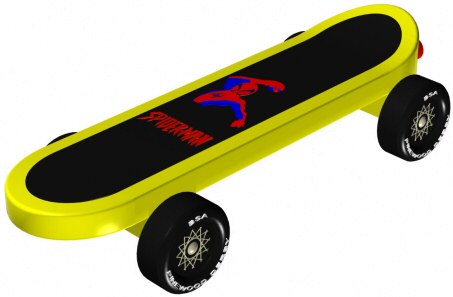 Kids love the Skateboard car because it looks just like the skateboard they fly down the street with. They can paint their skateboard car just like the one they roll around with or use our cut-out Spiderman template.

This car is deceptively easy to build but needs a lot of care around the wheel supports. Our cut-out templates and step-by-step instructions with fully illustrated with 3D AutoCAD images show each cut so anyone can build this car. The plan includes weight placement building hints, speed tips and a painting guide.

Skate by your competition on your very own skateboard derby car!



Each of our Car design plans include:
Cut-out printable car design template patterns
Building hints and shortcuts
Safety tips
Building tips, including do's and don'ts
Weight placement to maximize speed
Six painting schemes
cut-out decorative patterns
360 animations so you can see your car from all angles
Tools list
Embedded links for everything you need to build this car and make it fast.
Below are some sample pages from one of our car design plans: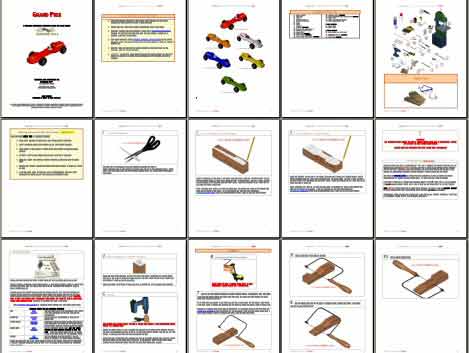 Download the Skateboard car plan direct to your computer instantly!


only $4.95

Pinewood Derby
Tips & Hints

The best part of pinewood derby is designing a unique, cool car that you can call your own. Don't worry about aerodynamics because it is almost insignificant. We identify dozens of other speed tips in Winning Pinewood Derby Secrets that rank far above aerodynamics.





Pinewood Derby
axles Tip

The axle slots that are cut into standard blocks are too tight for BSA axles that are .089" diameter. Small axle slots make it difficult to get your axles in straight. A #44 drill bit is .086", which I find too tight. Consider a #43 Drill Bit, which is a perfect match at .089" for a snug fit.




Pinewood Derby
building Hint

Wood filler is your best friend when it comes to building a pinewood derby car. Use wood filler to fill holes, gouges and other cutting mistakes. You can even use it to add a bubble, racer cockpit, spoiler, etc.



Helping Pinewood Derby Racers

...for over 15 years.
My daughter won 1st place, and my son won 3rd place. It was very fun and hope to do again next year. Thanks for your great information,
- Barry from MI




FREE Derby Help

Designing Your Car

Building Your Car

Making Your Car Fast

Finishing Touches

Pinewood Pro...

Information

Blastcar for Boy Scouts
This was my 7-year-old's first Pinewood Derby and he won 1st! We followed your Winning Pinewood Derby Secrets and his car smoked other the cars by 4-5 car lengths each race. Thanks again.
- John
Pinewood Derby Skateboard Car Design Plan