Pinewood Pro has everything you need to have fun building a cool, fast and winning pinewood derby car.
Our how-to books, car design plans and PRO Tools have helped thousands and yes, many beginners have won their race!
Don't race an unfinished block! You can start immediately with an instant download eBook or car plan. Use expediting shipping to get a car kit or fully built car in as little as one day.
Every car starts with a good design. Our award winning car design plans feature the only 3D images on the market. Select from 30 car designs to make a cool, hot car.
My Winning Pinewood Derby Secrets book has helped thousands win. Our PRO Tools and exclusive PRO speed supplies will help you build a winner.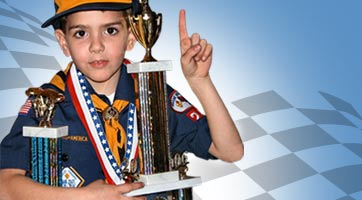 We think our products are the best...But don't take our word for it! Read over 500 product reviews, scan our product speed tests and browse our Winner's Gallery.
...or Browse to Learn about Products
Winning Secrets


#1 Best Selling Book!

As an Engineer, I designed, tested and wrote the book of winning speed secrets. Thousands have won using my speed secrets. I include everything you need to design and build a winning car.

Car Design Plans


Illustrated Design Plans

Build the coolest car with over 25 car design plans that include step-by-step 3D illustrations, printable template patterns, painting schemes, speed hints, 360 animations and more. Many of these plans have won design awards!

Axles


Axles Engineered for Speed

To get your car to highest speed, use our BSA axles that have been turned and polished.
Our precision machined, grooved, nickle-plated and exclusive graphite-coated axles are the fastest!

Kits and Fully Built Cars

To save time, we offer complete easy to build car kits, and fully built, super fast, track-tested derby cars ready to race!

Pre-cut cars, Blocks



Pre-cut cars and drilled blocks

If you don't have the tools, use one of our pre-cut, un-painted car body's or make your own car with our precision drilled block so your car rolls straight.

Wheels


Wheels Precision Tuned for Speed

Just like your personal car, precision tuned wheels give your derby car perfect balance and optimal speed. BSA Lightly Lathed or Ultra-Lite wheels with our exclusive graphite-coating gives your car maximum speed.
Awana racers can use our lathed Awana® Grand Prix speed wheels.

Compare speeds with track tests!


Pinewood Derby Tools

PRO tools help you drill straight axle holes, insert axles easily, polish the wheel bore to reduce friction, smooth your wheels with a mandrel, accurately space your wheels and help you create a rail rider. Get a PRO tool to save building time, protect your block from damage and make your car go faster!

Graphite and NyOil


Powdered graphite and NyOil lubes

Increase your car speed by lubricating your axles with our high performance dry powdered graphite with molybdenum, or use a clean thin film NyOil lubricant.

Tungsten, Zinc Weights

To maximize inertia, bring your car up to the maximum 5.0oz allowed by your rules. Choose from a variety of weight options like tungsten cylinders, BBs or tungsten putty, or zinc stick-on, screw-on or cylinder weights.

Building Supplies

Woodworking tools, like a coping saw, wood rasp, sandpaper and sealers, are essential to build and shape your pine wood car.

Paints, Stickers, Decals

Seal your pine block before painting, then paint, then cover with a clear gloss sealer for a shiny, hard paint finish. Make your car look great with custom decals, stickers and cool body skins.

Accessories, Supplies

To spice up your car, add a race car driver or add wiggle eyes for a fun look. A scale helps you avoid last minute weight adjustments on race day..
On race day, entertain your Cub Scout Pack with the hilarious Down and Derby movie
Pinewood Derby leaders for over 15 years!
Pinewood Pro offers award winning car design plans and unique speed products designed by engineers. Our best selling book, Winning Pinewood Derby Secrets, has helped thousands build winning cars since 1999 with proven results!
Pinewood Pro is the exclusive seller of The Story of the Pinewood Derby, written by the inventor of pinewood derby racing, Don Murphy. We are also the proud sponsor of the pinewood derby museum in El Segundo, CA. As an engineer, I designed many unique products like our graphite-coated axles and wheels.
I'm sure we have everything you need and we will do everything we can to help you have fun building a winning pinewood derby car.
---
Tip to avoid wheel wobble
When your car wheel rubs against the axle head it can cause the wheel to wobble because the corner of the axle head is not a perfect 90 degrees. Cutting a groove directly under the axle head removes this source of wheel wobble. Cutting this groove is difficult to do by hand, but it can be done with an axle file. Our grooved Speed Axles and Pro Super Speed axles have this groove, exclusive to Pinewood Pro, cut directly under the axle head.
Pinewood Derby
Tips & Hints

The best part of pinewood derby is designing a unique, cool car that you can call your own. Don't worry about aerodynamics because it is almost insignificant. We identify dozens of other speed tips in Winning Pinewood Derby Secrets that rank far above aerodynamics.





Pinewood Derby
design Tip

Looking for more cool car design ideas? Our free Pinewood Derby Car Design Guide has over 100 cool pinewood derby car design ideas.




Pinewood Derby
rules Hint

BSA Rules are different from Awana Rules, which are different from Adult Race Rules, etc. Check our Pinewood Derby Rules page to download Pinewood Derby rules for different kinds of races.



Helping Pinewood Derby Racers

...for over 15 years.
We took first in our pack of 60 cars. It was an amazing day. Thanks again Joe. Your info is the best out there!
- Gina





Thanks a ton for all the tips and the Wheels and Axles! We beat cars that had taken district and region in Georgia! This was my last race with my two boys. Great way to end! Thanks again!
- David





This was our first year racing in the Pinewood Derby. We came out in second place. Thanks for all your help, without your book, we would not have won!! Look at that big smile.
- Eli from TN





I can't describe how happy my Son was to win! I'm a single Mom and didn't know how to build a car. I was so happy to find your amazing site. I'm beaming with happiness for my son.
- Miss M from MO




FREE Derby Help

Designing Your Car

Building Your Car

Making Your Car Fast

Finishing Touches

Pinewood Pro...

Information

Blastcar for Boy Scouts
After 4 years of not winning, we finally did it!! Your book truly worked!!
- Wayne from CA

Armed with tips from your Winning Pine Wood Derby Secrets, and graphite powder, Sean's car raced ahead of the wolf pack! Thanks again for you excellent website, materials, and products!
- Mark & Sean

My son won 2nd place Medals. This was made possible by your personal assistance and Pinewood Pro products. Thank you, Joe for being the man you are and providing a service to our Youth.
- Mark from HI

I ordered a set of your BSA wheels and axels last minute on Wednesday for overnight delivery. Our race was on Friday. We finished in 6th out of 80 cars, and will be going to the Divisional Race! My son was never happier! Thanks again!
- Steve from KY
Pinewood Derby Cars



-->