Pinewood derby scales to weigh your car
Full Size Pinewood Derby Scale
Make sure your derby car weight is accurate so you are not surprised at the weigh-in!

Weigh your pinewood derby on this versatile digital scale featuring a blue backlit LCD and stainless steel weighing platform.
This scale weighs up to 13 lbs in .1oz increments.

It includes Lbs/Kg (oz/grams) option, a hold key and even a tare option which you can use to count lots of items.
When you finish weighing your pinewood derby,
use your scale for postage, receipes, counting, etc.: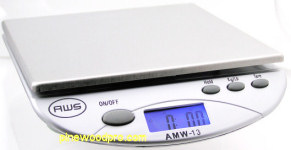 Postage scale so you put accurate postage on your letter mail or parcels
Kitchen scale for accurate recipe portions
Counting things using the built in tare option
Other weighing applications...
Only $34.95
Pinewood Derby portable mini-Scale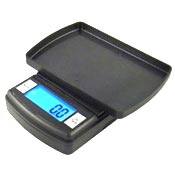 Don't be surprised to find your car is too light or too heavy at the weigh-in!
Weigh your pinewood derby car with this pocket sized, portable mini-scale during your car building stage. You can even slip it into your pocket and bring it with you on race day!

This scale is very precise, weighing up to 500g and highly accurate to within .001oz!

Bright blue backlit LCD is easy to read.
Remove protective cover to increase tray size. Perfect size to weigh your car block, wheels and axles.
2 AAA batteries included.
More info on pinewood derby portable mini-scale
Only $19.95