Pinewood derby scale to weigh your car
Pinewood Derby Scale
Make sure your derby car weight is accurate so you are not surprised at the weigh-in!

Weigh your pinewood derby on this versatile digital scale featuring a blue backlit LCD and stainless steel weighing platform.
This scale weighs up to 13lbs in .1oz increments.

It includes Lbs/Kg (oz/grams) option, a hold key and even a tare option which you can use to count lots of items.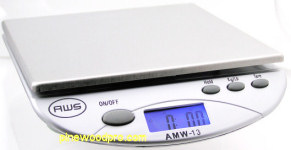 When you finish weighing your pinewood derby,
use your scale for postage, receipes, counting, etc.:
Postage scale so you put accurate postage on your letter mail or parcels
Kitchen scale for accurate recipe portions
Counting things using the built in tare option
Other weighing applications...
Pinewood Derby portable mini-Scale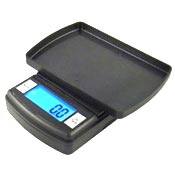 Don't be surprised at the weigh-in!
Weigh your pinewood derby car with this pocket sized, portable mini-scale during your car building stage. You can even slip it into your pocket and bring it with you on race day!

This scale is very precise, weighing up to 500g and highly accurate to within .001oz!

Bright blue backlit LCD is easy to read.
Remove protective cover to increase tray size. Perfect size to weigh your car block, wheels and axles.
2 AAA batteries included.
More info on pinewood derby portable mini-scale
Pinewood Derby
Tips & Hints

A lathed wheel means the wheel was turned at a high speed and "sanded" with a cutting tool. Lathed Wheels are perfectly tuned around the axis of rotation giving you the highest performance.





Pinewood Derby
axles Tip

The axle slots that are cut into standard blocks are too tight for BSA axles that are .089" diameter. Small axle slots make it difficult to get your axles in straight. A #44 drill bit is .086", which I find too tight. Consider a #43 Drill Bit, which is a perfect match at .089" for a snug fit.




Pinewood Derby
weights Hint

Tungsten weights are ideal for pinewood derby cars. Tungsten is about 1/3 smaller than a zinc piece with the same weight. Therefore, you can pack Tungsten weights in a smaller area to optimize your center of gravity to maximize inertia giving you greater speed at the finish gate.



Helping Pinewood Derby Racers

...for over 15 years.
FREE Derby Help

Designing Your Car

Building Your Car

Making Your Car Fast

Finishing Touches

Pinewood Pro...

Information

Blastcar for Boy Scouts
Pinewood Derby Scale