Pinewood derby scale to weigh your car
Pinewood Derby Scale
Make sure your derby car weight is accurate so you are not surprised at the weigh-in!

Weigh your pinewood derby on this versatile digital scale featuring a blue backlit LCD and stainless steel weighing platform.
This scale weighs up to 13lbs in .1oz increments.

It includes Lbs/Kg (oz/grams) option, a hold key and even a tare option which you can use to count lots of items.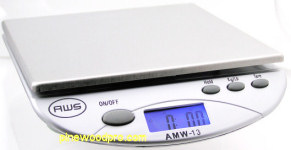 When you finish weighing your pinewood derby,
use your scale for postage, receipes, counting, etc.:
Postage scale so you put accurate postage on your letter mail or parcels
Kitchen scale for accurate recipe portions
Counting things using the built in tare option
Other weighing applications...
Pinewood Derby portable mini-Scale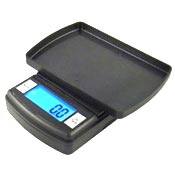 Don't be surprised at the weigh-in!
Weigh your pinewood derby car with this pocket sized, portable mini-scale during your car building stage. You can even slip it into your pocket and bring it with you on race day!

This scale is very precise, weighing up to 500g and highly accurate to within .001oz!

Bright blue backlit LCD is easy to read.
Remove protective cover to increase tray size. Perfect size to weigh your car block, wheels and axles.
2 AAA batteries included.
More info on pinewood derby portable mini-scale
Pinewood Derby
Tips & Hints

Tungsten Putty is ideal for getting your car up to the maximum 5 oz limit. Drill a hole in the bottom of your car and insert Pinewood Pro Putty as the last step to bring your car to 5.0 oz. If the official scale weighs you in at 5.1 oz, simply remove a small amount of putty to bring it back to 5.0 oz.





Pinewood Derby
lubes Tip

When lubing your wheels and axles, shoot graphite powder into the wheel bore, spin your wheels, and repeat. Do this over newspaper in your garage or outside the house.




Pinewood Derby
painting Hint

Put a coat of wood primer on your car before painting it because pine wood is porous and will absorb the first coat of paint. Lightly sand the primer after it dries, then apply a final coat (or two) for a clean, finished look.



Helping Pinewood Derby Racers

...for over 15 years.
FREE Derby Help

Designing Your Car

Building Your Car

Making Your Car Fast

Finishing Touches

Pinewood Pro...

Information

Blastcar for Boy Scouts
Pinewood Derby Scale