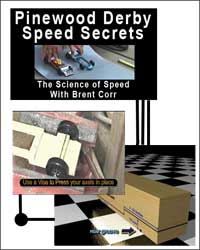 See Pinewood Derby Science in action.

See how these scientific principles improve car speed:

See how potential energy converts to kinetic energy for maximum performance

Why the Center of Mass is so important

The ideal position of the wheels for the most stability and speed.

How to improve air flow around your car.

Where and how to attach weights to the car and why they it is so critical.

Use lubricants to your car's best advantage.

How to modify your axles for big speed gains.

Simple steps to reduce "wheel breaking".

What you should look out for in the wheels that are included in your kit.

Techniques to test your wheel alignment and make your car roll straight.

Last minute adjustments before the race that can make the difference between winning and losing.
See a Pinewood Derby car take shape before your eyes!

The Science of Speed DVD
only $16.95

Get The Science of Speed DVD to see science in action
and
Winning Pinewood Derby Secrets book to get all the secrets you need to win

Pinewood Derby
Tips & Hints

Tungsten Putty is ideal for getting your car up to the maximum 5 oz limit. Drill a hole in the bottom of your car and insert Pinewood Pro Putty as the last step to bring your car to 5.0 oz. If the official scale weighs you in at 5.1 oz, simply remove a small amount of putty to bring it back to 5.0 oz.





Pinewood Derby
lubes Tip

When lubing your wheels and axles, shoot graphite powder into the wheel bore, spin your wheels, and repeat. Do this over newspaper in your garage or outside the house.




Pinewood Derby
painting Hint

Put a coat of wood primer on your car before painting it because pine wood is porous and will absorb the first coat of paint. Lightly sand the primer after it dries, then apply a final coat (or two) for a clean, finished look.



Helping Pinewood Derby Racers

...for over 15 years.
This was my 7-year-old's first Pinewood Derby and he won 1st! We followed your Winning Pinewood Derby Secrets and his car smoked other the cars by 4-5 car lengths each race. Thanks again.
- John





We placed an amazing 2nd out of 28 cars. We only lost to first place by half an inch. Our car ran consistently all night. We won 2nd place overall! You will be our first stop next year!
- John





One of my girls won the "girls fav" car which was picked by all the girl scouts as their fav. Thanks
- Stephanie




FREE Derby Help

Designing Your Car

Building Your Car

Making Your Car Fast

Finishing Touches

Pinewood Pro...

Information

Blastcar for Boy Scouts
This will be my 3rd year ordering from you. This year I have an 8 year old son, a ten year old son, and my 12 year old daughter's young women group is also doing the pinewood derby. We are still undefeated – Last year we purchased your wheels and axles and won 1st place again, 2 years running!
- Kirk from UT

You guys are amazing. Thank you for such prompt attention. We will deal with you from now on. I have at least 9 more years of pinewood cars to make, and it's your products that will help us through them. Thank you soooo much!
- Lisa from CA

We won every race we entered as well as the grand prize for the fastest car! Thanks for your help and interest.
- Debra
Pinewood Derby Video - Science of Speed