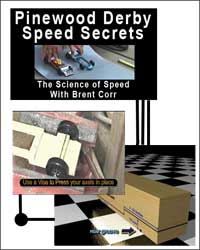 See Pinewood Derby Science in action.

See how these scientific principles improve car speed:

See how potential energy converts to kinetic energy for maximum performance

Why the Center of Mass is so important

The ideal position of the wheels for the most stability and speed.

How to improve air flow around your car.

Where and how to attach weights to the car and why they it is so critical.

Use lubricants to your car's best advantage.

How to modify your axles for big speed gains.

Simple steps to reduce "wheel breaking".

What you should look out for in the wheels that are included in your kit.

Techniques to test your wheel alignment and make your car roll straight.

Last minute adjustments before the race that can make the difference between winning and losing.
See a Pinewood Derby car take shape before your eyes!

The Science of Speed DVD
only $16.95

Get The Science of Speed DVD to see science in action
and
Winning Pinewood Derby Secrets book to get all the secrets you need to win

Pinewood Derby
Tips & Hints

Looking for more cool car design ideas? Our free Pinewood Derby Car Design Guide has over 100 cool pinewood derby car design ideas.





Pinewood Derby
axles Tip

When your car wheel rubs against the axle head it can cause the wheel to wobble because the corner of the axle head is not a perfect 90 degrees. Cutting a groove directly under the axle head removes this source of wheel wobble. Cutting this groove is difficult to do by hand, but it can be done with an axle file. Our grooved Speed Axles and Pro Super Speed axles have this groove, exclusive to Pinewood Pro, cut directly under the axle head.




Pinewood Derby
winning Hint

Winning Pinewood Derby Secrets contains all the tips you need to win your race. Updated annually with the latest tips and speed products, our book has proven results with 1000's of winners... but don't take our word for it! Read over 90 Customer Reviews and check out our Winners Gallery!



Helping Pinewood Derby Racers

...for over 15 years.
I can't even put into words how excited, proud and happy my daughter was each time her car won. Worth every penny, plus more. Thank you SO MUCH Pinwood Pro!
- Nina from PA





My son won 1st place for the fastest car. Thank you for all of your tips and tricks they were a big help.
- Rob





I have a Webelo 1 and Webelo II Scout and they placed 1st and 2nd in this year's Pinewood Derby and will now go on to compete in the regional race. Thank you for all the good that you are doing and helping make kids dreams come true.
- Craig from CA




FREE Derby Help

Designing Your Car

Building Your Car

Making Your Car Fast

Finishing Touches

Pinewood Pro...

Information

Blastcar for Boy Scouts
Thanks for helping out with these orders. I appreciate the quality of your customer service and will definitely recommend your company to others in my son's pack. Cheers!
- Thomas from NC





Just wanted to say THANK YOU! I received my items. I have used you guys for 3 or 4 years now, ALWAYS fast, great products, I am very happy with you guys. AND we have won AT LEAST our den every year! Cheers!
- Paul from MO





This will be my 3rd year ordering from you. This year I have an 8 year old son, a ten year old son, and my 12 year old daughter's young women group is also doing the pinewood derby. We are still undefeated – Last year we purchased your wheels and axles and won 1st place again, 2 years running!
- Kirk from UT




Pinewood Derby Video - Science of Speed