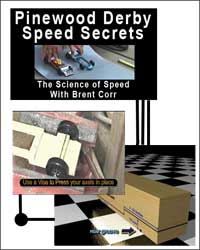 See Pinewood Derby Science in action.

See how these scientific principles improve car speed:

See how potential energy converts to kinetic energy for maximum performance

Why the Center of Mass is so important

The ideal position of the wheels for the most stability and speed.

How to improve air flow around your car.

Where and how to attach weights to the car and why they it is so critical.

Use lubricants to your car's best advantage.

How to modify your axles for big speed gains.

Simple steps to reduce "wheel breaking".

What you should look out for in the wheels that are included in your kit.

Techniques to test your wheel alignment and make your car roll straight.

Last minute adjustments before the race that can make the difference between winning and losing.
See a Pinewood Derby car take shape before your eyes!

The Science of Speed DVD
only $16.95

Get The Science of Speed DVD to see science in action
and
Winning Pinewood Derby Secrets book to get all the secrets you need to win

Pinewood Derby
Tips & Hints

If you have a bad wheel and you don't have time to replace it, Raise that Wheel so it doesn't touch the track. Since it doesn't touch the track, it won't have any negative affect on your car's speed.





Pinewood Derby
axles Tip

Spin each wheel and axle and count the number of revolutions. Keep the slowest pair together and replace them with a faster set.




Pinewood Derby
weights Hint

Need a little extra weight on weigh in but didn't bring extra weight with you? Use a coin! Here are the weights of US coins in ounces: penny .11 oz, nickel .17 oz, dime .07 oz, quarter .18 oz



Helping Pinewood Derby Racers

...for over 15 years.
Thanks to your detailed instructions, speed tips and parts, we won 1st place! Thanks so much.
- Joe from ME





1st Place!! Thanks for the everlasting memories you have made possible!
- Williiam from IN





You guys are amazing. Thank you for such prompt attention. We will deal with you from now on. I have at least 9 more years of pinewood cars to make, and it's your products that will help us through them. Thank you soooo much!
- Lisa from CA




FREE Derby Help

Designing Your Car

Building Your Car

Making Your Car Fast

Finishing Touches

Pinewood Pro...

Information

Blastcar for Boy Scouts
I can't describe how happy my Son was to win! I'm a single Mom and didn't know how to build a car. I was so happy to find your amazing site. I'm beaming with happiness for my son.
- Miss M from MO

My son and I finished 1st in our race! My son won the championship, and my daugther's car won 2nd place in the Family division. We were all very happy! Thank you from the entire family!
- Josh, Haley and Philip

Great tips in your Winning Secrets book! This was our first year and my son was the overall District Winner. There were 250 racers at the District race so I'm guessing we have something like 1,000 scouts in our district. With that type of competition you need these tips to be competitive.
- Mike from FL
Pinewood Derby Video - Science of Speed