Want to design your Pinewood Derby car fast and easy?
Learn how to design a Pinewood Derby car in six easy steps for beginners.
Pinewood Derby Car Design in Six Easy Steps
About the Author: Joe Gargiulo, Pinewood Pro founder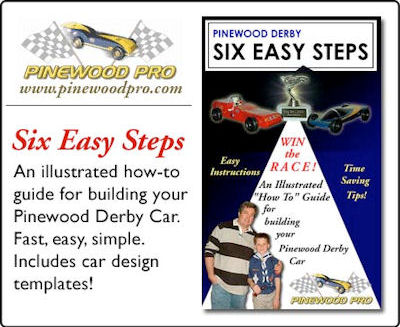 Build your Pinewood Derby car in half the time, with our easy, step-by-step directions.
Proven results. Thousands of satisfied customers.
This is what
Pinewood Derby in Six Easy Steps
will do for you:
Saves you Time
Build your car in half the time
Shortcuts
To make your project go faster
Avoid Mistakes
Car Design Templates
Cut out one of our Car Designs and with a single cut or two, you are nearly done. We show you how...It is the fastest way to build your car.
Essential Speed Tips
You get the Speed Essentials to build a competitive car.
Our other book, Winning Pinewood Derby Secrets, is the #1 best seller for experts...it gives you the full list of over 40 speed secrets.
Car Design Tips
Pinewood Made Easy
Over 20 illustrations makes each step simple and clear
Who should read this book?
This book is for beginner adults and also a child to guide them through building their own pinewood derby car
Pinewood Derby in Six Easy Steps
Table of Contents
All about safety, rules and having fun.
Buckle Up-We're Building a Car...
Having Fun is Number One!
Safety in the Fast Lane
Follow the Rules
STEP 1. Dad, I've Got an Idea!
We'll show you how to turn your ideas into a winning Pinewood car... We give you design hints that work best so you can beat out your competition.
STEP 2. One Slice or Two?
You get to decide how simple or complex your car will be. We let you choose between several cut-out car design templates to let you build a design that only requires one saw cut, or choose a two cut design or multiple cut design. Just apply our templates and in a few minutes you have a car.
STEP 3. Smooth as a Baby's...
Shaping and sanding usually take a long time, but our special techniques make this step easier for you.
STEP 4. Be a Heavy Weight
If you want a competative car, weight is critical. More weight, faster car. We show you the best place and how to do it.
STEP 5. Shine Like a Star
Finishing touches to make your car cool. Make this the fun part for your child. There are many things you can do here.
STEP 6. Let's Roll 'Em...
Critical Axle and Wheel preparation hints to make your car fast.
SPEED HINTS, TRICKS and TRAPS
To be a winner, you need these easy speed aids that enable you to build a fast car. Without these essentials, your car will be left in the dust!
Graphite
Weight Placement
Wheel Spacing
Aerodynamics Myth
Straight On
Car Design Cut-Out Templates
Includes three simple cut-out car design templates...the fastest way to build a car
Handy List of Tools
Over 20 illustrations lead you through every step.
Pinewood Derby in Six Easy Steps - Fastest, easiest way to build your pinewood derby car
Whatever you do, I wish you and your son or daughter all the best.
Have fun together and do your best!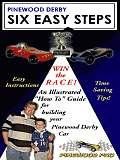 To make a fast, winning car you need the Six Steps AND Speed Products. Yes, you can win a race without the best speed products on the market, but that depends on your competition! Chances are, some racers know the Secrets and have created or purchased the speed products needed to make a high performance car.
We have all the PRO tools if you want to do-it-yourself, and we have all the Speed Products that have been track-tested to prove they are the fastest.
To win your race, pick (or design) the best Speed Products that are appropriate for your race. That means, you need to read your race rules and select the most appropriate products for your race. How do you know which products are "appropriate"? Reference your race rules, and ask your Race Manager if you have any questions, becasue EVERY race is different.
Our PRO Products fall into the categories below. I summarized the category and highlight our highest performance PRO Speed Products, but you should reference all the products in each category to be sure our PRO product are appropriate for your race.
Category
PRO Speed Product
Speed Notes
Lubricants

PRO Graphite

Pinewood PRO Graphite is a special blend of dry powdered graphite with sub-micron molybdenum disulfide additive. It substantially decreases friction!

Track tests show a 17% to 20% speed increase, depending on the axles being used.
Axles

BSA Polished Speed Axles

Our BSA polished axles are legal in all BSA races.

Our track tests showed a 9.8% speed increase over stock BSA axles.

For additional speed, consider upgrading to BSA grooved and graphite-coated axles.
Wheels

BSA Lathed Speed Wheels

We recommend our BSA lightly-lathed Speed Wheels designed to be legal in all BSA races.

Our track tests showed a 5.5% speed increase over stock BSA wheels.

For additional speed, consider our Ultra-Lite or graphite-coated BSA wheels.
Tools
PRO tools do everything from drilling axle holes so your car rolls straight, to polishing the inside of your wheel bore for that little extra speed, to rail rider tools for a technical advantage.

We even have handy tools for gapping your wheels and an Axle Puller-Inserter to remove or insert your axles without damaging your wheels.
Blocks
Drilled blocks insure that your car rolls straight and also offers a raised wheel option to increase speed.
Pre-Built Cars
If you can not build your own car, our fully built PRO pinewood derby cars are fully built and tested for speed!

These cars are precision tuned, track tested and ready to race. Just add graphite!
---
Pinewood Derby
Tips & Hints

Need a little extra weight on weigh in but didn't bring extra weight with you? Use a coin! Here are the weights of US coins in ounces: penny .11 oz, nickel .17 oz, dime .07 oz, quarter .18 oz





Pinewood Derby
lubes Tip

Nyoil stays on your axles throughout the race, unlike powdered graphite that blows off every time your car goes down the track. This gives Nyoil coated axles a speed advantage if your car keeps racing.




Pinewood Derby
painting Hint

Put a coat of wood primer on your car before painting it because pine wood is porous and will absorb the first coat of paint. Lightly sand the primer after it dries, then apply a final coat (or two) for a clean, finished look.



Helping Pinewood Derby Racers

...for over 15 years.
My son won an award for most futuristic design. We really appereciated all your help. Thanks for all the help and guidance.
- Greg from CT





Pinewood Pro gets 'er done cuz we finished No.#1, thanks Joe!!!
- Bruce from WA





This was my 7 year old son's first Pinewood Derby and I would have paid 100 times the price just to see the expression on his face when he took first! Your information was invaluable!
Fred & Vincent





Just wanted to say THANK YOU! I received my items. I have used you guys for 3 or 4 years now, ALWAYS fast, great products, I am very happy with you guys. AND we have won AT LEAST our den every year! Cheers!
- Paul from MO





I ordered a set of your BSA wheels and axels last minute on Wednesday for overnight delivery. Our race was on Friday. We finished in 6th out of 80 cars, and will be going to the Divisional Race! My son was never happier! Thanks again!
- Steve from KY





Thank you for all of the information. We had fun making the car! We're going on to the Regionals, as our car to 1st place in our den!
- Lou from IN




FREE Derby Help

Designing Your Car

Building Your Car

Making Your Car Fast

Finishing Touches

Pinewood Pro...

Information

Blastcar for Boy Scouts
Thanks for all your help to get first place in tiger cub class.
- Chris

James won his first pack race and also won the district race. He never lost a race using your products. Thank you for all you are doing.
- Jim

Your tips were Fabulous! Competing in the District Race tomorrow...Our first time making a car! You ROCK!!!!
- Nancy B from NC

Thanks a ton for all the tips and the Wheels and Axles! We beat cars that had taken district and region in Georgia! This was my last race with my two boys. Great way to end! Thanks again!
- David

I have purchased from you for two consecutive years and am an extremely satisfied customer. The order arrived promptly and I am very pleased with your products and service. Thank you so much!
- Trey from SC

Thank you for the great service. I will be coming back to purchase fo my grandson's pinewood derby. Thanks again, it's been great doing business with Pinewood Pro. Blessings to you and your staff.
- Jim from IL
Pinewood Derby Car Secret Steps