Sandy Hook Tribute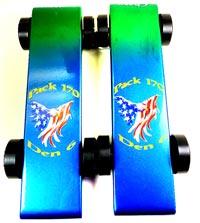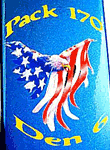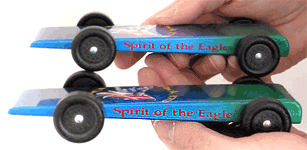 Sadly, I live only two towns away from Sandy Hook, CT, scene of the horrific tragedy that took place on Dec 14, 2012 at Sandy Hook Elementary School. Two Tiger Cubs were among the 26 people tragically killed that day.
To honor their memories Pinewood Pro and several Packs around the country built tribute cars for Chase Kowalski and Benjamin Wheeler. If you know of other tribute cars, please send pictures of your cars so we can include them on this page.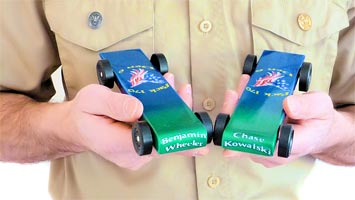 I created two Spirit of the Eagle cars; one for Ben and one for Chase.

The Spirit of the Eagle Award is a Boy Scouts of America (BSA) honorary posthumous special recognition for a youth member under the age of 21 who has lost his or her life.

The intention of this award is to help heal and comfort the youth memberís family, loved ones, and friends with their loss. It recognizes the joy, happiness, and life-fulfilling experiences the Scouting program made in the youth's life and serves as a final salute and tribute to the departed.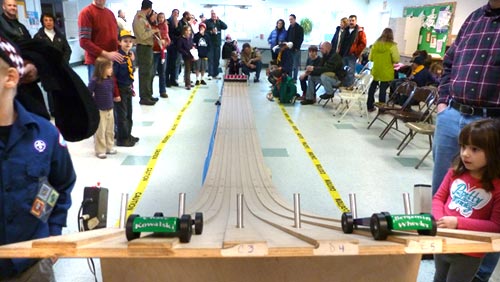 The tribute cars for Tiger Cubs Ben Wheeler and Chase Kowalski were raced at the Sandy Hook Pack 170 Pinewood Derby race. When they were raced with the other four Tiger Cub cars in Den 6, they were placed in the outer lanes, 1 and 6. As the boys saluted, we pulled the lever. What happened was truly astounding...

Ben's and Chase's cars ripped down the track and BOTH cars arrived at the gate in the exact instant, tied for first, down to 1/1000th of a second!!! Call it spiritual or call it magical...something was going on.

See miraculous video for yourself. Spirit of the Eagle pinewood derby cars race to a miraculous First Place tie.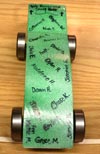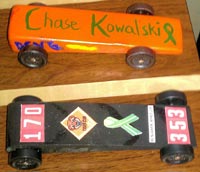 We Remember Sandy Hook
Car made by a Cub Scout Pack in Shelton, CT
showing the names of
all 26 victims
in the Sandy Hook Tragedy
Texas Tribute Cars
Two cars built
by a Cubmaster in Texas
to commemorate Chase and Ben.

If you are moved to build a car here are some ideas:
Spirit of the Eagle
Sandy Hook Pack 170 Den 6
Chase Kowalski, Benjamin Wheeler
Green or White crossed ribbon
Tiger Cub symbol with "Chase" and "Benjamin"


Send
pictures of the cars and we will post them on our Sandy Hook Pack 170 Den 6 tribute page.
FREE Derby Help

Designing Your Car

Building Your Car

Making Your Car Fast

Finishing Touches

LEGO Derby Car Racing

Race Track

Pinewood Pro...

Information
Sandy Hook Tribute Cars