Pinewood Derby Cars!
Build a winning pinewood derby car.
You can do it... We can help.
Phone Orders: 203-400-3713
...or Browse to Learn about Products
Pinewood Derby Axles

BSA axles, precision machined grooved and nickle-plated axles, and graphite-coated axles are the fastest on the market, guaranteed!

Winning Secrets

As an Engineer, I designed and tested the largest list of speed secrets. 1000's have won using my speed secrets...you can win too!

Pinewood Derby Wheels


Wheels Precision Tuned for Speed

Choose from BSA lightly lathed or Ultra-Lite wheels and our exclusive graphite-coated wheels for maximum speed.

We also offer lathed Awana® Grand Prix wheels.

Car Design Plans


Pinewood Derby Car Design Plans

Choose from over 25 car design plans with step-by-step 3D illustrations, printable template patterns, painting schemes, speed hints, 360 animations and more. Instant download direct to your PC in seconds!

Pre-cut cars, Blocks


Pre-cut cars and drilled blocks

Save time! Choose from simple pre-cut cars to high end NASCAR or Indy F1, or make your own with a precision drilled block so your car rolls straight.

Kits and Fully Built Cars


Pinewood Derby Car Kits
and
Fully Built Cars

Save even more time! Choose from car kits that include everything you need, or select a super-fast, track-tested fully built car ready to race!

Graphite and NyOil


Powdered graphite and NyOil lubes

Increase your car speed with dry powdered graphite with molybdenum additive, or NyOil lubericants.

Tungsten, Zinc Weights

Choose from tungsten cylinders, BBs or tungsten putty, or zinc stick-on, screw-on or cylinder weights.

Building Supplies


Car building supplies and tools

Coping saw, wood rasps, sandpaper, sealers and every other tool you need to build your car

Pinewood Derby Tools

PRO tools for drilling axle holes, inserting axles, rail rider, bore polisher, mandrel, scales, etc.

Paints, Stickers, Decals


Finishing touches for your car

Make your car look great with some of our high gloss paints, sealers, custom decals and stickers and more designs.

Accessories, Supplies


DVD, race car driver and scales

Portable and large scales to weigh your car, Down and Derby movie DVD, race car driver and car eyes to add fun and complete your pinewood derby car.
Pinewood Derby leaders for over 10 years!
Pinewood Pro offers award winning car design plans and unique speed products designed by engineers. Our best selling book, Winning Pinewood Derby Secrets, has helped thousands build winning cars since 1999 with proven results!
Pinewood Pro is the exclusive seller of The Story of the Pinewood Derby, written by the inventor of the pinewood derby, Don Murphy. We are also the proud sponsor of the pinewood derby museum in El Segundo, CA. As an engineer, I designed many unique products like our graphite-coated axles and wheels.
I'm sure we have everything you need and we will do everything we can to help you have fun building a winning pinewood derby car.
Sandy Hook Tribute

Sadly, I live only two towns away from Sandy Hook, CT, scene of the horrific tragedy that took place on Dec 14 at Sandy Hook Elementary School. Two Tiger Cubs were among the 26 people tragically killed that day.
To honor their memories several Packs around the country built tribute cars for Chase Kowalski and Benjamin Wheeler. It can be as simple as putting their names, or a green or white ribbon, or Sandy Hook Pack 170 Den 6 on your car.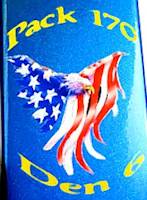 Send pictures of the cars and we will post them on our Sandy Hook Pack 170 Den 6 tribute page. I created two Spirit of the Eagle cars that represent the BSA Award for fallen scouts. Anything will do, but here are some ideas to label your car:

Spirit of the Eagle
Sandy Hook Pack 170 Den 6
Chase Kowalski, Benjamin Wheeler
Green or White crossed ribbon
Tiger Cub symbol with "Chase" and "Benjamin"

FREE Derby Help

Designing Your Car

Building Your Car

Making Your Car Fast

Finishing Touches

Pinewood Pro...

Information

Blastcar for Boy Scouts
Didn't lose a race all day! Key was... PRO Speed Axles and Wheels.

Randy





Smoked everybody in our class!!
from GRAND PRIX Winner
A big thanks to all the folks at Pinewood Pro!! This was a great night, my car (daughters car) took first place in speed.





Thanks for the tips in the books. This was my 7 year old son's first Pinewood Derby race and I would have paid 100 times the price just to see the expression on his face when he took first place. Your information was invaluable!
Fred & Vincent




1st year, 2nd Place Finish!
Mikey from Miami
My six year old was second in his Pack, being beat only by an older cub scout (the son of a "real" rocket scientist !





Once we ordered your tips and tricks we won 1st place every year since.
Thank You so much for this information and making my son's pinewood derby career a success.
- Keith





First Place Derby Car
from Utah
My son's car easily won 1st place with a decent margin over the next fastest car. These tips, along with the purchased items were the secret to winning.







My daughter won 1st place, and my son won 3rd place. It was very fun and hope to do again next year. Thanks for your great information,
- Barry





Wow, we did it! Dad, I'll never forget this night.
Steven Gargiulo Trumbull, CT




Winner!
JF from California
My son was so happy. He was second overall for the pack and only lost by a photo finish in the finals.





We won! In the championships we beat 24 other Bears and won every heat.
Kevin K.




You people offer the very finest support and equipment for Pinewood derby cars on the planet! We went undefeated for the second year in a row. Cheers!
- Wayne