Free Pinewood Derby Car Driver's License
Customize your very own
Pinewood Derby Driver's License
Pinewood Derby Car Racer Driver License
Cub Scout Pinewood Derby Racing Driver's License
Awana Grand Prix Racer Driver License
You can create an Awana Racing License too!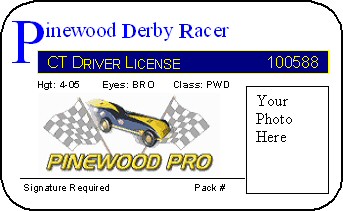 Note: Pinewood Pro is not associated with Awanaź Clubs International.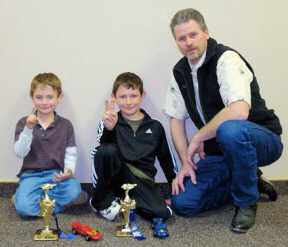 Joe,
Thank you for the great tips on building a car!
You helped make our Awana Club Pinwood Derby an event to remember always!
God Bless,
Tracey
How to Use Your Derby Racer License
Click on the link under the driver's license to display the Word doc. You can then save it on your PC and edit the fields to customize it for your race, as follows:
Change "CT" in the dark blue Driver License block to your state code
Change the "hgt" to the racers actual height, or make it blank and let them fill it in.
Change the "eyes" to the driver's eye color, or let them fill it in
Ask the racer to sign their license when they check in their pinewood derby car
You can also hand out the license with their car kit. This gives each racer time to fill in their license and add their photo to the lower right corner!
If you like our drivers licenses,
please consider a link exchange with Pinewood Pro so
other racers can have fun with them too...
Link exchange with Pinewood Pro is easy!
Just copy and paste the following into your website
Pinewood Derby Car Supersite - Your one stop derby shop! You can build a winning pinewood derby car with our design plans, polished axles, lathed wheels plus full line of speed products and free how-to guides, tips, pinewood derby car drivers license, award certificates and more!
or find other text plus the Pinewood Pro logo on our linking page...
Pinewood Derby
Tips & Hints

Lighter wheels turn easier (they require less inertia). Lighten your wheels, as much as your Rules allow, which will give you a fast start out of the gate and faster speed down the track.





Pinewood Derby
axles Tip

The axle slots that are cut into standard blocks are too tight for BSA axles that are .089" diameter. Small axle slots make it difficult to get your axles in straight. A #44 drill bit is .086", which I find too tight. Consider a #43 Drill Bit, which is a perfect match at .089" for a snug fit.




Pinewood Derby
weights Hint

Tungsten Putty is ideal for getting your car up to the maximum 5 oz limit. Drill a hole in the bottom of your car and insert Pinewood Pro Putty as the last step to bring your car to 5.0 oz. If the official scale weighs you in at 5.1 oz, simply remove a small amount of putty to bring it back to 5.0 oz.



Helping Pinewood Derby Racers

...for over 15 years.
We took first in our pack of 60 cars. It was an amazing day. Thanks again Joe. Your info is the best out there!
- Gina





Using these axles and BSA speed wheels, we set a track record, went undefeated and won the pack championship. My son is thrilled to be heading to districts and let me tell you, a winning scout is a happy scout. Can't recommend these enough!
- Natalie from CO





My son, won his pack derby today on our first attempt! He won 9 races in a row and none of them were even close. Thanks for your assist in this father & son memory.
- Kevin from VT




FREE Derby Help

Designing Your Car

Building Your Car

Making Your Car Fast

Finishing Touches

Pinewood Pro...

Information

Blastcar for Boy Scouts
I just read your Winning Pinewood Derby Secrets book and I can not wait to apply the information. Thanks for the help!
- Tully from TX

I can't even put into words how excited, proud and happy my daughter was each time her car won. Worth every penny, plus more. Thank you SO MUCH Pinwood Pro!
- Nina from PA

Thank you for the great Pinewood Derby tips! My son was so excited when he got the 1st place trophy!
- Kevin from AZ
Pinewood Derby Car Drivers License