Free Pinewood Derby Car Driver's License
Customize your very own
Pinewood Derby Driver's License
Pinewood Derby Car Racer Driver License
Cub Scout Pinewood Derby Racing Driver's License
Awana Grand Prix Racer Driver License
You can create an Awana Racing License too!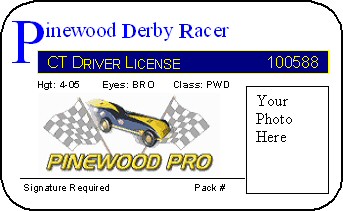 Note: Pinewood Pro is not associated with Awanaź Clubs International.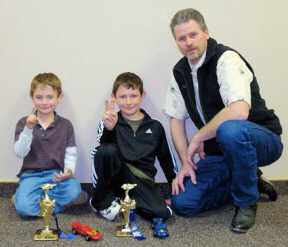 Joe,
Thank you for the great tips on building a car!
You helped make our Awana Club Pinwood Derby an event to remember always!
God Bless,
Tracey
How to Use Your Derby Racer License
Click on the link under the driver's license to display the Word doc. You can then save it on your PC and edit the fields to customize it for your race, as follows:
Change "CT" in the dark blue Driver License block to your state code
Change the "hgt" to the racers actual height, or make it blank and let them fill it in.
Change the "eyes" to the driver's eye color, or let them fill it in
Ask the racer to sign their license when they check in their pinewood derby car
You can also hand out the license with their car kit. This gives each racer time to fill in their license and add their photo to the lower right corner!
If you like our drivers licenses,
please consider a link exchange with Pinewood Pro so
other racers can have fun with them too...
Link exchange with Pinewood Pro is easy!
Just copy and paste the following into your website
Pinewood Derby Car Supersite - Your one stop derby shop! You can build a winning pinewood derby car with our design plans, polished axles, lathed wheels plus full line of speed products and free how-to guides, tips, pinewood derby car drivers license, award certificates and more!
or find other text plus the Pinewood Pro logo on our linking page...
To link your site with Pinewood Pro:
email the pinewood pro link you added to your site

include your site information and we will add your site to Pinewood Pro favorite links.
Linking exchange is as easy as that!
Pinewood Derby
Tips & Hints

Before cutting your car, use a straight edge to draw lines down the center lengthwise and widthwise across your car. Then draw your car design template over these straight lines. The template and straight lines help guide your cutting on both sides of the car so everything is square.





Pinewood Derby
axles Tip

Just like the pistons in an engine block, you want your axles to be tight fitting in the wheel bore, to reduce wheel wobble. If your Rules allow, use one of our slightly oversized Speed Axle or PRO Super Speed Axle.




Pinewood Derby
winning Hint

Winning Pinewood Derby Secrets contains all the tips you need to win your race. Updated annually with the latest tips and speed products, our book has proven results with 1000's of winners... but don't take our word for it! Read over 90 Customer Reviews and check out our Winners Gallery!



Helping Pinewood Derby Racers

...for over 15 years.
I have purchased from you for two consecutive years and am an extremely satisfied customer. The order arrived promptly and I am very pleased with your products and service. Thank you so much!
- Trey from SC





My son--a first time Pinewood Derby participant--won his Den, Pack, and District championships thanks to Pinewood Pro! Also won design and workmanship awards. Thanks, Pinewood Pro!
- Mike





Great tips in your Winning Secrets book! This was our first year and my son was the overall District Winner. There were 250 racers at the District race so I'm guessing we have something like 1,000 scouts in our district. With that type of competition you need these tips to be competitive.
- Mike from FL




FREE Derby Help

Designing Your Car

Building Your Car

Making Your Car Fast

Finishing Touches

Pinewood Pro...

Information

Blastcar for Boy Scouts
We won! In the championships we beat 24 other Bears and won every heat.
- Kevin K. from CA





Didn't lose a race all day! Key was...PRO Speed Axles and Wheels.
- Randy from NM





We got a "Most Realistic" for the Humvee and an 4th place with the "wedge." You would have thought my seven-year-old twin grandsons had won college scholarships! I was a hero. Thanks, again. I'll probably be back next year, Lord willing.
- Mike from KS




Pinewood Derby Car Drivers License