Free Pinewood Derby Car Driver's License
Customize your very own
Pinewood Derby Driver's License
Pinewood Derby Car Racer Driver License
Cub Scout Pinewood Derby Racing Driver's License
Awana Grand Prix Racer Driver License
You can create an Awana Racing License too!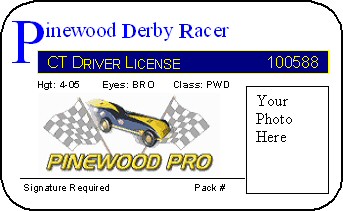 Note: Pinewood Pro is not associated with Awana® Clubs International.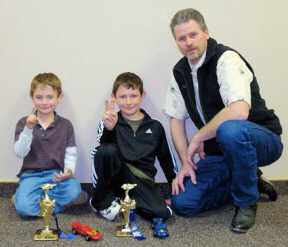 Joe,
Thank you for the great tips on building a car!
You helped make our Awana Club Pinwood Derby an event to remember always!
God Bless,
Tracey
How to Use Your Derby Racer License
Click on the link under the driver's license to display the Word doc. You can then save it on your PC and edit the fields to customize it for your race, as follows:
Change "CT" in the dark blue Driver License block to your state code
Change the "hgt" to the racers actual height, or make it blank and let them fill it in.
Change the "eyes" to the driver's eye color, or let them fill it in
Ask the racer to sign their license when they check in their pinewood derby car
You can also hand out the license with their car kit. This gives each racer time to fill in their license and add their photo to the lower right corner!
If you like our drivers licenses,
please consider a link exchange with Pinewood Pro so
other racers can have fun with them too...
Link exchange with Pinewood Pro is easy!
Just copy and paste the following into your website
Pinewood Derby Car Supersite - Your one stop derby shop! You can build a winning pinewood derby car with our design plans, polished axles, lathed wheels plus full line of speed products and free how-to guides, tips, pinewood derby car drivers license, award certificates and more!
or find other text plus the Pinewood Pro logo on our linking page...
Pinewood Derby
Tips & Hints

The best part of pinewood derby is designing a unique, cool car that you can call your own. Don't worry about aerodynamics because it is almost insignificant. We identify dozens of other speed tips in Winning Pinewood Derby Secrets that rank far above aerodynamics.





Pinewood Derby
axles Tip

Many of the BSA "nails" that come in your kit are crooked. Chuck each axle in your drill and spin them. If the axle looks blurry as it spins, that axle is crooked. Replace crooked axles or consider getting an Axle Press Tool to straighten crooked axles.




Pinewood Derby
building Hint

Crooked axle slots are perhaps the number one reason cars crash into the lane guides. Drill the axle slot with a drill press or the PRO Driller to be sure your axles go in straight and are square to the block.



Helping Pinewood Derby Racers

...for over 15 years.
Wow, we did it! Dad, I'll never forget this night.
- Steven Gargiulo
Trumbull, CT





Thank you for the tips in your Winning Secrets book. Out of 116 cars in our AWANA Grand Prix, my boys came in first in their divisions and 1st and 3rd overall. They were thrilled!
- Carl





Thanks for helping out with these orders. I appreciate the quality of your customer service and will definitely recommend your company to others in my son's pack. Cheers!
- Thomas from NC




FREE Derby Help

Designing Your Car

Building Your Car

Making Your Car Fast

Finishing Touches

Pinewood Pro...

Information

Blastcar for Boy Scouts
Thanks to your detailed instructions, speed tips and parts, we won 1st place! Thanks so much.
- Joe from ME

This will be my 3rd year ordering from you. This year I have an 8 year old son, a ten year old son, and my 12 year old daughter's young women group is also doing the pinewood derby. We are still undefeated – Last year we purchased your wheels and axles and won 1st place again, 2 years running!
- Kirk from UT

Thanks for offering such great products to beginners. My son finished 1st in his pack, 2nd in his district, and 6th overall for his first year. Will definitely order from you again.
- Matthew from TN
Pinewood Derby Car Drivers License