How to Build a Pinewood Derby Car Stand
Diagram of a pinewood derby stand #1
Instructions to make derby stand #1
Below are the steps to build the pinewood derby car stand diagramed above...
Cut a 1"x3" board down to a 1"x2" and a 1"x1" for the top and post.
Shave a saw blade width off of the resulting 1"x2" with a table saw for the top.
Cut the 1"x2" into 2" sections.
Cut the 1"x1" into 4" sections.
Cut the 4" sections into 2 sections using a 45 degree miter.
Shave a 45 degree face off of the 1"x3" on the table saw or router for the name plate.
Cut the 1"x3" into 3" sections.
Drill the Top at a 45 degree angle for a screw into the post.
Drill the top and bottom of the post for a screw.
Drill the bottom for a screw into the post
Each stand requires 5" of 1x3 so an 8' long 1x3 should make 18 stands. Depending on the type of wood used this can be a very inexpensive stand even if you get brass plates for the base.
Additionally, we make finishing the stand a woodworking project for the scouts. They have to sand the pieces, put the stand together with two screws and varnish it (this usually takes one den meeting and can be counted toward advancement).
Pinewood Derby Car Stand #2 (simpler!)
We also made a simpler stand out of three pieces of wood (pictured below), a 1"x3" for the base, a 2"x4" for the upright and a 1"x2" for the top to hold the car. This stand only required one angle cut in the 2"x4" do the car mounted at an angle.
This only requires four screws, two on the bottom and two on the top.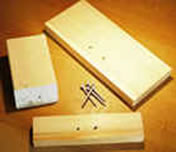 Pinewood derby stand kit
(only requires four screws!)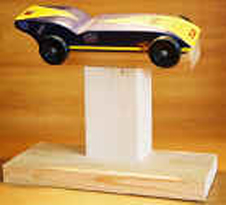 Completed pinewood derby car stand
...just apply stain and you're done!
Enjoy!...hope this helps.
Pinewood Derby
Tips & Hints

Looking for more cool car design ideas? Our free Pinewood Derby Car Design Guide has over 100 cool pinewood derby car design ideas.





Pinewood Derby
axles Tip

Many of the BSA "nails" that come in your kit are crooked. Chuck each axle in your drill and spin them. If the axle looks blurry as it spins, that axle is crooked. Replace crooked axles or consider getting an Axle Press Tool to straighten crooked axles.




Pinewood Derby
building Hint

Crooked axle slots are perhaps the number one reason cars crash into the lane guides. Drill the axle slot with a drill press or the PRO Driller to be sure your axles go in straight and are square to the block.



Helping Pinewood Derby Racers

...for over 15 years.
My son, won his pack derby today on our first attempt! He won 9 races in a row and none of them were even close. Thanks for your assist in this father & son memory.
- Kevin from VT





Jacob had a blast seeing his car fly! Thanks for the tips!
- Matthew and Jacob





This will be my 3rd year ordering from you. This year I have an 8 year old son, a ten year old son, and my 12 year old daughter's young women group is also doing the pinewood derby. We are still undefeated – Last year we purchased your wheels and axles and won 1st place again, 2 years running!
- Kirk from UT




FREE Derby Help

Designing Your Car

Building Your Car

Making Your Car Fast

Finishing Touches

Pinewood Pro...

Information

Blastcar for Boy Scouts
Thank you for the great Pinewood Derby tips! My son was so excited when he got the 1st place trophy!
- Kevin from AZ

As soon as he got home, he ran up stairs to his room to put his trophy of his shelf. I will defiantly be buying from you. Thanks for the Winning Secrets!
- Phil from NV

One of my girls won the "girls fav" car which was picked by all the girl scouts as their fav. Thanks
- Stephanie
How to Build A Pinewood Derby Car Stand