How to Build a Pinewood Derby Car Stand
Diagram of a pinewood derby stand #1
Instructions to make derby stand #1
Below are the steps to build the pinewood derby car stand diagramed above...
Cut a 1"x3" board down to a 1"x2" and a 1"x1" for the top and post.
Shave a saw blade width off of the resulting 1"x2" with a table saw for the top.
Cut the 1"x2" into 2" sections.
Cut the 1"x1" into 4" sections.
Cut the 4" sections into 2 sections using a 45 degree miter.
Shave a 45 degree face off of the 1"x3" on the table saw or router for the name plate.
Cut the 1"x3" into 3" sections.
Drill the Top at a 45 degree angle for a screw into the post.
Drill the top and bottom of the post for a screw.
Drill the bottom for a screw into the post
Each stand requires 5" of 1x3 so an 8' long 1x3 should make 18 stands. Depending on the type of wood used this can be a very inexpensive stand even if you get brass plates for the base.
Additionally, we make finishing the stand a woodworking project for the scouts. They have to sand the pieces, put the stand together with two screws and varnish it (this usually takes one den meeting and can be counted toward advancement).
Pinewood Derby Car Stand #2 (simpler!)
We also made a simpler stand out of three pieces of wood (pictured below), a 1"x3" for the base, a 2"x4" for the upright and a 1"x2" for the top to hold the car. This stand only required one angle cut in the 2"x4" do the car mounted at an angle.
This only requires four screws, two on the bottom and two on the top.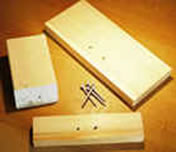 Pinewood derby stand kit
(only requires four screws!)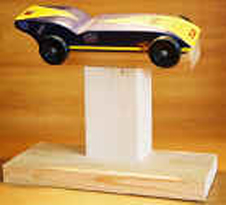 Completed pinewood derby car stand
...just apply stain and you're done!
Enjoy!...hope this helps.
Pinewood Derby
Tips & Hints

Looking for a pinewood derby car design template? Select from over 30 of Pinewood Pro's award winning Pinewood Derby Car Designs. They include everything from race cars to Military cars to a Nike Sneaker!





Pinewood Derby
axles Tip

When your wheel rubs against the axle head it creates friction. To reduce this friction, file the head back slightly using an Axle File to reduce the friction area.




Pinewood Derby
winning Hint

Winning Pinewood Derby Secrets contains all the tips you need to win your race. Updated annually with the latest tips and speed products, our book has proven results with 1000's of winners... but don't take our word for it! Read over 90 Customer Reviews and check out our Winners Gallery!



Helping Pinewood Derby Racers

...for over 15 years.
1st Place!! Thanks for the everlasting memories you have made possible!
- Williiam from IN





We won every race we entered as well as the grand prize for the fastest car! Thanks for your help and interest.
- Debra





This is our second order with Pinewood Pro and everything from the website to the delivery to the product has been excellent. As a Dad experiencing his first Cub Scout Pinewood Pro is a great resource to make sure I don't screw up! Thanks,
- Neal from PA




FREE Derby Help

Designing Your Car

Building Your Car

Making Your Car Fast

Finishing Touches

Pinewood Pro...

Information

Blastcar for Boy Scouts
We got a "Most Realistic" for the Humvee and an 4th place with the "wedge." You would have thought my seven-year-old twin grandsons had won college scholarships! I was a hero. Thanks, again. I'll probably be back next year, Lord willing.
- Mike from KS




.

Jonah's car won 1st place in his Den, first place in the Pack and I couldn't believe it but he also won for Best looking car!
- Thomas from FL





You guys are amazing. Thank you for such prompt attention. We will deal with you from now on. I have at least 9 more years of pinewood cars to make, and it's your products that will help us through them. Thank you soooo much!
- Lisa from CA




How to Build A Pinewood Derby Car Stand