How to Build a Pinewood Derby Car Stand
Diagram of a pinewood derby stand #1
Instructions to make derby stand #1
Below are the steps to build the pinewood derby car stand diagramed above...
Cut a 1"x3" board down to a 1"x2" and a 1"x1" for the top and post.
Shave a saw blade width off of the resulting 1"x2" with a table saw for the top.
Cut the 1"x2" into 2" sections.
Cut the 1"x1" into 4" sections.
Cut the 4" sections into 2 sections using a 45 degree miter.
Shave a 45 degree face off of the 1"x3" on the table saw or router for the name plate.
Cut the 1"x3" into 3" sections.
Drill the Top at a 45 degree angle for a screw into the post.
Drill the top and bottom of the post for a screw.
Drill the bottom for a screw into the post
Each stand requires 5" of 1x3 so an 8' long 1x3 should make 18 stands. Depending on the type of wood used this can be a very inexpensive stand even if you get brass plates for the base.
Additionally, we make finishing the stand a woodworking project for the scouts. They have to sand the pieces, put the stand together with two screws and varnish it (this usually takes one den meeting and can be counted toward advancement).
Pinewood Derby Car Stand #2 (simpler!)
We also made a simpler stand out of three pieces of wood (pictured below), a 1"x3" for the base, a 2"x4" for the upright and a 1"x2" for the top to hold the car. This stand only required one angle cut in the 2"x4" do the car mounted at an angle.
This only requires four screws, two on the bottom and two on the top.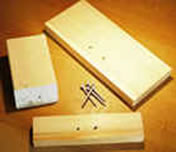 Pinewood derby stand kit
(only requires four screws!)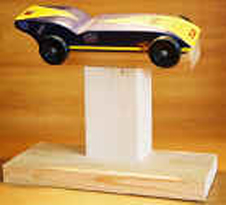 Completed pinewood derby car stand
...just apply stain and you're done!
Enjoy!...hope this helps.
Pinewood Derby
Tips & Hints

When your car wheel rubs against the axle head it can cause the wheel to wobble because the corner of the axle head is not a perfect 90 degrees. Cutting a groove directly under the axle head removes this source of wheel wobble. Cutting this groove is difficult to do by hand, but it can be done with an axle file. Our grooved Speed Axles and Pro Super Speed axles have this groove, exclusive to Pinewood Pro, cut directly under the axle head.





Pinewood Derby
lubes Tip

When lubing your wheels and axles, shoot graphite powder into the wheel bore, spin your wheels, and repeat. Do this over newspaper in your garage or outside the house.




Pinewood Derby
building Hint

Wood filler is your best friend when it comes to building a pinewood derby car. Use wood filler to fill holes, gouges and other cutting mistakes. You can even use it to add a bubble, racer cockpit, spoiler, etc.



Helping Pinewood Derby Racers

...for over 15 years.
The speed axles did the trick second year in a row!
- Debbie & Frank





This was our very first time building a Pine Derby car for Awana Club. We won first place in our age class and 3rd place over all the age classes up to high school. Thanks, Pinewood Pro!
- Kirk




.

Jonah's car won 1st place in his Den, first place in the Pack and I couldn't believe it but he also won for Best looking car!
- Thomas from FL




FREE Derby Help

Designing Your Car

Building Your Car

Making Your Car Fast

Finishing Touches

Pinewood Pro...

Information

Blastcar for Boy Scouts
My son placed 1st place in the St. David's Cup.
- Wayne

I have a Webelo 1 and Webelo II Scout and they placed 1st and 2nd in this year's Pinewood Derby and will now go on to compete in the regional race. Thank you for all the good that you are doing and helping make kids dreams come true.
- Craig from CA

My grandson placed won his races! Your speed secrets and products made the difference. To see his smiles get bigger with each win was worth it.
- Cliff
How to Build A Pinewood Derby Car Stand