How to Build a Pinewood Derby Car Stand
Diagram of a pinewood derby stand #1
Instructions to make derby stand #1
Below are the steps to build the pinewood derby car stand diagramed above...
Cut a 1"x3" board down to a 1"x2" and a 1"x1" for the top and post.
Shave a saw blade width off of the resulting 1"x2" with a table saw for the top.
Cut the 1"x2" into 2" sections.
Cut the 1"x1" into 4" sections.
Cut the 4" sections into 2 sections using a 45 degree miter.
Shave a 45 degree face off of the 1"x3" on the table saw or router for the name plate.
Cut the 1"x3" into 3" sections.
Drill the Top at a 45 degree angle for a screw into the post.
Drill the top and bottom of the post for a screw.
Drill the bottom for a screw into the post
Each stand requires 5" of 1x3 so an 8' long 1x3 should make 18 stands. Depending on the type of wood used this can be a very inexpensive stand even if you get brass plates for the base.
Additionally, we make finishing the stand a woodworking project for the scouts. They have to sand the pieces, put the stand together with two screws and varnish it (this usually takes one den meeting and can be counted toward advancement).
Pinewood Derby Car Stand #2 (simpler!)
We also made a simpler stand out of three pieces of wood (pictured below), a 1"x3" for the base, a 2"x4" for the upright and a 1"x2" for the top to hold the car. This stand only required one angle cut in the 2"x4" do the car mounted at an angle.
This only requires four screws, two on the bottom and two on the top.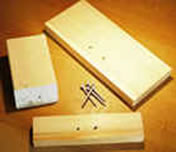 Pinewood derby stand kit
(only requires four screws!)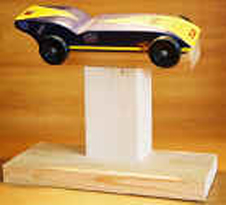 Completed pinewood derby car stand
...just apply stain and you're done!
Enjoy!...hope this helps.
Pinewood Derby
Tips & Hints

Make your car slim. If your car is too chunky, there will be lots of weight in the wood, leaving less weight for your weights. You want lots of weight so you can move the center of gravity to the optimal point to maximize inertia.





Pinewood Derby
wheels Tip

A lathed wheel means the wheel was turned at a high speed and "sanded" with a cutting tool. Lathed Wheels are perfectly tuned around the axis of rotation giving you the highest performance.




Pinewood Derby
rules Hint

If it isn't explicitly stated in the rules, then you can do it. If you have questions about your rules, ask your race manager, since all races have different rules.



Helping Pinewood Derby Racers

...for over 15 years.
I ordered a set of your BSA wheels and axels last minute on Wednesday for overnight delivery. Our race was on Friday. We finished in 6th out of 80 cars, and will be going to the Divisional Race! My son was never happier! Thanks again!
- Steve from KY





Thank you for the great service. I will be coming back to purchase fo my grandson's pinewood derby. Thanks again, it's been great doing business with Pinewood Pro. Blessings to you and your staff.
- Jim from IL





Didn't lose a race all day! Key was...PRO Speed Axles and Wheels.
- Randy from NM




FREE Derby Help

Designing Your Car

Building Your Car

Making Your Car Fast

Finishing Touches

Pinewood Pro...

Information

Blastcar for Boy Scouts
James won his first pack race and also won the district race. He never lost a race using your products. Thank you for all you are doing.
- Jim

Pinewood Pro gets 'er done cuz we finished No.#1, thanks Joe!!!
- Bruce from WA

Your tips were Fabulous! Competing in the District Race tomorrow...Our first time making a car! You ROCK!!!!
- Nancy B from NC
How to Build A Pinewood Derby Car Stand