How to Build a Pinewood Derby Car Stand
Diagram of a pinewood derby stand #1
Instructions to make derby stand #1
Below are the steps to build the pinewood derby car stand diagramed above...
Cut a 1"x3" board down to a 1"x2" and a 1"x1" for the top and post.
Shave a saw blade width off of the resulting 1"x2" with a table saw for the top.
Cut the 1"x2" into 2" sections.
Cut the 1"x1" into 4" sections.
Cut the 4" sections into 2 sections using a 45 degree miter.
Shave a 45 degree face off of the 1"x3" on the table saw or router for the name plate.
Cut the 1"x3" into 3" sections.
Drill the Top at a 45 degree angle for a screw into the post.
Drill the top and bottom of the post for a screw.
Drill the bottom for a screw into the post
Each stand requires 5" of 1x3 so an 8' long 1x3 should make 18 stands. Depending on the type of wood used this can be a very inexpensive stand even if you get brass plates for the base.
Additionally, we make finishing the stand a woodworking project for the scouts. They have to sand the pieces, put the stand together with two screws and varnish it (this usually takes one den meeting and can be counted toward advancement).
Pinewood Derby Car Stand #2 (simpler!)
We also made a simpler stand out of three pieces of wood (pictured below), a 1"x3" for the base, a 2"x4" for the upright and a 1"x2" for the top to hold the car. This stand only required one angle cut in the 2"x4" do the car mounted at an angle.
This only requires four screws, two on the bottom and two on the top.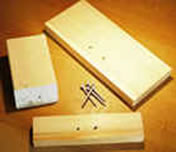 Pinewood derby stand kit
(only requires four screws!)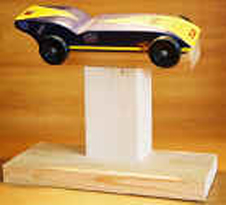 Completed pinewood derby car stand
...just apply stain and you're done!
Enjoy!...hope this helps.
Pinewood Derby
Tips & Hints

Lead is denser than zinc but lead is toxic, so we do not recommend handling it. Use non-toxic weights like zinc or tungsten.





Pinewood Derby
lubes Tip

Our PRO Graphite, with molybdenum disulfide, is a proven winner. Our Track Tests show an average speed increase of 17%.




Pinewood Derby
painting Hint

Put a clear Gloss Paint Sealer on your car to protect your cool paint job from dirt and graphite smudges.



Helping Pinewood Derby Racers

...for over 15 years.
After 4 years of not winning, we finally did it!! Your book truly worked!!
- Wayne from CA





Thank you for your help, my grandson took first place in his pinewood derby race!
- Grandpa Jim from PA





My son peter took first place with his car. Thanks for your products,
- Tony from TX




FREE Derby Help

Designing Your Car

Building Your Car

Making Your Car Fast

Finishing Touches

Pinewood Pro...

Information

Blastcar for Boy Scouts
Thank you for all of the information. We had fun making the car! We're going on to the Regionals, as our car to 1st place in our den!
- Lou from IN

We got a "Most Realistic" for the Humvee and an 4th place with the "wedge." You would have thought my seven-year-old twin grandsons had won college scholarships! I was a hero. Thanks, again. I'll probably be back next year, Lord willing.
- Mike from KS

This was my 7 year old son's first Pinewood Derby and I would have paid 100 times the price just to see the expression on his face when he took first! Your information was invaluable!
Fred & Vincent
How to Build A Pinewood Derby Car Stand