Pinewood Pro donation to Cub Scouts,
Cub Master Tony Psomas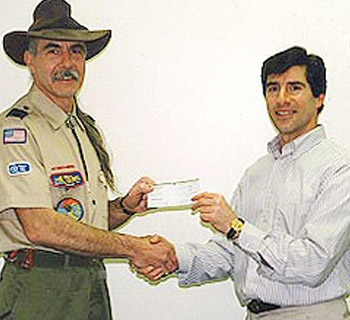 Pinewood Pro donation to Cub Scouts,
Cub Master Brian Diamond
Pinewood Pro donation to Cub Scouts,
Cub Master Brian Diamond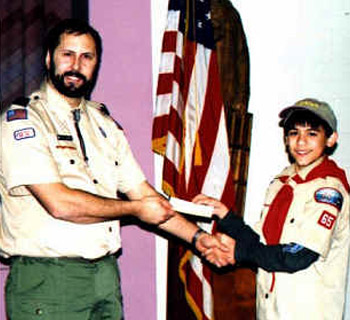 Pinewood Pro donation to Cub Scouts,
Cub Master Brian Diamond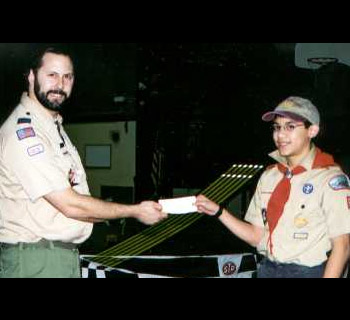 Pinewood Pro donation to Cub Scouts,
Cub Master Tom Foth
Pinewood Pro donation to Cub Scouts,
Cub Master Michelle Wendt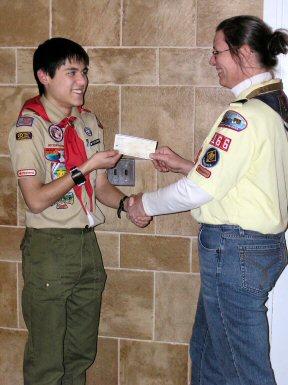 Pinewood Pro donation to Cub Scouts,
Cub Master Pack 468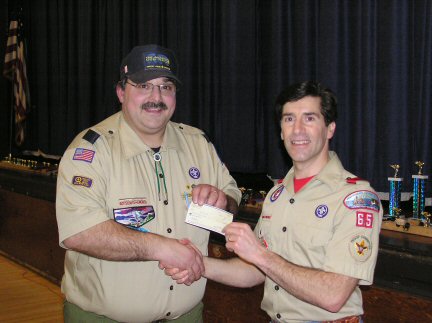 Pinewood Pro donation to Cub Scouts,
Pack 468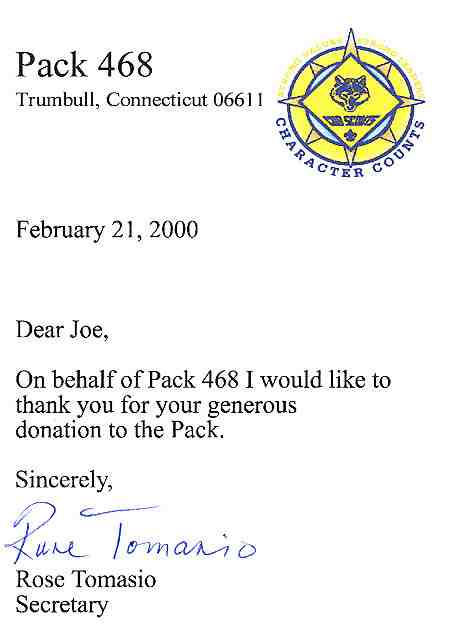 Pinewood Derby
Tips & Hints

Before cutting your car, use a straight edge to draw lines down the center lengthwise and widthwise across your car. Then draw your car design template over these straight lines. The template and straight lines help guide your cutting on both sides of the car so everything is square.





Pinewood Derby
axles Tip

The axle slots that are cut into standard blocks are too tight for BSA axles that are .089" diameter. Small axle slots make it difficult to get your axles in straight. A #44 drill bit is .086", which I find too tight. Consider a #43 Drill Bit, which is a perfect match at .089" for a snug fit.




Pinewood Derby
building Hint

Wood filler is your best friend when it comes to building a pinewood derby car. Use wood filler to fill holes, gouges and other cutting mistakes. You can even use it to add a bubble, racer cockpit, spoiler, etc.



Helping Pinewood Derby Racers

...for over 15 years.
Thanks to your detailed instructions, speed tips and parts, we won 1st place! Thanks so much.
- Joe from ME





Everything was great! It was my son's first Kubcar race...approx 60 cars, and he took 1st place! He was so excited... Thanks again. Your Winning Pinewood Derby Secrets book really helped!
- Glenn from Toronto





We got a "Most Realistic" for the Humvee and an 4th place with the "wedge." You would have thought my seven-year-old twin grandsons had won college scholarships! I was a hero. Thanks, again. I'll probably be back next year, Lord willing.
- Mike from KS




FREE Derby Help

Designing Your Car

Building Your Car

Making Your Car Fast

Finishing Touches

Pinewood Pro...

Information

Blastcar for Boy Scouts
My grandson placed won his races! Your speed secrets and products made the difference. To see his smiles get bigger with each win was worth it.
- Cliff

You guys are amazing. Thank you for such prompt attention. We will deal with you from now on. I have at least 9 more years of pinewood cars to make, and it's your products that will help us through them. Thank you soooo much!
- Lisa from CA

This is year #3 with you and we just keep winning!!! We did the Red thunderbolt and the Black Lightning cars. Thanks for the great products!
- Phil from CA
Pinewood Pro Donations to BSA Cub Scout Packs