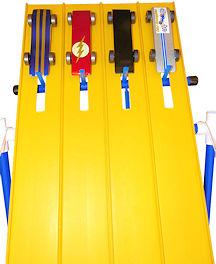 Low Cost Pinewood Derby and LEGO Derby Track
The PRO Track is a
complete pinewood derby track system
. It is a light-weight yet durable plastic track with many unique features that gives it a dual purpose for pinewood derby and LEGO derby car racing.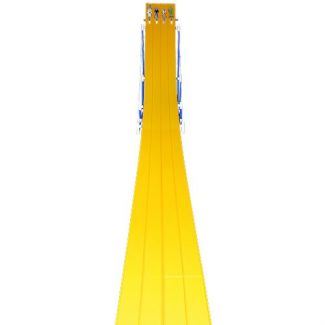 PRO Track is best for LEGO Derby Racing
Here are a few features unique to the PRO Track:
Light weight, yet durable plastic for Easy handling
This track has an ingenious snap-together design so it doesn't require any tools to set it up!
7' sections means it fits into an SUV
Landing zone garage includes a speaker that announces the winning lane and time. The PRO Track also includes a computer hookup for tracking results too.
Unique finish line sensors eliminate need for clunky finish gate, AND the track sensors work in full sunlight so track can be used outdoors
LED's lights embedded in each lane at the finish line flashes to identify winner, 2nd place, 3rd place and 4th place.
No center guide rail to rub against, so cars race faster. There are no worries that a LEGO Derby Car will drag on the track because clearance is only 1/4". Builders can be more creative with their cars.
There is no "finish gate" that cars need to fit under (sensors are built into the track). This means there is no height restriction on cars. Cars can be taller, which is especially important for LEGO Derby cars where kids can get extremely creative.
Entire track system fits in a durable, re-usable plastic box

Because of these unique features, the PRO Track is the best track for racing LEGO Derby Cars.
Best of all, the entire PRO Track system is affordable, considering that it is a complete track system.

only $1367.00 with FREE shipping!
Shop Now