SHIPPING and RETURN POLICY
*** NOTE: FedEx, UPS and USPS are NOT guaranteeing delivery times, due to the national COVID crisis.
Please allow extra time. ***
Free Shipping Policy
Orders within the US that total over $100 ship free via USPS first class mail.
When you add an item to your cart, our Shipping Calculator displays if your order total qualifies for free shipping (so you don't have to do the math!)
If you want faster delivery, we also offer USPS Priority mail, and FedEx or UPS ground, 3rd day, 2nd day and overnight

You can also use our Shipping Calculator at any time by clicking the SHIPPING link at the top of the page and entering a US zip code.

Estimated Shipping Time
Add something to your cart and use our Shipping Calculator to see the day you will receive your package. (US Zip Codes only)
Orders are shipped on a first come, first shipped basis.
IMPORTANT: We make every effort to ship all orders the same business day if the order was received before 2:30PM EST. However, in our experience carriers experience high volumes in late December and early January, especially Mondays. While it is rare, carriers can sometimes be overwhelmed during this period, resulting in a one day shipping delay.
When will your order ship?
All expedited orders (overnight, 2nd day, 3rd day) generally ship the same day, excluding holidays, if received before 2:30PM EST on a business day.
Non-expedited orders generally ship the same day too, but could ship the next day, depending on order volumes.
Orders received after 2:30PM EST on Friday and weekend orders ship on Monday. We do not ship on Holidays.
When will you receive your order?
You will receive a ship confirmation email with your tracking number directly from our warehouse the day your order ships.
Below are the shipping guidelines from FedEx, UPS and USPS.
UPS and FedEx Next Day orders are delivered the next business day, if your order is placed before 2:30PM EST. Friday Next Day orders are delivered on Monday. Packages do not move or deliver on holidays or weekends.
UPS and FedEx 2nd DAY and 3rd DAY are guaranteed. They do not deliver on holidays or weekends. Start counting delivery days the day AFTER you receive your tracking number. For example, a 2nd DAY order placed before 2:30PM EST on a Monday is packed on Mon, then picked up and scanned by the carrier by end of day Monday. The carrier moves the package on Tues and delivers it on Wed. Note that if you placed a 2nd DAY order after 2:30PM EST on Monday, it will get packed with Tuesday orders and therefor would be delivered on Thurs.
Please see UPS shipping map below to get an idea of Ground Shipping times. You can also enter your US zip code into our Shipping Calculator to see the delivery date.
NOTE: FedEx Home Delivery is not guaranteed. FedEx Home Delivery delivers Tuesday through Saturdays. FedEx Home Delivery DOES NOT deliver on Mondays.
USPS Priority Mail is not guaranteed but usually delivers in 2-4 business days and it is trackable. (Deliveries are faster to Eastern States)
USPS 1st Class mail is not guaranteed and has no, or limited, tracking. Delivery times vary widely. As a guideline, allow 5-8 business days, though delivery is faster to Eastern States. Note that in rare cases we've seen USPS 1st Class Mail take even longer than 8 business days!
As a guideline, below is the UPS GROUND shipping map delivery times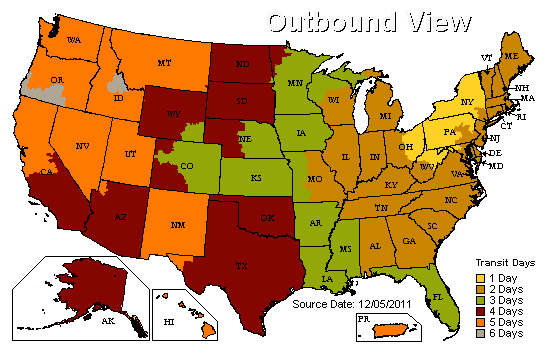 We do not ship on Sat, Sun or Holidays. Holidays include:
January 1 - New Year's Day
January - Martin Luther King Jr's Birthday
February - President's Day
May - Memorial Day
July 4th - Independence Day
September - Labor Day
October - Columbus Day
November - Veterans Day
November - Thanksgiving Day Thursday and Friday
December 25th - Christmas Day
Please allow an extra shipping day (or days!) if there is severe weather between New England and your area of the country. Severe weather conditions are beyond our control.
RETURNS POLICY
Unused items in original packaging may be returned within 60 days of purchase.
To return an item, carefully repackage the item and be sure to include a note explaining why you are returning the item so we know if it is a return for credit, if there was a product defect or some other reason. Include the packing slip or your order number so we can trace your order to issue credit. Your shipping fees to send your original order were paid to the carrier so they are not refundable. Also, shipping fees to return an item are not reimbursed.

Ship returns to this address:
Pinewood Pro - RETURNS
29 Flax Mill Rd
Branford, CT 06405


ORDER CHANGES and CANCELLATIONS
We make every effort to ship orders within one business day, with most orders shipping the same business day, if the order was placed by 2:30PM EST. In order to meet this shipping goal, your order is instantly transmitted to our fulfillment house for processing and out of our control. So as a result, orders can not be changed or cancelled once they are placed.
Order changes or cancellations can be managed by returning any unused items for a refund (see RETURNS POLICY above).
Questions? Call 203-400-3713