Pixar's Lightning McQueen - Pinewood Derby Car Design

$4.95 each
Lightning Mcqueen has never lost a race.
---
Get this immediately! Instant Download
No Shipping Cost for this item
"This car was a hit at the derby! It's design was complemented upon immensely. My son and I had a great time together building this car! My son came in 10th place out of about 70 racers and won best design in his den (Bears). Thanks for a great design."
The Lightning McQueen car is modeled after Pixar's "Cars" movie!
We show you how to build this car step-by-step with 3D modeled images and cut out templates for every deail, including the symbols.
This car requires our fenders which extend the car over the wheels.
Fenders are sold seperately.
We show you weight placement, bullding tips, speed hints and show your car in six different color schemes.
The Pro's at Pinewood Pro give you the best pinewood derby car design plans on the market, guaranteed!
You can build this car! Our car design plans are the best on the market, guaranteed! We show you how with simple step-by-step clear, 3D images.
We show you every cut so you can't make a mistake...
Plan includes cut-out car design template, building hints, tips, weight placement for speed, six painting schemes, tools list, links for help and everything else you need.
Below are some sample pages from one of our car design plans: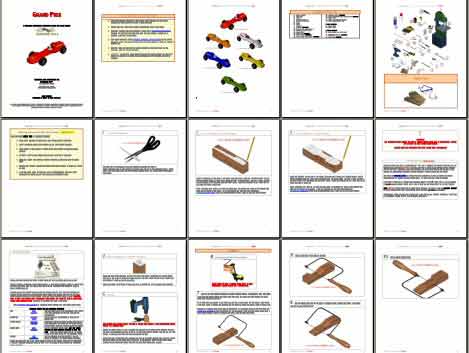 Easy to download and print
Victor S
19 Mar 2019
Ka- Chow!!!!
I love the design. My son is a 3 year old obsessed with Mcqueen. Although I spent a lot of time (and money) making it look just like the real thing it was worth it to see my sons enjoyment of the finished project! Also the car came in 1st place at the derby!
Lightning M
27 Apr 2012
Lightening McQueen Car
won first place!! looked excellent. Took a couple days to build with a few hours each night. Not a hard project to build at all!!! You should order the fenders in advance. We had to build our own fenders by ripping and cutting another pinewood block. The car looked like a muscle car with the fenders added. Not another car like it at the derby. The steps were very easy to follow. The hardest part or only major con was making sure the printer settings were correct to make sure the template printed the correct size. This combined with the pinewood derby secrets and some great father son hours spent together produced a first place car. I wished they had designs for Doc Hudson!
ka c
30 Mar 2012
Nice Car Design!
The car templates and instructions were easy to use and understand. The car turned out very nice, won award for best looking car at our Derby. Also bought fenders, which really added to the overall appearance of the car.
Ethan
29 Mar 2012
McQueen instant download
This was the nicesest car at the race
Hawkspulling
18 Mar 2012
Neat Design
This car was a hit at the derby! It's design was complemented upon immensely. My son and I had a great time together building this car! My son came in 10th place out of about 70 racers and won best design in his den (Bears). Thanks for a great design.
Turbo M
13 Feb 2012
Great Car!
I purchased this for my son's Pinewood Derby. Although he didn't win, he had one of the best looking cars there. He loved helping me build it and the directions were so easy to follow.
DPC
10 Feb 2012
Great template
My son and I enjoyed using this download as a base for our car's design... worth the price!
Mtrocc
03 Feb 2012
Fast and Attractive
I used this design for my car and I won first place in an adult's pinewood derby where over seventry cars were entered. I didn't use the design to the letter because it wasn't printed exactly to scale, and I had to make my own fenders using a second car kit (because I'm in Germany and it would have taken too long to track down and ship what I needed). I had a lot of fun with this design and the car looks great. This was the first pinewood derby car I have built since I was a boy scout and my dad helped me build one, so with just a little knowledge of woodworking tools you can succeed with this design.
Spin
10 Oct 2011
McQueen
The patterns and instructions were great. I will try to post pictures when I finish it. I am just having a hard time with the painting. I can do the wood work but have problems with painting. The only drawback is there were a lot of extra needless pages of advertising and such at the end. I thought it would never quit printing.
DBrown
13 Mar 2011
Awesome Lightning
I had never done a car before. The directions were simple to follow. My son and I had a great time building the car. Fabulous guidance and other accesories as well.
lprwap
11 Mar 2011
Great!
I could not have created this car with out this design. It was so easy!
Danielle
25 Jun 2010
Fun and Challenging Design
This was a fun car to work on with my (Wolf) son. The initial cutting was pretty straightforward, I was able to teach him various uses for a dremel, and I very much appreciated the various viewpoints of the illustrations. I would have preferred the instructions to be presented for those who chose not to purchase the "add on" side fenders. With a little improvisation, the design was adjusted for use with only the standard supplied body. Along with the Winning Pinewood Derby Secrets book, this design was quite fast for us (we made a little adjustment and weighted from the back right down the middle - instead of the two weight holes in the back). Thanks for a great year (this car went 15-0 between our den and the district PWDs).
leegeddy
20 Apr 2010
Great Looking Car
The instructions were awesome! What a help. They were easy to follow with few exceptions. Unless I missed it, there should be more mention of the optional fenders to complete the design as shown when ordering. We ended up using some thin plywood we had in the garage to make our own. Our car came out looking just like the one pictured. However, in our 4 car races, our car came in 4th every time. Not the best design for speed I guess. Oh well, my son and I had a great learning experience building it, and it looks great.
Tiger D
02 Apr 2010
Lightning McQueen
Thanks for the terrific project! My 8yr old daughter and I had a great time building this car. I simplified the overall project a bit and I am amazed at what we were able to accomplish with a few simple miter cuts a coping saw and a rasp/file. Everyone we showed ours to was impressed by how great it looked! Even the Cub Scouts who were hosting our Brownie troop.
JL L
18 Mar 2010
Lightning McQueen Pinewood Derby Car Design Plans
Great product, and fun to build, but my son said it didn't look like "the real" Lightning McQueen (He's a Disney Pixar Cars connoisseur), so we ended up buying the officially licenced pinewood derby car design directly from Disney/Pixar www.lightning-mcqueen.com/pinewood-derby/, and that fit the bill for him
PickyKidsDad
15 Mar 2010
Customers who purchased this product also purchased: