Pinewood Derby Graphite and NyOil Lubes
Axle lubrication is essential to win your race!
Pinewood Pro Graphite with moly additive

High Performance, Dry Powdered Graphite with sub-micron molybdenum disulfide
Pinewood Pro dry powdered graphite is a high performance, custom blend of micron sized powdered graphite with sub-micron molybdenum disulfide additive which helps the graphite cling to wheels and axles better.
This is a superior graphite blend, track tested, and proven to give your car the winning edge.

Our track tests showed an average speed increase of 17.2% to 22.1%, depending on the axles being used.

Adding powdered graphite to your axles is the single most important thing you can do to reduce friction.
only $3.95
---
NyOil II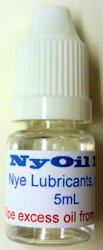 NyOil II is a synthetic thin flim lubricant that outperforms powdered graphite over the duration of a race because Nyoil will stay on your axles long after graphite has dropped off.

HOWEVER, our track tests showed that our Graphite-Coated Axles outperforms NyOil coated axles.
Why use NyOil?
NyOil does not come off ...stays on your axles
Cleaner! ...no "black powder" mess
Is NyOil better than Graphite-Coated axles?
Note: Our track tests showed that Graphite-Coated Axles, with our PRO graphite powder applied, beats NyOil coated axles by .168 seconds on average.
How to apply NyOil
Simply apply one drop to a pipe cleaner and insert into the wheel bore to lube the inside of the wheel. Rub off excess oil on your axles.


Next, put only one drop on each axle.


Be sure to wipe excess oil off the axle with a clean cloth. This will leave a thin layer of oil on your axles that will last throughout all your races.


Helpful Hints
The key to using NyOil II : "less is more"...in other words, too much oil will cause drag. Only use a drop on each axle and wipe off excess oil.


NyOil is added to your axles so it will not interfere with our graphite-coated wheels because the graphite-coating is on the outside tread of the wheel.


Do not apply NyOil to the outside of the wheel as this will leave residue on the track.


Some rules prohibit oil lubes. This rule usually means the race managers don't want oil to drip on their track! You are only applying one or two drops to each axle, but if in doubt, you should check with your race managers and obey the rules!
only $8.95
Pinewood Derby
Tips & Hints

If you are using 3/8" round weights, drill your 3/8" weight holes before cutting out the rest of the car because it is easier to hold the full block. Always use a clamp to hold your block before drilling or cutting. Safety First!





Pinewood Derby
axles Tip

The axle slots that are cut into standard blocks are too tight for BSA axles that are .089" diameter. Small axle slots make it difficult to get your axles in straight. A #44 drill bit is .086", which I find too tight. Consider a #43 Drill Bit, which is a perfect match at .089" for a snug fit.




Pinewood Derby
building Hint

Wood filler is your best friend when it comes to building a pinewood derby car. Use wood filler to fill holes, gouges and other cutting mistakes. You can even use it to add a bubble, racer cockpit, spoiler, etc.



Helping Pinewood Derby Racers

...for over 15 years.
FREE Derby Help

Designing Your Car

Building Your Car

Making Your Car Fast

Finishing Touches

Pinewood Pro...

Information

Blastcar for Boy Scouts
Pinewood Derby Graphite and NyOil Lubes