Free Pinewood Derby Car Information
Derby tools and tricks to maximize your car speed!
Eight Speed Advantages to beat the competition!
First, just like the wheels on your family car,
your pinewood derby car wheels need to be
balanced and tuned for optimal performance.

The BSA wheels in your kit have many imperfections that
cause your car to bounce, vibrate and turn to one side or the other,
resulting in lost speed.

To increase your car speed, we have precision lathed and tuned your wheels,
resulting in maximum speed.

PRO Speed Wheels have a unique feature, only from Pinewood Pro.
Your wheel tread and hub are perma-coated with graphite giving you
a super fast wheel for the ultimate speed advantage!


Official BSA PRO Speed Wheels will give you the extra speed to win...
It worked for us right through the district races!

Speed Increase #1
Graphite-coated Wheel Tread
First, before showing the precision lathing, let's cut to the chase...
graphite-coating
!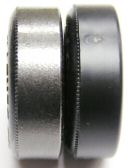 PATENT PENDING
Your PRO Speed Wheel (left one) is compared to a stock wheel.
Both are Official BSA wheels.
Notice the shiny coated surface on the left wheel. It is perma-coated with a graphite-moly blend using a secret multi-step process.
The coating will stay on your wheels right through the district race! Graphite-coating reduces friction significantly where the wheel contacts the track.
And there's more...
Speed Increase #2
Graphite-coated Wheel Hub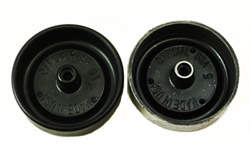 In addition to reducing track friction, your PRO Speed Wheels decrease friction where the wheel hub rubs against the car.
The hub is finely lathed, then perma-coated just like the tread. This is the single most important thing you can do to decrease your wheel friction.

Lathing Operations that are done before Perma-coating...

Speed Increase #3
Wheel Tread is "Trued"

What is a "trued" wheel?

Precision lathing "trues" the wheel tread to the axle center line,
meaning the tread is now perfectly concentric with the axle,
giving you perfect precision rotation.


Speed Increase #4
Hubs are coned and squared
Why cone and square the hubs?
Once again, imperfections in the plastic cause friction where the wheel rubs against
the pinewood derby car body, slowing your car down.
The hub is precision lathed to remove wheel mold imperfections while squaring the hub so it rests perfectly against the car body when it hits. If the hub is not squared, the wheel will wobble when it touches the car body making your car unstable and slower. Reducing friction while making your car run straight
increases your derby car speed.



Speed Increase #5
Wheels are Lighter

Why do you want lighter wheels?

Lighter wheels are easier to turn, giving you a
faster start and increased speed
as your derby car goes down the track.

Speed Increase #6
ream the wheel bore

Why ream the wheel bore?

Like the other areas of the wheel, the bore has imperfections and
may not be trued to the rest of the wheel. When the bore is reamed,
your pinewood derby car wheel rotates perfectly about the axle.
Speed Increase #7
Outside wheel rim is trimmed

Why trim the rim?

The rim has imperfections that slow your pinewood derby car whenever the wheel rubs against the center rail.

Trim the rim, reduce friction and increase your speed!


Speed Increase #8
Wheels are Matched as a set

All wheels are not created equal. There are many slight differences between each mold.
To achieve optimal performance, your wheels are matched as a set,
giving you perfect balance.
You get all of the above precision lathing,
plus
our secret multi-step graphite perma-coating
treads and hubs for a friction-free surface
giving you the ultimate speed advantage.
PRO Speed Wheels, only from Pinewood Pro .

PATENT PENDING
I received my Speed Wheels on Thursday just in time for the derby on Friday. We won 8 out of 9 total races and took first place overall in the speed competition! There were a lot of experienced racers there who couldn't believe how fast our car was in our first derby. My son and I built this car in one night and didn't have the time to get everything perfectly aligned but it still didn't matter. The dual block, axles and Speed Wheels made everything very easy for us. Next year we will start earlier and we will be even faster!!
Alex and I thank you. I don't think he has stopped smiling since Friday...
- Aaron and Alex Simms
Pinewood Derby
Tips & Hints

Spin each wheel on a polished axle with graphite and count the number of revolutions. If a wheel wobbles, try spinning it again. If it still wobbles, get another wheel that does not wobble.





Pinewood Derby
axles Tip

Spin each wheel and axle and count the number of revolutions. Keep the slowest pair together and replace them with a faster set.




Pinewood Derby
weights Hint

Lead is denser than zinc but lead is toxic, so we do not recommend handling it. Use non-toxic weights like zinc or tungsten.



Helping Pinewood Derby Racers

...for over 15 years.
Using the tips on your website, Daniel's car won every race for his den, and won the district races. It seemed that his car got faster with every run. We have memories that will last.
- David





Last year we took 1st place in our pack I am sold on your speed axles and speed wheels. We raced the car in his elementary school, and he won 1st place in the whole school. Thanks so much!
- Kirk from UT





Just wanted to say THANK YOU! I received my items. I have used you guys for 3 or 4 years now, ALWAYS fast, great products, I am very happy with you guys. AND we have won AT LEAST our den every year! Cheers!
- Paul from MO




FREE Derby Help

Designing Your Car

Building Your Car

Making Your Car Fast

Finishing Touches

Pinewood Pro...

Information

Blastcar for Boy Scouts
We came in fourth place; very respectable, given it was our first time. Thanks very much for helping us overcome our building weaknesses with great products.
- Doug and Taiki from VA

Thanks for offering such great products to beginners. My son finished 1st in his pack, 2nd in his district, and 6th overall for his first year. Will definitely order from you again.
- Matthew from TN

.

Jonah's car won 1st place in his Den, first place in the Pack and I couldn't believe it but he also won for Best looking car!
- Thomas from FL
How to Win the Pinewood Derby