Building a Pinewood Derby Track
Below is some information to consider before building your track.

If you are handy with wood, you can build your own Pinewood Derby track.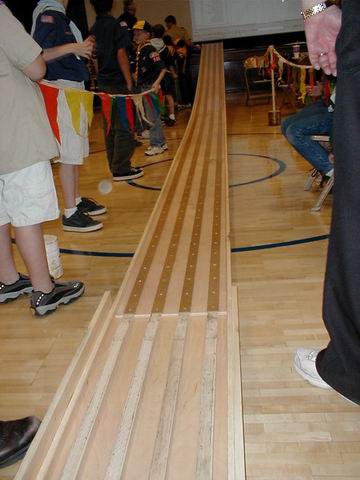 Here are a few things you need to think about before you begin and a few notes about pinewood derby racing. Below we give you links to full track plans and track vendors:
What size track do you need? Most tracks have between two and six lanes. Two lanes are enough if you have less than 20 cars racing, but you should consider more lanes if you will be racing more than 20 cars. Three lanes are fine for up to 30 racers, and four lanes should be used for groups above 30. Electronic timers are worth the cost for three and four lane tracks, as sometimes races can be too close to decide a winner by eye.
The most common building material for a derby track is pinewood. Pinewood is lightweight and durable enough to make a decent pinewood derby track. How long do you want your track?Typical wood tracks are 32 feet plus a landing zone. Some tracks extend to 40 feet to make the race longer and more exciting, but you must consider that some cars may have difficulty reaching the finish line with longer tracks.
The starting gate of the track should be four feet high.
The slope of the track should start at 30 degrees at the starting gate, changing gradually to 0 degrees by about 12 feet from the start. The rest of the track should be flat.
The finish line should be at ground level, but consider raising the entire track to provide better visibility.
When you design your track, think about transportation. You will want to separate the track into smaller pieces, typically 8' sections, to ease the transportation process.
Regardless of how well you build your track, each lane will perform slightly different, giving the car in a lane a slight advantage or disadvantage over the cars in the other lanes. Be sure that each car has the opportunity to race in all of the lanes.
If possible, set your track up several hours before the event and encourage your racers to bring their cars in to practice using the track. This will give the chance to fine tune their cars.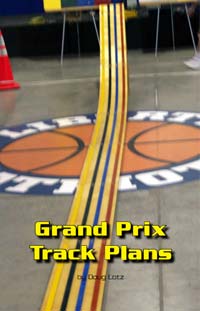 For additional information, check out these websites:
This is a great site with all the information you could ever want about pinewood derby tracks.

This site has detailed instructions for building a pinewood derby track.

Doug Lotz offers a great pinewood derby track plan that can be downloaded.

If you would prefer to buy a track, we recommend Best Track.

We highly recommend adding an electronic timer to your track. It saves time and eliminates discussions about which car came in 1st, 2nd, 3rd, etc.

Here are some track timer suppliers:

If you found this helpful...

Share with Friends!
Pinewood Derby
Tips & Hints

If you are using 3/8" round weights, drill your 3/8" weight holes before cutting out the rest of the car because it is easier to hold the full block. Always use a clamp to hold your block before drilling or cutting. Safety First!





Pinewood Derby
winning Tip

Winning Pinewood Derby Secrets contains all the tips you need to win your race. Updated annually with the latest tips and speed products, our book has proven results with 1000's of winners... but don't take our word for it! Read over 90 Customer Reviews and check out our Winners Gallery!




Pinewood Derby
painting Hint

Put a coat of wood primer on your car before painting it because pine wood is porous and will absorb the first coat of paint. Lightly sand the primer after it dries, then apply a final coat (or two) for a clean, finished look.



Helping Pinewood Derby Racers

...for over 15 years.
My son's car won every heat it raced. Thanks again Joe. Your info is the best out there!
- Gina





My son peter took first place with his car. Thanks,
- Tony





Thank you for the great Pinewood Derby tips! My son was so excited when he got the 1st place trophy!
- Kevin




FREE Derby Help

Designing Your Car

Building Your Car

Making Your Car Fast

Finishing Touches

Pinewood Pro...

Information

Blastcar for Boy Scouts
We took first in our pack of 60 cars. It was an amazing day. Thanks again Joe. Your info is the best out there!
- Gina





You people offer the very finest support and equipment for Pinewood derby cars on the planet! We went undefeated for the second year in a row. Cheers!
- Wayne





With the help of your block, axes, wheels, and lube we went from last place 3 years running to 1st place overall. Thanks!

- Roger



Pinewood Derby Tracks