Building a Pinewood Derby Track
Below is some information to consider before building your track.

If you are handy with wood, you can build your own Pinewood Derby track.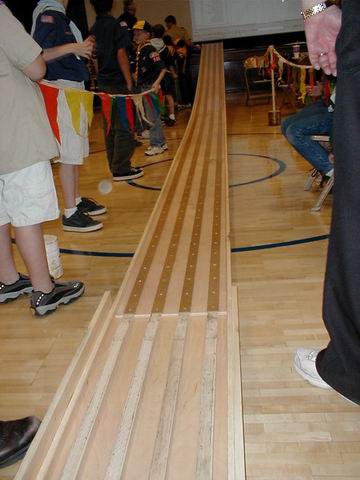 Here are a few things you need to think about before you begin and a few notes about pinewood derby racing. Below we give you links to full track plans and track vendors:
What size track do you need? Most tracks have between two and six lanes. Two lanes are enough if you have less than 20 cars racing, but you should consider more lanes if you will be racing more than 20 cars. Three lanes are fine for up to 30 racers, and four lanes should be used for groups above 30. Electronic timers are worth the cost for three and four lane tracks, as sometimes races can be too close to decide a winner by eye.
The most common building material for a derby track is pinewood. Pinewood is lightweight and durable enough to make a decent pinewood derby track. How long do you want your track?Typical wood tracks are 32 feet plus a landing zone. Some tracks extend to 40 feet to make the race longer and more exciting, but you must consider that some cars may have difficulty reaching the finish line with longer tracks.
The starting gate of the track should be four feet high.
The slope of the track should start at 30 degrees at the starting gate, changing gradually to 0 degrees by about 12 feet from the start. The rest of the track should be flat.
The finish line should be at ground level, but consider raising the entire track to provide better visibility.
When you design your track, think about transportation. You will want to separate the track into smaller pieces, typically 8' sections, to ease the transportation process.
Regardless of how well you build your track, each lane will perform slightly different, giving the car in a lane a slight advantage or disadvantage over the cars in the other lanes. Be sure that each car has the opportunity to race in all of the lanes.
If possible, set your track up several hours before the event and encourage your racers to bring their cars in to practice using the track. This will give the chance to fine tune their cars.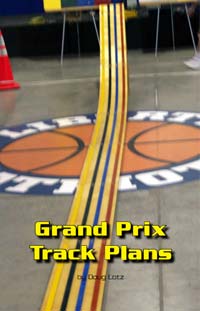 For additional information, check out these websites:
This is a great site with all the information you could ever want about pinewood derby tracks.

This site has detailed instructions for building a pinewood derby track.

Doug Lotz offers a great pinewood derby track plan that can be downloaded.

If you would prefer to buy a track, we recommend Best Track.

We highly recommend adding an electronic timer to your track. It saves time and eliminates discussions about which car came in 1st, 2nd, 3rd, etc.

Here are some track timer suppliers:

If you found this helpful...

Share with Friends!
Pinewood Derby
Tips & Hints

The stock BSA "nails" that come in your kit are mass produced. These nails have burrs, crimp marks and can also be crooked, all of which severely limits your car speed. An Axle Polishing Kit and Axle File are essential to fix your axles and increase your car speed.





Pinewood Derby
lubes Tip

When adding Nyoil to your axles, "less is more"! Only use one or two drops per axle and wipe off any excess oil. The oil should not be run down your axle.




Pinewood Derby
building Hint

Be sure any decorative parts are super glued into place! If you lose a piece off your car it will affect the weight of the car, resulting in loss of inertia, decreasing your speed.



Helping Pinewood Derby Racers

...for over 15 years.
My son's car won every heat it raced. Thanks again Joe. Your info is the best out there!
- Gina





We placed an amazing 2nd out of 28 cars. We only lost to first place by half an inch. Our car ran consistently all night. We won 2nd place overall! You will be our first stop next year!
- John





My son won an award for most futuristic design. We really appereciated all your help. Thanks for all the help and guidance.
- Greg from CT




Thanks a ton for all the tips and the Wheels and Axles! We beat cars that had taken district and region in Georgia! This was my last race with my two boys. Great way to end! Thanks again!
- David

We came in fourth place; very respectable, given it was our first time. Thanks very much for helping us overcome our building weaknesses with great products.
- Doug and Taiki from VA

My son placed 1st place in the St. David's Cup.
- Wayne
Pinewood Derby Tracks