Building a Pinewood Derby Track
Below is information and some free pinewood derby track plans you can download.

If you are handy with wood, you can build your own Pinewood Derby track.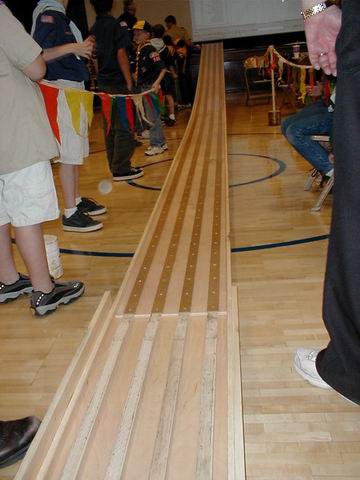 Here are a few things you need to think about before you begin and a few notes about pinewood derby racing. Below we give you links to full track plans and track vendors:
What size track do you need? Most tracks have between two and six lanes. Two lanes are enough if you have less than 20 cars racing, but you should consider more lanes if you will be racing more than 20 cars. Three lanes are fine for up to 30 racers, and four lanes should be used for groups above 30. Electronic timers are worth the cost for three and four lane tracks, as sometimes races can be too close to decide a winner by eye.
The most common building material for a derby track is pinewood. Pinewood is lightweight and durable enough to make a decent pinewood derby track. How long do you want your track?Typical wood tracks are 32 feet plus a landing zone. Some tracks extend to 40 feet to make the race longer and more exciting, but you must consider that some cars may have difficulty reaching the finish line with longer tracks.
The starting gate of the track should be four feet high.
The slope of the track should start at 30 degrees at the starting gate, changing gradually to 0 degrees by about 12 feet from the start. The rest of the track should be flat.
The finish line should be at ground level, but consider raising the entire track to provide better visibility.
When you design your track, think about transportation. You will want to separate the track into smaller pieces, typically 8' sections, to ease the transportation process.
Regardless of how well you build your track, each lane will perform slightly different, giving the car in a lane a slight advantage or disadvantage over the cars in the other lanes. Be sure that each car has the opportunity to race in all of the lanes.
If possible, set your track up several hours before the event and encourage your racers to bring their cars in to practice using the track. This will give the chance to fine tune their cars.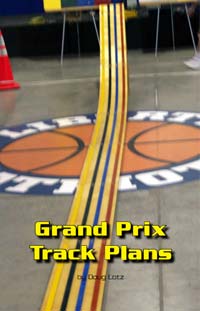 This is a 25 page downloadable pinewood derby track plan for a wooden track. It uses door hinges for easy assembly and disassembly. This is a complete plan with pictures, assembly diagrams and parts list.

This is a concise single page downloadable pinewood derby track plan for a wooden track. It is clear and concise, for you minimalists, but it is a complete track plan with starting gate. It includes assembly, diagrams and parts list. .

If you would prefer to buy an aluminum track, Best Track make a great track, but note that this track has a sharp curve at the inflection point which has been known to make cars jump lanes. Wooden tracks have smoother transitions from the starting gate to the flat part of the track.

We highly recommend adding an electronic timer to your track. It saves time and eliminates discussions about which car came in 1st, 2nd, 3rd, etc.

Here are some track timer suppliers:

Link with Pinewood Pro!
Just copy and paste the following into your website

Pinewood Pro - Pinewood derby car design plans, polished axles, lathed wheels, Winning Secrets, free how-to guides and full line of speed products.

Or visit our links page for HTML code, Pinewood Pro logo image and get a backlink from us.
Pinewood Derby
Tips & Hints

Need a little extra weight on weigh in but didn't bring extra weight with you? Use a coin! Here are the weights of US coins in ounces: penny .11 oz, nickel .17 oz, dime .07 oz, quarter .18 oz





Pinewood Derby
lubes Tip

Nyoil stays on your axles throughout the race, unlike powdered graphite that blows off every time your car goes down the track. This gives Nyoil coated axles a speed advantage if your car keeps racing.




Pinewood Derby
painting Hint

When painting with children, it is better to use a paint brush rather than spray paint because spray paint can cause vapors. If the child is spray painting, be sure to use a breathing mask and be in an open area.



Helping Pinewood Derby Racers

...for over 15 years.
Didn't lose a race all day! Key was...PRO Speed Axles and Wheels.
- Randy from NM





1st Place!! Thanks for the everlasting memories you have made possible!
- Williiam from IN





Thanks for all your help to get first place in tiger cub class.
- Chris




FREE Derby Help

Designing Your Car

Building Your Car

Making Your Car Fast

Finishing Touches

Pinewood Pro...

Information

Blastcar for Boy Scouts
My son won 2nd place Medals. This was made possible by your personal assistance and Pinewood Pro products. Thank you, Joe for being the man you are and providing a service to our Youth.
- Mark from HI

My daughter won 1st place, and my son won 3rd place. It was very fun and hope to do again next year. Thanks for your great information,
- Barry from MI

Wow, we did it! Dad, I'll never forget this night.
- Steven Gargiulo
Trumbull, CT
Pinewood Derby Tracks