Blue Lightning - Car Design Plan- INSTANT DOWNLOAD!
$4.95 each
Fly down the track like lightning!
---
Get this immediately! Instant Download
No Shipping Cost for this item
"Plans were easy to understand and went into good detail. The price was fantastic and getting the plans instantly was a bonus!!!! We finished 1st in our Tiger Den and 7th overall in the Pack (out of 50 boys) It was our first Pinewood Derby. Would definitely recommend Pinewood Derby Pro to anyone!!!!"
Strike your competition with a blue lightning bolt. You will be down the track in a flash!
Car design plans include:
Cut-out printable car design template patterns
Building hints and shortcuts
Safety tips
Weight placement to maximize speed
Six painting schemes
Tools list and embedded links for help and everything you need...
You can build this car! Our car design plans are the best on the market, guaranteed! We show you how with simple step-by-step clear, 3D images.
We show you every cut so you can't make a mistake...
Plan includes cut-out car design template, building hints, tips, weight placement for speed, six painting schemes, tools list, links for help and everything else you need.
Below are some sample pages from one of our car design plans: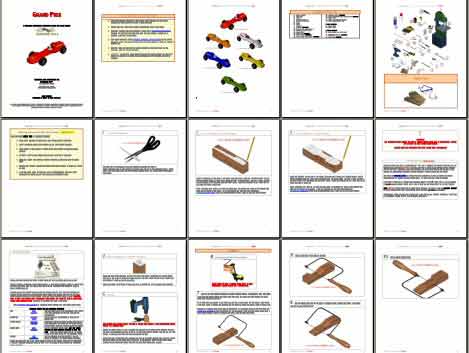 Easy cut and Light weight. We run the race!
My son won the derby race in the Wolfe's pak for his grade. We placed the weights in the back and added a strip to the back of fhe car. Easy cut and design.
Jeremy C
08 Mar 2019
this design is best for someone with access to great woodworking tools, especially a bandsaw that can do fine work. We ended up with a non-symmetrical car. Not the fault of Pinewood Pro; operator error. Just be sure you have the tools and talent to cut the car appropriately. Also be sure you cut the top before you cut the sides ;)
Charles R
23 Feb 2023
Thank you. Great purchase.
Scott B
14 Jan 2023
Customers who purchased this product also purchased: