The Flash - Pinewood Derby 3D Car Design Plan
$4.95 each
This car was named after the flash on a camera. You know it is coming but you just cant stop it. This pinewood derby car design is sure to have you smiling at the finish line
---
Get this immediately! Instant Download
No Shipping Cost for this item
"I must first say, I was surprised to know that the template was part of a 26 page instruction booklet. Way more information than I was expecting. But definitely a good thing. My son's first time doing the pinewood derby and his car won 3 trophies. Thanks for the help!"
See
The Flash
pinewood derby car take shape step-by-step with 3-D models and clear, concise instructions with pictures showing each step.
Pinewood Pro has the best car design plans on the market, guaranteed!
Includes Weight placement, full car building plans, prep and painting guide, as well as a cut-out painting template and hot links to supplies and tips.
You can build this car! Our car design plans are the best on the market, guaranteed! We show you how with simple step-by-step clear, 3D images.
We show you every cut so you can't make a mistake...
Plan includes cut-out car design template, building hints, tips, weight placement for speed, six painting schemes, tools list, links for help and everything else you need.
Below are some sample pages from one of our car design plans: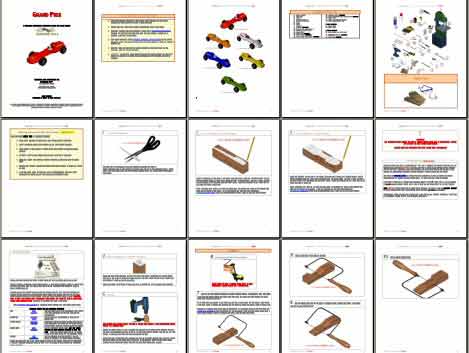 Great product walks you all the way thru the process of making the car
Stanley S
28 Feb 2020
Instruction were detailed and easy to follow Thank you
Tab
19 Feb 2020
Great Detail
Very detailed car plans, like 35 pages of info. Car turned out well. Didn't take 1st place but my son loved the design and had a blast building it.
Shaun D
09 Feb 2020
Bbbb
angelo r
21 Jan 2020
2nd place design... Woohooo!!!
MY 3 year old grandson won 2 place for design at the local derby. I helped him cut the body design, and do the sanding. He selected his paint colors and painted the body like a Minion mobile. This was our first time doing the derby so this pattern was a great help.
GaryR
04 Apr 2019
This helped us create an awesome pinewood derby car, without it we would have been totally lost.
Clint D
13 Feb 2019
won 3rd place with this design.
Xiaojin J
22 Jan 2019
The image did not fit the block of wood. I did not use it. Waste of my money.
Nicole B
16 Jan 2019
good design, fast, atractive
The template of cutout was great and provided an attractive appearance. 1st time in derby and information was helpful. Car took first place in speed. Just remember to reduce friction on wheels and axels and place maximum weight in proper places
firebird99
13 Feb 2015
nice car, easy to cut
I was looking for a design, and this one was very easy to cut out. It only took a minute, and my son loved it.
jmann
21 Mar 2014
SAVED MY BACON
As a Grandfather -first exposure to Derby Car in Cub Scounts. Plan I ordered provided the map I needed to help my Grandson build a great car. Thank you!!
Blue C
24 Feb 2014
Took first place
Body style took first place in design .. Did not modify a thing The best looking car out of 200
First time d
14 Feb 2014
Good stuff
Car was pretty easy to make and it looked cool
Bears
31 Jan 2014
Winner winner!
This was our first derby. The template was easy to follow and the entire packet of information was well worth it. My son won first in 3 of 4 heats and took first in his den.
Chasemonster
11 Mar 2016
The Flash
This design was great. My son chose and I worked with him to complete. The car got compliments on the design and did well in it's heats. Good tips included for speed.
Bear D
17 Apr 2012
It's a Winner
I must first say, I was surprised to know that the template was part of a 26 page instruction booklet. Way more information than I was expecting. But definitely a good thing. I loved the design of this car and the colors. So when my son (8yo) picked this template I was quite happy. However, my husband modified the hood just a little and changed the colors to red and yellow. I was disappointed with the color change but a apparently it was the right thing to do because not only did the car place first in the pack race, it also won for best color, and overall favorite of the pack. My son's first time doing the pinewood derby and his car won 3 trophies. Thanks for the help!
BooBoo
30 Mar 2012
Big help
I have never worked with wood, and I ended up building a great car. This product definitely helped me to do it.
Pellco
17 Feb 2012
Great design
Turned it into a viper body with more rounded curves. Didn't place but had fun.
Viper
11 Feb 2012
Informative, good details
waiting to see how this performs, but my son is enjoying the process. Thanks.
Kathy
20 Jan 2012
Proud Father & Son First Place Awana Grand Pre
We had a great time building & racing The Flash, renamed it the Shamrocket with an Irish theme. With some extra tips that I picked up from this site we won first place. Thank you very much
shamrocket
08 Apr 2011
Flash
Flash body was stable on track. Weights properly placed make it a competitive racer
Noles
25 Mar 2011
Great Design
My son and my daughter both used this design for Scouts and they both placed!
DeanM
24 Mar 2011
The Flash
This was our first time building a pinewood derby car. Im glad we chose to buy this plan. My son's car turn out great. He won second place out of about 20 cars in his division, which I thought was ok for our first attempt. Most importantly though we had fun building the car together.
J.R.
18 Mar 2011
Pack Champion
This was an easy car to build and paint. We raced in our pack and won the pack championshop. We raed in the city distric out 70 cars and finished 8th. Over good car for a first year toger cub scout
G- D
06 Mar 2011
Well, he won!
I have never done any wood working in my life but my husband was away for 3 weeks so I pretty much had to help my son with his Pinewood Derby car. I bought The Flash design and we used the cut-out templates. After that we pretty much winged it but his car won 5 out of the 6 races and came 2nd in the 6th race. Not bad at all!!!! He won the den trophy and came 5th out of 60 in the Pack.
Kingfisher
13 Feb 2011
Flash 3D design plan
very helpful. Will turn here first next time!
Tim
11 Feb 2011
The Flash Pinewood Derby 3D Design
This is my scout's first year in scouting and he is really excited about the pinewood derby. He picked out the car he wanted to build and we downloaded the instructions. I was very pleased to see that the instructions are extremely user friendly and very easy to follow. Definitely a bonus for a first year scouting building his first derby car!
Cindy
31 Dec 2010
The Flash
1st timer with my grandson...he came in 4th out of 60 cars. Would of done better if I had worked on the wheels and axle..We were both thrilled..All I was hoping for was for it to make it to the end of the track..lol
Al
21 May 2010
Great Design
My 4 yr old son used this design for his car this year and won 1st in the Open Division. My 7 yr old did the Inferno design and won 1st in both his den and overall. We did have to add alot of weight to them but were very satisfied with performance. Great Designs! Will be back next year!
Nan
09 Apr 2010
Wonderful
The instructions are wonderful for first time users and old pro's. This is from a new pinewood derby partiicipant for a daughter.
plee
16 Mar 2010
great car!
This was a great car. My son took third out of 50+ kids. He was competing with other kids from metro Detroit whose dads are mostly engineers in the automotive industry. He is 9 years old and was able to do most of the work himself.
Brady
16 Mar 2010
Great Design, Great Results!
Downloaded this design and used it as the basis for building this year's Pinewood Derby cars. Given that we are living overseas, it is hard to come up with more than basic supplies. So it was great that this design was simple to execute and didn't require any specialized tools. (In fact we had to improvise and use door hinges for weights...) In addition, the design allowed for good personalization by each builder (important as we have 3 Cub Scouts in the family.) Best of all were the results -- winning cars in both the Tiger and Webelo divisions. Wish I had known about this website earlier! Very, very satisfied customer.
Scouting M
15 Mar 2010
The Flash Rocked!!!!
This was a fun car to carve and my boy had a blast. We also bought the Winning Pinewood Derby Secrets and even though this was mine and my boys first car we beet all 20 cars at the race. We did not loose one race!!! The information you give is incredible easy to follow and makes the derby more than just an scout meeting. It was a huge bonding time for my boy and I and he got 2 killer trophies for winning hiw age goupr and winning everything!!!
UtahsMortgageGuy
15 Mar 2010
Thanks!!
Great looking design. Easy to make...even if you don't really have all the "right" tools!
WebeloMom
15 Mar 2010
Best Car We?ve Built Yet
I have 3 boys so have built many cars over the years. This is first time we purchased plans. It was SO much easier than trying to figure it out on our own. It is MOM who has Pinewood Derby detail in our home so having the plans made it much easier. This is the best-looking car of 10 we have built so far.
Zipline L
15 Mar 2010
Easy, step by step instructions
Brian F
18 Mar 2023
My son chose this car for the Awana derby race. He loved it and instructions were easy to follow. If I remember correctly, the axles didn't line up from this design plan to the car that Awana provided but we were able to adjust it and make it work. Thanks!
Sarah F
11 Jan 2023
Not bad. Somewhat sluggish.
Quinton S
11 Mar 2022
This was my first time making a pinewood derby car and the instructions were so clear and easy to follow.
Justine K
07 Mar 2022
Great plans, tips and information.
Travis M
22 Jan 2022
helpful combination of design and construction advice.
Craig H
17 Jan 2022
Great instructions
Mara T
21 Nov 2021
Awesome car!! This design won 3 out 4 races!
Jordan C
06 Jun 2021
Customers who purchased this product also purchased: