PRO Wheel Bore Polishing Kit

$12.95 each
The bore polishing kit will take away any scratches or imperfections in your wheel bore and make your wheels ride smooth on your axles.
---
In Stock Ready to Ship!
This item qualifies for Free Shipping on orders over $100
"Just like your axles, the wheel bore has imperfections...polishing your wheel bore reduces friction and makes your car faster. It's as simple as that."
Video - how to polish pinewood derby wheel bore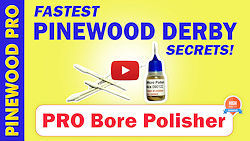 Increase your car speed by polishing and graphite coating your wheel bore. Polishing the wheel bore, just like polishing your axles, reduces the primary source of friction on a pinewood derby car; where the wheel turns on your axles.
Just like your axles, there are scratches and imperfections in your wheel bore. A perfectly polished axle and a perfectly polished wheel bore reduces friction so your car achieves maximum speed.
To remove these small scratches, plastic debris and imperfections in the wheel bore, you need a slightly abrasive polish designed specifically for plastic. This kit includes a plastic micro polish and precise sized, dense cotton swaps that fit snugly in your wheel bore.
The PRO Wheel Bore Polishing Kit includes plastic micro polish and six perfectly sized, densely packed cotton spears that can be chucked in your drill. We include extra cotton spears so you can polish the bore with graphite.
Polishing your wheel bore is simple, quick, and proven to reduce friction, thereby increasing your car speed.
Instructions included.
Graphite is sold separately. We recommend our
PRO Graphite
with moly additive.
This product has been tested
by an independent lab
and
was issued a

Children's Product Certificate

by
passing appropriate
Consumer Product Safety Improvement Act (
CPSIA) tests.
Product Code: 090122
*
aaron b
21 Mar 2020
This is my second year purchasing this polishing kit. I believe it made a big difference in finishing fourth without it to finishing first.
DK
06 Feb 2019
Great Tool
Works as advertised!
Cowboy
06 May 2011
Speed Tool
Our pack doesn't allow wheel modifications, however polishing was acceptable. After polishing the wheel bores my son won every race. This is a must have speed tool if you want to be completive and win.
Bmac
25 Mar 2011
Wheel Bore Polisher
The slooted polisher body required careful insertion in the wheel but it worked fine once inserted.
Howie
25 Mar 2011
This is a must have item for maximizing your potential speed.
Nick D
18 Mar 2022
Simple to use
Paul O
17 Jan 2022
I purchased this same product last year off Amazon and it worked great! This year I ordered directly from Pinewood Pro and the product arrived dried out into a clumped paste. I was still able to use but had to open the bottle and use a tool to scrape out clumps of the product and hand-smear onto the provided polishing sticks. Disappointing compared to previous experience.
Brent R
26 Jan 2022
Worked good
Eric W
19 Apr 2021
Good product.
This is a useful product, they increased the amount of compound they provide, which is excellent. My only issue is I would like to receive more of the polishing spears.
David J
15 Feb 2021
Customers who purchased this product also purchased: