Spider - Pinewood Derby Car Design Plan
$4.95 each
Weave a web to snare the finish gate
---
Get this immediately! Instant Download
No Shipping Cost for this item
"Easy to make and allows for weight in rear which is key to speed. Won division with car at avg speed of 260kms."
Weave a winning web with your Spider Car... Complete car design instructions with 3D images and printable design templates included.
This design plan includes:
Full Design Instructions
3D AutoCAD graphics showing each cut
Weight Placement Information
Hints and Building Tips
and Complete Tool List
Includes the Complete cut-out spider template
We even let you see your car in 6 different colors schemes to give you some palettes to choose from.
Pinewood Pro 3D derby car designs are the best on the market, guaranteed.
The Spider Car is a sleek aerodynamic design that is a favorite because it is easy to build and it has won many races.
The Spider has very little wood because it is thin and the sides are cut in. As a result, you can place more weight to the rear of the car.
Our easy step-by-step instructions include the only derby car plans on the market with fully illustrated 3D AutoCAD images.
We show each cut, along with weight placement, car building do's and don't tips plus speed tips and a painting guide.
Each car design plan comes with cut-out templates so you can't make a mistake.
We even show your car in 6 different colors, plus give you a 360 degree animation of the final car so you can view it from all angles!
Download The Spider direct to your computer instantly!.
Our 3D pinewood derby car designs are the best on the market, guaranteed!
Car design plans include:
Cut-out printable car design template patterns
Building hints and shortcuts
Safety tips
Building tips, including do's and don'ts
Weight placement to maximize speed
Six painting schemes
cut-out decorative patterns
360 animations so you can see your car from all angles
Tools list
Embedded links for everything you need to build this car and make it fast.
Below are some sample pages from one of our car design plans: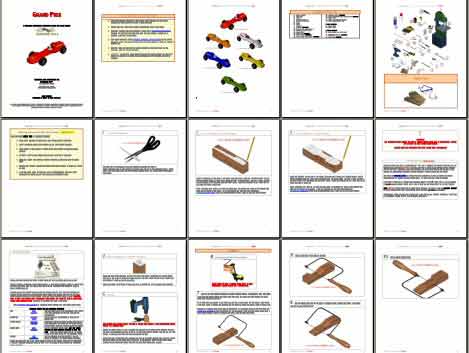 Hope it works
Elea H
13 Mar 2020
Easy and Fast
Stephen W
09 Mar 2020
The stencil didn't work. Paint didn't hold form and bled around paper. Total waste
Robert J
01 Mar 2020
Spider car is great.
My son loves spiders and was so happy to find a car plan with a spider. He can't wait to start his car this weekend.
Margaret M
31 Jan 2019
Son loved the design
daniel b
18 Jan 2019
Nice car.
Carl S
16 Jan 2019
Great design!
Brian O
14 Jan 2019
Helpful product and great customer service.
Having a pattern and all the directions should help my Cub Scout and me make a great car this year. Thanks, too, for the assistance given with an issue I had with downloading the item. (due to my own error)
Karen G
18 Dec 2018
Spider Pattern Wins!
This car was the fastest car in our pack Derby. We used a different weight placement than suggested. Put the tungsten weights both behind and in front of rear wheels and a few down the middle.
CJB
10 Jan 2016
Great Design
Great Design down load Was very fast was extremely happy my son loved it we took home best design.
mike
06 Feb 2015
Spider download plans
The car turned out great it was easy for my 9 year old and my husband to understand. The plans were concise and had pointers for us first time builders.
Robin
14 Mar 2014
Great detail
A nice easy to read and understand design. Great for first-timers who need some ideas/help. Lots of choices to select a car design..My Grandson helped every step of the process, and had a good time.
jimbo
24 Jan 2014
Winning car design!!
Easy to make and allows for weight in rear which is key to speed. Won division with car at avg speed of 260kms.
Cody- z
01 May 2015
Always Great Designs
I have been ordering designs from Pinewood Pro for the last three years, and have never been disappointed. This was my son's last year, so to those who are looking for reasonably priced designs that are easy to use and work great, use these folks.
CDG
17 May 2013
Spider
This was my first experiance with the pinewood derby deal. We took the design and made a few slight changes as we were cutting the car out. We could not have done it with out the design, I will be buying again next year.
Midgetracer
03 Feb 2013
Good plans, but...
We ordered these plans and the car turned out very nice. After getting it cut and sanded it was extremely light. If I would have known how light it was going to be I would have drilled an extra hole in the back and ordered some tungsten instead of using the lead that I had from a previous purchase. We took second place as a result. My older sons have always gotten first place. To sum it up the following needs to be in the plans to have a successful car
Mace68
18 May 2012
Won the derby
The process was easy from web search, finding a car design, to downloading the PDF to making the car.
Icenav
16 Mar 2012
Aweseome Design
We chose to move our rear wheels back some to allow more room for weight to placed right in front of them.
WolfCubParent
24 Feb 2012
Very Happy
Specs came over right away and easy to use. Would definately recommend ordering
128
06 Feb 2012
Good
Good plans, easy to build.
Ross
28 Jan 2011
As advertised
Was easy to setup and cut. The car did not win the race, but it was easy enough for my son to do himself. Will buy from this company in the future.
Mike
15 Mar 2010
Great buy
Michael S
25 Jan 2023
The instructions are good but this car is very difficult to make. I have tried to make it twice and both times it did not perform very well because it is too difficult to balance the weights.
Robert J
16 Jan 2023
Even though this is a simple pattern, I should have bought the pre-cut option. My skills as a woodworker are notably lacking.
Paul H
08 Feb 2021
Customers who purchased this product also purchased: