Genuine Awana Grand Prix wheels - lathed to perfection


Precision lathed and tuned.

All of the imperfections have been removed from these wheels while making them slightly lighter (they are 1.6g) for a fast start and lightning fast down the track.

All of the Official Awana Grand Prix markings remain.

The Hub is coned and the end squared, reducing friction when the wheel hits the car body.

The outside tread is trued, so your wheel is perfectly smooth reducting rotational friction,

The inside tread is trued removing imperfections and reducing wheel weight so your car has a faster start out of the gate,

The wheel edge is lathed flat to reduce friction when your wheel hits the track guide.

Net result is a precision tuned, FAST wheel

Important: Awana Speed Wheels are delicate, due to the spoke design. We strongly recommend using our Axle Inserter-Puller Tool so the wheels are not damaged when inserting or removing them.
Get the Ultimate Speed Advantage
What is the difference between Awana and Cub Scout Pinewood Derby?

The Awana Grand Prix pinewood derby wood block is the exact dimensions
(7"x1 3/4" x 1 1/4") as the Cub Scout pinewood derby block. This means that any of our pre-cut car blocks and car design plans will work for Awana Grand Prix cars.

Awana Grand Prix axles are slightly different than Cub Scout axles but
the dimensions are almost exactly the same. All of the Pinewood Pro axles will work in Awana cars, but read your rules carefully to be sure they are legal for your race.

Awana Grand Prix Wheels are the same diameter and the wheel bore (where the axle goes) is exactly the same as Cub Scouts, but the wheel design is totally different. Therefor, Awana racers must use Awana wheels and Cub Scouts must use Cub Scout (BSA) wheels.



Speed Axles for Awana Grand Prix

For a winning combination,
our polished, nickel plated PRO Super Speed Axles fit perfectly in Awana Wheels.




For the ultimate axle, look at our new graphite coated Pro Super Speed Axles.




All of our car design ideas, speed tips and
#1 selling Winning Pinewood Derby Secrets,
apply to the Awana Grand Prix derby.


See our full line of Speed Products

Joe,
The Awana Grand Prix race was last night. My son took 1st, my daughter took 2nd, and a friend of ours son took 3rd.

All three cars had your wheels and axles.
Everyone asked how we did it 2 years in a row. I stated it's all in the wheels, axles, and in the weight. I'll send the photos via email along with the testimony.

Thanks for the great work you do with those Awana SPEED wheels!
Thanks again, Gary Wagner
Hi Joe,
Here is a picture of my ten year old son's car. It won 1st for design in the boys division of our church's First Bible Baptist Church Awana Grand Prix. The car is aptly called "THE LOUISVILLE SLUGGER". We would LOVE IT, if you put his car on your website!

Thank-you so much for your website! We learned alot from all the ideas and the great information. This was our first Pinewood Derby and we has a BLAST!!!! Thanks again!
God Bless You,
Dawn and Ryder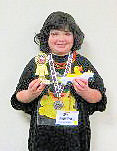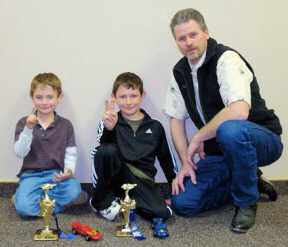 Joe,
Thank you for the great tips on building a car!
You helped make our Awana Club Pinwood Derby an event to remember always!
God Bless,
Tracey
Pinewood Pro!
I received my Speed Wheels on Thursday just in time for the Awana derby on Friday.
We won 8 out of 9 total races and took first overall in the speed competition!
There were a lot of experienced racers there who couldn't believe how fast our car was in
our first derby. Alex and I thank you. I don't think he has stopped smiling since Friday...
- Aaron and Alex Simms
Pinewood Derby
Tips & Hints

A lathed wheel means the wheel was turned at a high speed and "sanded" with a cutting tool. Lathed Wheels are perfectly tuned around the axis of rotation giving you the highest performance.





Pinewood Derby
weights Tip

Need a little extra weight on weigh in but didn't bring extra weight with you? Use a coin! Here are the weights of US coins in ounces: penny .11 oz, nickel .17 oz, dime .07 oz, quarter .18 oz




Pinewood Derby
building Hint

Wood filler is your best friend when it comes to building a pinewood derby car. Use wood filler to fill holes, gouges and other cutting mistakes. You can even use it to add a bubble, racer cockpit, spoiler, etc.



Helping Pinewood Derby Racers

...for over 15 years.
Didn't lose a race all day! Key was...PRO Speed Axles and Wheels.
- Randy from NM





I just read your Winning Pinewood Derby Secrets book and I can not wait to apply the information. Thanks for the help!
- Tully from TX




FREE Derby Help

Designing Your Car

Building Your Car

Making Your Car Fast

Finishing Touches

Pinewood Pro...

Information

Blastcar for Boy Scouts
Everything was great! It was my son's first Kubcar race...approx 60 cars, and he took 1st place! He was so excited... Thanks again. Your Winning Pinewood Derby Secrets book really helped!
- Glenn from Toronto





Last year we took 1st place in our pack I am sold on your speed axles and speed wheels. We raced the car in his elementary school, and he won 1st place in the whole school. Thanks so much!
- Kirk from UT




Awana Grand Prix Speed Wheels