Why would you want lathed wheels?
BSA Lathed Speed Wheels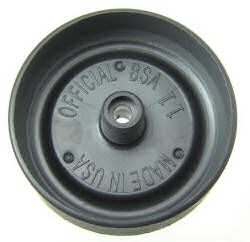 When a race can be won by a fraction of a second, it is important that your car has every advantage.
Outer tread is precision lathed to perfectly tune and true this wheel, removing all imperfections while being careful to keep the beads along the wheel rim.
Inner tread is precision lathed, once again removing all imperfections.
Hub is precision lathed to perfectly tune and true the hub to the center bore.
The hub is squared so there is a perfectly flat surface meeting the car body, eliminating wobble when the wheel hub touches the car body
The wheel rim is squared so there is a perfectly flat surface when the wheel rubs the track center guide. This reduces friction and reduces the chance of wobble.
Wheel is lighter, giving you a fast start out of the gate because a lighter wheel requires less energy to get started than a heavier wheel.
All four wheels come from the same mold so they are perfectly matched.
We make all these improvements and carefully leave all BSA lettering, tread beads and markings intact.
outside and inside treads are lathed
Why lathe the treads?
Because it is like a car with unbalanced wheels!
Wheel imperfections will cause uneven rotations, however small, with each revolution, reducing speed.
With precision tread lathing, your wheel is perfectly round and trued to the center bore giving you maximum speed.
Wheel Tread is "Trued"
What is a "trued" wheel?
Precision lathing "trues" the wheel tread to the axle center line,
meaning the tread is now perfectly concentric with the axle,
giving you perfect precision rotation.
hubs are squared
Why square the hubs?
Once again, imperfections in the plastic cause friction where the wheel rubs against
the pinewood derby car body, slowing your car down.
The hub is squared because friction is reduced and wobble is reduced if two perfect 90 degree surfaces meet each other. The BSA wheel hub is rounded (coned) too much! We flatten this surface to reduce friction and wobble, therebyincreasing your derby car speed.


Wheel hub is rounded, resulting in wobble when it meets car body




Wheel hub is squared, reducing friction and wobble
Wheels are Lighter
Why do you want lighter wheels?
Lighter wheels are easier to turn, giving you a
faster start and increased speed
as your derby car races down the track.
Wheel bore is reamed
Why ream the wheel bore?
Like the other areas of the wheel, the bore has imperfections and
may not be trued to the rest of the wheel. When the bore is reamed,
your pinewood derby car wheel rotates perfectly about the axle.
Outside wheel rim is trimmed
Why trim the rim?
The rim has imperfections that slow your pinewood derby car whenever the wheel rubs
against the center rail.
Trim the rim, reduce friction and increase your speed!
Wheels are a Matched Set

All wheels are not created equal. There are many slight differences between each mold when they are made. To achieve optimal performance, your wheels are matched as a set, giving you perfect balance.
Lathed Speed Wheel Options
BSA Lightly-Lathed Speed Wheels
.2g lighter............fast start, faster speed!
BSA Ultra-Lite Lathed Speed Wheels
.5g lighter............faster start, faster speed!
Want the fastest wheels on the market?

Look at our friction-free
PRO Speed Wheels
You get all of the above precision lathing,
plus
our secret multi-step graphite perma-coating
treads, rim and hubs for a friction-free surface
giving you the ultimate speed advantage.

PRO Speed Wheels, only from Pinewood Pro...

PATENT PENDING
Wheel Tread is "Trued"
to Gain Speed
Just like the wheels on your family car,
your pinewood derby car wheels need to be
balanced and tuned for optimal performance.

Imperfections in your wheels cause your car to bounce, vibrate and turn to one side or the other,
resulting in lost speed.

To increase your car speed,
we have precision lathed, tuned and mold matched your wheels,
resulting in increased speed.
Pinewood Derby
Tips & Hints

If you have a bad wheel and you don't have time to replace it, Raise that Wheel so it doesn't touch the track. Since it doesn't touch the track, it won't have any negative affect on your car's speed.





Pinewood Derby
axles Tip

The stock BSA "nails" that come in your kit are mass produced. These nails have burrs, crimp marks and can also be crooked, all of which severely limits your car speed. An Axle Polishing Kit and Axle File are essential to fix your axles and increase your car speed.




Pinewood Derby
weights Hint

Need a little extra weight on weigh in but didn't bring extra weight with you? Use a coin! Here are the weights of US coins in ounces: penny .11 oz, nickel .17 oz, dime .07 oz, quarter .18 oz



Helping Pinewood Derby Racers

...for over 15 years.
He took first place in his wolf pack and then took first place as the Grand Champion. Thank You for the awesome axles they did the trick!
- Keith





I ordered a set of your BSA wheels and axels last minute on Wednesday for overnight delivery. Our race was on Friday. We finished in 6th out of 80 cars, and will be going to the Divisional Race! My son was never happier! Thanks again!
- Steve from KY





My son won an award for most futuristic design. We really appereciated all your help. Thanks for all the help and guidance.
- Greg from CT




FREE Derby Help

Designing Your Car

Building Your Car

Making Your Car Fast

Finishing Touches

Pinewood Pro...

Information

Blastcar for Boy Scouts
Last year we took 1st place in our pack I am sold on your speed axles and speed wheels. We raced the car in his elementary school, and he won 1st place in the whole school. Thanks so much!
- Kirk from UT

I can't describe how happy my Son was to win! I'm a single Mom and didn't know how to build a car. I was so happy to find your amazing site. I'm beaming with happiness for my son.
- Miss M from MO

We ran our 3 cars at a local pack meet, and what a great time my kids had. Both of my two boys prepared their cars with your tooling. My boys were given first and second place.
- Brian from DE
Pinewood Derby BSA Wheels