Precision Drilled Wedge with weight holes
$7.95 each
The Wedge Wing Car has drilled axle slots so your car rolls straight while conforming to all rules. This wedge includes pre-drilled axles holes to (optionally) raise either front wheel, which is a proven speed advantage
---
In Stock Ready to Ship!
This item qualifies for Free Shipping on orders over $100
"This pre-cut car was so helpful because I did not have to drill holes for the weights or cut the block of wood! Big time saver, and slim car design is cool too!"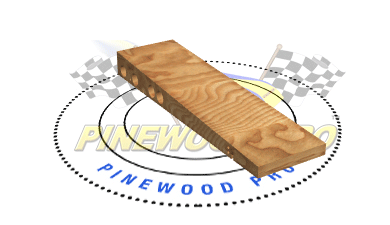 The Wedge Wing Car has drilled axle slots so your car rolls straight while conforming to all rules.
It includes four pre-drilled 3/8" weight holes for tungsten cylinder or zinc round weights. The weight holes go through the entire 1 3/4" width of the body.
Also included is are pre-drilled axle holes to (optionally) raise either front wheel, which is a proven speed advantage.
This block weighs 1.3oz +/- .2oz so it needs between 3 and 3.6oz of cylinder weights. Just insert weights and fill unused holes with wood filler.
This is an Official BSA block, measuring 7" long by 1 3/4" wide by 1 1/4" high, with axle slots that conforms to all Cub Scout pinewood derby rules.
Product Code: 062311
1st and 2nd in den races!!
ben d
06 Mar 2020
This wedge is exactly what I expected. The only issue that I had was the side weight holes which are bigger than the tungsten screw-in weights that I purchased at the local store. I would recommend that anyone purchasing this make sure they get the correct diamiter weights at the same time to reduce the extra work.
Grandpa B
19 May 2020
Wedge with a 1930s vibe.
precision drilled for a good starting point.
Lee B
24 Feb 2020
Exactly what is described on the site - perfect wedge!
JB
06 Feb 2020
Like the fact I can get the car intime
Russell F
04 Feb 2020
Good deal, worked out great for us.
Jeff S
26 Jan 2020
This was perfect for the design my son wanted. Having the holes already drilled for the weight was nice. Having the pre-drilled holes were awesome too so that I could lengthen out where the wheels would be.
Michael G
15 Nov 2019
Thru-holes are ragged but functional.
Stephen C
28 May 2019
Great product
Klark P
31 Mar 2019
nice product
Guillermo C
11 Feb 2019
The wedge is easy enough to cut but the drilled weight holes ensured the holes were drilled straight without me having to find a drill press
DK
06 Feb 2019
Thanks!
David C
30 Jan 2019
I bought this same block last year and it worked great. This year there are some burrs and a couple of dimples where something hit it.
Aiden R
28 Jan 2019
Holes were uneven.
trudy b.
08 Jan 2019
Amazing wedge
Perfectly cut. No mistakes. My son won all 6 heats in his tournament. 3.63 seconds was fastest time in his entire pack. Added enough weight. Distribution was easy. Thankful for a pre cut car as we had no way to cut. Finished 1st out of 40 cars. Thank you again
Humble b
21 Jan 2017
Highly recommend
Purchased this body for my sons first pinewood derby and he won 4 out of 4 races and 1st overall. The axles and wheels definitely helped.
TT
20 Jan 2017
Very nice
Worked great. Bought in a pinch after son messed up car on bandsaw. He built and loved the care - also it won derby with this and other items purchased from Pinewood Pro. Will be coming back to again.
RazorBurn
19 Feb 2016
Awesome purchase
We purchased this because we do not have the tools to cut and shape the wood block. Our son was able to do the sanding, painting and assembly with very little help. He won 1st place in his den! A great purchase.
GB
13 Feb 2015
Never Lost a Race
I reviewed and researched a number of sites. I decided on this block, the BSA speed wheels and axles... My son never lost a race and was the Grand Champ! Thanks to Pinewood Pro and their great service!
Redfinn
26 Jan 2015
Simple Solution, Great Results
This year was the first PW derby for my son, so our expectations were in check - I'm no engineer. The Wedge Wing Car made the process easy! We also ordered some wheels, axles, and weights from Pinewood Pro and were very happy with all the products. A little wood filler, a little spray paint, and it was ready. The car finished 2nd overall in his pack, missing out on first place by .01 second. He's racing in the district meet this weekend, and couldn't be happier!
DFW D
21 Mar 2013
Nice shape
This is a great shape for a car. The only recommendation I would give, would be to drill your own axle holes and don't use the pre-cut axle slots. Other than that, a great little car!
Cowboy
15 Mar 2013
Very well done, but...
I really like this block and would love to purchase it again for the overall quality. This is obviously done by someone who takes pride in their work and with good tools. The remaining axle slots leave the axles a little insecure for my taste. Please make this block without the slots.
Durham68
13 Mar 2015
Precision drilled Block
We are WINNING WITH THIS!!!!!
Ric
28 Dec 2013
Perfect option!
Great if you don't have the tools or the time to cut one yourself! Easy for your scout to sand and paint.
wolf s
22 Feb 2013
Sweet drilling
Nice block! Well done... needs lots of weight. We put sponge bob on this wedge. When my son checked his car in everyone was so impressed by the block. Yes, even the cub master said nice cut. I will buy this block again next year.
cmsharpe2
09 Feb 2013
Sleek-n-Simple
Great for that quick and easy jump start to a pinewood derby car. It would be nice if the pre-drilled axel holes were in solid wood with no axel slots below and with a wider wheel base.
West Coast F
17 Feb 2012
What a wedge!
This pre-cut car was so helpful because I did not have to drill holes for the weights or cut the block of wood! Big time saver, and slim car design is cool too!
Flames
03 Feb 2012
Fast Car, Time Saver
This simple wedge design works great. The pre-drilled holes allow for highly accurate weight placement, a significant advantage at races. The axle slots are very straight, another significant factor in car prep. My son won his Den race (5 heats, won 4) and took 5th overall in a field of about 50 cars. We had limited time to prepare for the PW Derby this year. Our time to prepare for his race was limited, this model provided an excellent solution. My son lightly sanded the car, applied a simple paint job, inserted some good axles and wheels and was ready to go with a fast racer.
JD
28 Jan 2012
Product as described.
Spencer R
08 Feb 2023
Good
Mark D
27 Sep 2022
Have not started to build cars with my grandchildren yet but products look good. Gave 4 star because one of the bodies was put in jig backwards and weight holes are at front end, not useable. But I'm not upset, stuff happens. I would recommend and buy from you in future. Don't know how to share picture, I'm old man, not good with cell phones but build great derby cars with family for 25 years. Thank you
STEVEN B
24 Jan 2022
Great start to car
Mark D
13 Dec 2021
Fast design conveinient for weights
Saves a lot of time using this rather than making it. Having the multiple ports for weights is awesome and having the pre-drilled extended wheelbase and raised front wheel saved tons of time.
Ricky D
30 Apr 2021
As a dad without a lot of tools this made the build 100% easier for me and my son. Well worth the purchase.
Wolf Scout
07 Mar 2021
Very pleased with the purchase.
Garland S
21 Dec 2020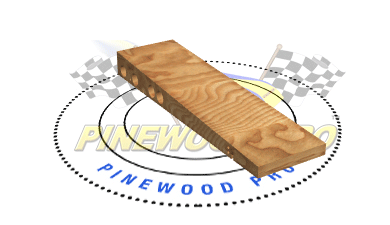 Customers who purchased this product also purchased: