Firebird Trans Am - Pinewood Derby 3D Car Design Plan
$4.95 each
The Firebird muscle car speeds to the finish line.
---
Get this immediately! Instant Download
No Shipping Cost for this item
"Accessibility, Variety, E-Z Build Process The Firebird is a straight forward sleek design. Letting my 6yr old Tiger cutout the template was another way to involve him with the building process. The web-site selections helps turn imagination (& wood block) into project reality!"
The Firebird Trans Am burns up the track! This is an easy car design - Each step is shown clearly with the help of 3D AutoCAD images.
This Firebird car design plan is packed full of instructions, graphics showing each cut, as well as prime weight placement, building hints and tips, car cut-out templates to use as a cutting guide.
You even get to see your car rotating 360 degrees and in different color schemes to help you customize your own Firebird.
Pinewood Pro 3D derby car designs are the best car designs on the market, guaranteed!
You can build this car! Our car design plans are the best on the market, guaranteed! We show you how with simple step-by-step clear, 3D images.
We show you every cut so you can't make a mistake...
Plan includes cut-out car design template, building hints, tips, weight placement for speed, six painting schemes, tools list, links for help and everything else you need.
Below are some sample pages from one of our car design plans: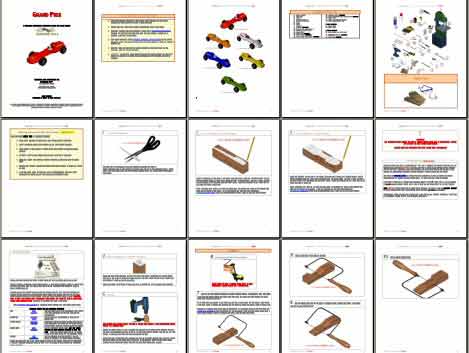 Instructions were detailed and easy to follow thank you
Tab
19 Feb 2020
Nice car, but...
I have to say this was my favorite looks wise of the cars my son did so far. The races were all very close, but it didn't compete well against the others, only got 3rd and 4th in every race. Our weights were correct, axles and wheels polished and the car weighed 4.95oz, so I don't know what we could've done differently. My son was very disappointed.
bearmom
11 Apr 2014
Great Weighted Car
The shape was a very good design and adding the weights appropriately from the rear makes this car a fast one. My son and daughter had the same design and won in both their divisions. My daughter was undefeated amongst all cars in all divisions.
SG
22 Mar 2014
Winner
Great design. Was easy to understand as this type of thing taxes my skillset. It helped me to design a cool looking car without compromising the Cub Pack rules.
Mike
14 Feb 2014
Firebird Trans Am
I have used Pinewood Pro for 4 out of the 5 years my son was in scouting. Joe offers a very good solution to a the average guy who does not have "Yankee Workshop" in his garage. a simple and cheap copping saw and sand paper and your all set.
Ben
24 Jan 2014
Lil Firebird
Nice sleek design, my son took 3rd fastest time at his school.
buddy
23 May 2014
Firebird
This template did the job for me. Did two cars from it and won all races. I would give it a five except for the fact that the template doesn't come with window.
Rugged R
03 Feb 2013
4-H Flyers
My daughters placed 2nd and 4th in their classes for speed
4-H M
18 May 2012
GREAT PRODUCT!
Love these products. Pinewood Derby designs are easy to print off and cut from using their templates. We have used them for many years now, and have never been disappointed.
Lander
21 Apr 2012
The Flame
We won 2nd place with this car. It was a nice easy build.
The F
16 Mar 2012
Fast Car, Great Design
My son took 3rd place with this car. Easy to cut, sand and paint for him.
Blue T
04 Mar 2012
Its a Winner
Body was easy to cut out. Car placed first in tiger cub event at area council derby race.
The G
18 Feb 2012
Winner!
My son won first place overall at his first ever Pinewood Derby with this design ! Thanks!!!
Proud m
10 Feb 2012
Firebird
Easy to download and easy to follow step by step directions.
Rex
04 Feb 2012
Great Pinewood Derby decals
Very Good job with the graphics, which in turn made it easy to cut.
Matt
03 Feb 2012
Third Place for Best in Show!
My Son won third place for Best in Show car design - Definitely worth the money.
Sustainable
03 Feb 2012
Firebird 3-D car design plan
Made a great looking car. Took second place in the cub scout pack race!
Connor
27 Jan 2012
Awesome
Awesome.
Awesome
03 Jan 2012
Easy design
Easy for even the most inexperienced. Also easy to customize once the cuts are made
Steve
01 Apr 2011
Easy, but good looking design
Best looking car at the race and easy for first time builder. My son's car won fastest overall!
Fast T
24 Mar 2011
Sleek Design
This car came in first place with each run in it's division. My son won first place for speed and second place for design.
Firebird
22 Feb 2011
Great, easy design
Great design, especially since there is really only one profile to cut. Also, not a lot of sharp turns, etc. which reduces sanding time. My son was able to do this almost by himself and his car looked great. Took 3rd in his pack for speed!
Cubscout M
21 Jan 2011
Firebird
Very stylish and easy to build.
The B
07 Jan 2011
Great Car!
This car is the first time I have built a Pinewood Derby as an adult. We had a great time with it and ended up with a pretty fast car that one 3rd place in overall design.
Kyle
07 May 2010
Rampaging Tiger
The Firebird is a straight forward sleek design. Letting my 6yr old Tiger cutout the template was another way to involve him with the building process. The web-site selections helps turn immagination(& wood block) into project reality!
Mowgli
25 Mar 2010
Bill C and Son
My son and I had no problems creating an almost exact replica of the white Firebird. He enjoyed working on the car and did well at the Pinewood Derby.
Robert
17 Mar 2010
Cool Car
Really cool design - we painted it a glossy whote and used the firebird stickers. It looked great and did well. A great pinewood derby year for us!
Joe
16 Mar 2010
Fastest one yet
This body is perfect for a first time builder or for the first time the scout does his own cutting. The design is simple and forgiving and, hey, it looks like a real car. Would be nice if it came with a template for painting the windows though as we prefer to do our own art and not rely on a premade applique.
Mike
15 Mar 2010
A Winner
Excellent body - it won the race!
Pack C
15 Mar 2010
Customers who purchased this product also purchased: