Shark Pinewood Derby Car Design Plan
$4.95 each
The Shark is the scariest, fastest fish in the sea....and even faster on the track!
---
Get this immediately! Instant Download
No Shipping Cost for this item
"I was pleased with the shark car design. The plans were easy to follow and the car turned out awesome! My Son won best of show with the shark car, very happy boy!"

Sharks accelerate fast and finish first!

The Shark car design plan contains multiple templates, and 3D rendered images to show exactly how to build the shark car, step-by-step.

Includes weight placement, speed tips and six painting schemes to make your car the coolest on the track. Sink your jaws into your competitors!

Get the best pinewood derby car design plans...only from Pinewood Pro.

You can build this car! Our car design plans are the best on the market, guaranteed! We show you how with simple step-by-step clear, 3D images.
We show you every cut so you can't make a mistake...
Plan includes cut-out car design template, building hints, tips, weight placement for speed, six painting schemes, tools list, links for help and everything else you need.
We even show your car rotating with a 360 degree animation so you can view it from all angles!
Download the Shark direct to your computer in seconds.
Our 3D pinewood derby car designs are the best on the market, guaranteed!
Below are some sample pages from one of our car design plans: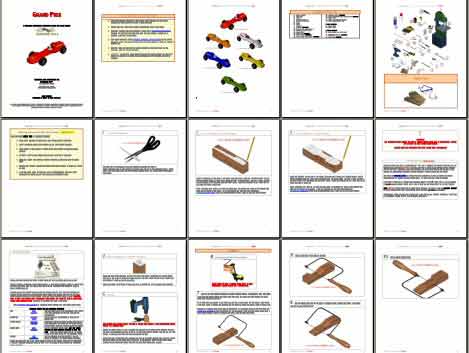 Good product at a good price
Ben H
18 Mar 2020
Great first pinewood derby race
Worked great! I brought my cub scout to the site and let him pick out the design that he wanted.
J Miller
10 Mar 2020
easy to use instructions
Jeffrey F
22 Feb 2020
Bottom tapering not allowed
I bought this design before receiving the rules of our pack's Pinewood Derby. Turns out we are not allowed to taper the bottom front of our cars because it interferes with the starting mechanism of the track. The starting gate mechanism must be very low and so the bottom front of the car must not be tapered. We are going to have to redesign the front.
Jeffrey K
22 Feb 2020
Perfect
Awesome directions
SPENCER S
13 Feb 2020
Very easy process.
Michael S
09 Feb 2020
Rounded it off a bit to make it look like a real shark - but the guides we purchased were a great place to start. Thanks!
Jason S
29 Jan 2020
Worked out great.
Philip
14 Jan 2020
Good for beginner
Very detailed instructions. Good for a beginner.
Tamara S
24 Feb 2019
Plans work well
Robert L
18 Feb 2019
Quality template, has really helped to make the process easy for me.
Zach M
04 Feb 2019
Good design and instructions
Steven C
31 Jan 2019
Nice documentation with patterns. Made the job much easier for my grandson and I.
sam k
30 Jan 2019
Have a good foundation of where to start for a first car.
Jamie P
29 Jan 2019
Shark Attack!
Great price, great buy, awesome detailed instructions!!! Will be buying from y'all again for sure!
AWarren
29 Jan 2019
It's great really for a first time builder. Now that I have a clue I probably wouldn't go this route again, but great for my first build since I was a kid!
Matthew W
26 Jan 2019
Very easy pattern
My son loved the pattern
Stephanie L
21 Jan 2019
A fantastic template that turned out great.
Gordon G
17 Jan 2019
This car is surprisingly fast.
David G
13 Jan 2019
Great help for a pinewood car
Chris V
19 Jan 2019
Shark Car
We downloaded this design with instructions for my son's very first Pinewood Derby. Cutting, shaping and attaching the fins took some time, but overall our Shark Car turned out great!
Raymond
15 Jan 2016
Great help for our 1st Pinewood Derby
Back when I did Pinewood Derby, you drew everything out by hand and hoped it looked good. This being my son's first time (and my first time as the guy doing most of the work), I was very thankful to find this site and help my son make the car he wanted. Directions were very thorough, easy to follow, and the templates make it easy to cut (once I figured out how to use a coping saw again). Can't wait for next year!
David
08 Feb 2015
Very Pleased!
This was our first attempt at a Pinewood Derby car & we didn't really know where to begin. My son picked the design & we found the instructions very easy to follow, with lots of helpful hints included. We did redistribute some of the weight, based on tips from Derby vet. But the car came out looking great & placed second overall in his pack. Not bad for a first timer!
JK's M
30 Jan 2015
Scout Favorite
As hardly a handy man, I was delighted to find such a cool car that seemed fairly simple to put together with my 8-year-old Bear Scout. I definitely had him involved in the project, as I'm not a fan of the overzealous dad that builds a masterpiece that likely wins the top prize without any input/help from the Scout. Anyway, I'm happy to report that thanks to your design and easy-to-follow directions, my boy won the Scout Favorite trophy. And though he didn't win one of the top spots in his den, he did finish first once and second place three times. Unless I missed something in the instructions, it would have been nice if there was a section for an alternative design that may be more aerodynamic. Overall, we were very happy with the end result, and you sure put a big smile on one Scout's face. Thank you!
JT s
28 Jan 2015
Shark car
The pattern was super easy to use.
Xmas
11 Apr 2014
Shark Car Eats Up The Track
Great looking design, my som's car tied for 1st in best looking car with only a basic red paint job and applied sticker accents Took a lot of dad's help to lower the weight of the front and get enough weight in the back, but ended up 3rd in the den.
Shark Boy & Lava Girls S
28 Feb 2014
Sharp looking car
Car took 1st and 2nd place. It was the first time we did the pinewood derby. So we were very pleased.
knutdog
21 Feb 2014
VERY easy!
I had never done any kind of pinewood derby cars before. When my son saw the shark design and said "I want to do this one!" I groaned, thinking it would be a pain in the neck. I was happily surprised at how easy it was to build it, as the instructions were very easy to follow. I used a coping saw, a dremel tool ,and a regular bench vise. No ugly surprises, and the little car turned out better than I had hoped for! My son placed 3rd in his den. Not bad for a first time
Gaby
16 Feb 2014
Fun Project
My son and I had a good time building this car. The instructions are straight forward and easy to follow. Built the car entirely with hand tools except drilling for weights in the rear. Cuts were easy to make. The car is heavy on the front end. You will have to drill deep to get enough weight in the back to achieve the correct balance. Drill the holes 1st and be careful as they may interfere with your "tail" cut. Ran smooth and was a hit on race day. Boys commented that they were "sorry it didnt win but at least you have a cool car"
BLM
07 Feb 2014
A winner!
We were new to the pinewood derby and my son picked out the shark car design from your site. I was extremely pleased with the detailed instructions and tips about weight distribution, materials, and do's and don'ts. We followed the instructions as best we could, and my son won 1st place in his den and 10th overall in his pack. He (and Dad) were very pleased!
ANewFan
31 Jan 2014
Super fast Shark
Son's first car, followed pattern/instructions to the letter and he won his Tiger division and came in second for the day. Put weights in center of car and had no issues with speed or track performance. Easy to follow instructions really helped this first-time Pine Wood parent!!
ccervi329
17 Feb 2013
We named it SHARKY
Step by step cut instructions are easy to follow. Great design to add the cylinder weights too. Fun and easy to build.
Sharky
25 Mar 2016
Shark
The plans were easily downloaded and easy to follow.
Mark
28 Mar 2015
NICE Car!
The Shark pinewood derby car design was fantastic and Very cool. Both my boys won Most Original Design and one took 1st in the Wolf Den.
KS M
04 May 2013
Our First Car
This was my first shot at trying to build a Pinewood derby car, and was unsure on how to go about doing it. I searched the internet for ideas and found your website and I asked my son Jared to pick a car he liked, and he chose "The Shark", for the coolness factor alone. The template was very easy to follow, and the instructions were very clear. We took 4th place in our division, but Jared was more happy with the "Coolness" than the actual results of the race. Although he did miss third by two one thousandths of a second, he was not disappointed with the trophy we built. Building the car was easy for any novice. I used a scroll saw to cut the template out on the wood, but it could be easily done with a coping saw for those who dont have the luxury of having a scrolling saw around the house. Having got our first Pinewood Derby under our belt, we will be back next year for more ideas.
Mike H
01 Mar 2013
Great Design
my friend has a nice wood working shop, so it was pretty easy to cut the small fins and sand them down to right thickness and also glue them to the body. this would be tricky wiithout the right equipment... but son was thrilled and he got a lot of compliments at the race by a lot of kids and adults.
Brad
08 Feb 2013
Easy to Use Template & Great Basic DIY Info
We downloaded this design with instructions for my son's very first Pinewood Derby. He won honorable mention for design and I'm sure we would have come in higher than that had we done better with the paint job (we went with a solid blue color for the body and glued on some of those craft squiggley eyes). Instructions could use a little improvement, but overall, very helpful, especially when combined with looking at a Pinewood Derby how to book from the local library.
tiffany-columbus
02 Feb 2013
awesome design
It was my son's. First BSA pinewood derby... he wanted something fun. The shark template was easy to cut out and piece together. Instead of just attaching the fins to the back, we routed down a bit for more stability. We probably could have tweaked more for speed, but he took 3rd place.
KRD
01 Feb 2013
Great car!!
I was pleased with the shark car design. The plans were easy to follow and the car turned out awesome! My son won best of show with the shark car, very happy boy! Thank You
Bowhuntnbrother
29 Jan 2013
GREAT DESIGN
My 6-yr old nephew chose this design for his FIRST Derby Car!! Raced well, was the only shark car there, and was fairly easy to make (we just used a jigsaw for rough cuts, and let him handle the sanding/painting/weights). He enjoyed learning to use the Dremmel tool!! Only problem was we had to add a LOT of weight!! Was approx 4.2 oz when done, but then we added stick on flat weights that day. Needed a full pack of the flat weights. Was an easy fix though.
Shark A
26 Jan 2013
shark
very easy and car came out great.
rsebas
18 Apr 2012
Shark car won best design medal
My eight year old cub scout wanted to do a shark and this design really seem to fit his abilities in terms of straight simple cuts. The instructions where pretty straight forward and easy to follow. It needs more detail on attaching the fins, we just glued them on which worked fine. We chose to add side fins behind the wheels as well, which looked pretty cool. We ended up painting ours grey and where able to achieve a pretty realistic color with a combination of grey primer and white spray paint. We painted the whole car grey primer and just oversprayed it in white with heavier concentrations of white toward the bottom. After we clear coated it, the results where better than we anticipated. The car ran very fast in its first race and won, but it ran much slower in successive races. When we got the car back after the races one of the wheels had been jacked up from obvious mishandling. If it wasn't for this, I think my son would have trophied in his den. He was happy however in that he won a medal for best design.
Kansas S
17 Feb 2012
PRETTY GOOD
It didn't have two things I needed
Joel
17 Feb 2012
Easy download - great plan (needs some modifications)
This is a good looking car (Even though this is more whale-shaped. Shark's tails go the other direction - but that's just the OCD in me
Elaine
13 Feb 2012
We Won 2nd place for BEST DESIGN!!!
My son's car won the first and second race, but not any after, but he won 2nd place for best design and will go to district!
Sharkee
10 Feb 2012
Tiger Shark
My son loved this!
Kerri W
27 Mar 2023
Great design.
We used this design to make a catfish instead of a shark. For the fin, we purchased an tear shaped disc from Michael''s, cut it in half, and put it in the groove. Tied for 2nd, but lost the tiebreaker so ended up 3rd. Not sure we had the front rounded enough. Would buy from pinewood derby again.
Timothy M
19 Mar 2023
Outstanding design. Fun for the kiddos to build!
Ryan S
18 Feb 2023
Easy to follow instructions
alex a
08 Jan 2023
Directions were clear. Everyone at the derby loved the design.
C Earl
21 Apr 2022
Neat idea, needs some work
Overall design is okay, but the templates to cut out are low resolution, and the alignment of the drilling needs to slide down a little as it breaks through the surface with the cutout by the tail.
Nathan S
27 Mar 2022
As a first time scout mom, this was incredibly helpful to make sure his first derby wasn't a complete bust!
Becca S
06 Mar 2022
Always amazing designs. Our car came in first place of the entire pack thanks to this design
Timothy C
27 Feb 2022
Great design
Anonymous Customer
24 Feb 2022
Awesome!
Ryan D
27 Jan 2022
Worked out great!
Loren R
22 Jan 2022
Great product
Chad S
28 Sep 2021
A man in our church used this template to make the kids one for vacation Bible school and they had a great time painting them and racing them!
Autum
27 Jul 2021
A quick and easy download, with step by step instructions! This was our first pinewood derby car, and he really enjoyed building it!
Stephanie W
14 May 2021
Looks awesome
My son was pleased with the outcome.
Alex
30 Mar 2021
Thanks for the help!
Jessica B
30 Mar 2021
This is a great design and easy to follow.
Kevin V
26 Mar 2021
Very easy to follow and turned out amazing
Doug P
17 Mar 2021
Perfection! Thank you!!!
Britni A
11 Mar 2021
The directions were nice and clear and it really helped us make the car my youngest wanted for his first derby race (he won!).
Sara G
18 Feb 2021
I was not aware of the times that I could use this link and did not download it.
TERRY E
02 Feb 2021
Excellent plan and templates!
Steven C
31 Jan 2021
Den Champion!
Well put together, looked great
Steven M
18 Jan 2021
Shark!!!! - in progress..
A fun Pattern! I already have a block cut out, just needs sanding and painting. Then weights & wheels... The instructions are easy to follow and well laid out. This is a very easy pattern for the young scouts to build a car from. Well worth the it! Looking good!
Brian J
29 Oct 2020
Customers who purchased this product also purchased: