Army Tank - Pinewood Derby 3D Car Design Plan
$4.95 each
The Tank crushes anything in its way.
---
Get this immediately! Instant Download
No Shipping Cost for this item
"It was easy to follow the directions, and believe me, my 8 year old grandson and I needed easy. I am a 67 year old grandmother filling in for a father stationed in Afghanistan, and my tool knowledge is small. But my grandson and I were able to build the tank."
Nothing can stop the Army Tank from winning! This is a simple car design, with full step-by-step instructions illustrated with 3D AutoCAD images.
This pinewood derby car design plan also comes with information on weight placement, hints, building tips, a complete tool list, and easy cut-out templates to use as a cutting guide.
View your car in 6 different colors, from all angles! We'll even throw in a 360 degree animation of the Army Tank derby car!
Pinewood Pro 3D derby car designs are the best on the market, guaranteed!
You can build this car! Our car design plans are the best on the market, guaranteed! We show you how with simple step-by-step clear, 3D images.
We show you every cut so you can't make a mistake...
Plan includes cut-out car design template, building hints, tips, weight placement for speed, six painting schemes, tools list, links for help and everything else you need.
Below are some sample pages from one of our car design plans: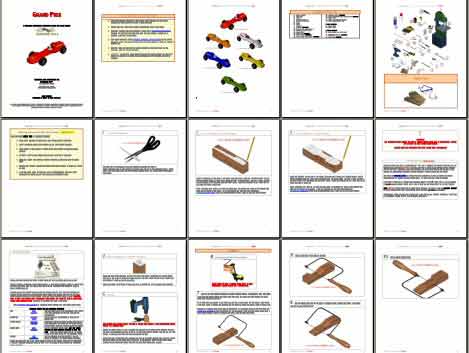 Easy to follow instructions!
Anonymous Customer
14 Mar 2020
easy to follow
we found this kit helpful, easy to follow, and thorough.
rdd
17 Feb 2016
Won 1st place for looks
My son and I had a great time building this Pinewood Derby Tank. We should have used a flat green color instead of gloss but It looked great after completion. As long as you add weight you should reach comparable speeds. The speed was average at 3.28 sec. The fastest cars reached under 3 sec on the track we used. It wasn't the fastest but commendable.
ScottandJacob
17 Feb 2016
tank plans
These plans are the BEST!
kerry
20 Feb 2015
Army Tank
Easy design to build, great and easy to read download instructions.
Scout M
30 Jan 2015
Army Tank design plan
My son earned 2nd place in his division. Be sure to emphasize importance of rounding the wheels, sanding the nails, & using graphite & placing the weights in the back.
webelos m
07 Feb 2014
Tank
The instructions were great all except for building the turret in the top of the tank. The tank was perfect weight until I added the turret and my son painted it. I had to remove weights and drill holes in the bottom to take weight off. He did not place in the race for speed but got a 1st place trophey for design.
Landon
15 Mar 2013
Easy For First Timers
My son did everything on this himself (we believe in that.) He was able to complete this using a skin for the camo color instead of painting. He built the turret using scrap pieces of wood from our kindling pile and some questions answered from us. We are very pleased and will be back next year.
G
19 Mar 2016
Army Tank
The Army Tank was a simple design and we only had to add around 2.2 ounces of weight. The Tank was very fast and we came in 3rd overall in the Tiger Division and 2nd overall in the Grand Champion event
Ross B
03 Feb 2013
Great Design
Great design that guided my son to take first place in racing and in best design. Cub Scout did sanding, painting, designing, and final details with stickers/paint. I did cutting and turret.
Steve
17 Nov 2012
Army Tank
The army tank car is nice for a beginner its easy to cut out
Matt
17 Apr 2012
Army Tank
It is built with a great desgin for speed!Took 2nd place.
Lucho
17 Mar 2012
great tank
tank ran great 2nd place overall. we bought a model tank and i installed the moveable turret. we beat it up to make it look real (my sons favorite part)
sherman
07 Feb 2012
Best Car in Show!
The Army Tank is a great little car design. My son LOVED the look of the tank. I am no craftsman with tools but was able to cut it with the design templates in this plan with little problems. My son painted it camo and we added some guns to the top of it. He won the best in show. Great time building it with my son. Will be buying again when it comes time for us to race again. Thanks!
Chris
03 Feb 2012
Army Tank a Blast!
I was worried that it wasn't very aerodynamic, but it was our first year and I wanted my son to have fun no matter what. He won 2nd place for two different packs, and had a blast!
Bleu
03 Feb 2012
#1 Army Tank
My son was completely impressed. Easy to put put together. The car came in 2nd place. This was our first race.
Buddy
27 May 2011
My Son loved it!
If you're a beginner, this is the kit for you, plus, if you have a boy who loves Army, this is the one for you.
Matt
08 Apr 2011
2nd Place Finish
Easy to follow plans. Son (tiger scout) was able to help with most of the build except for the gun touret.
Steve
28 Mar 2011
Army Tank
My son won best design Pack 7, Lowell, MA
Mike
18 Feb 2011
Fast Tank!!!
It was very fast and easy to do, he won 1st place overall in his pack. I used a gun turrent from his toy tank. This was the 1st one that I had ever built and I was really impressed.
Faster than you t
16 Feb 2011
Army Tank
Awesome design. My Tiger Scout won best in show "non-car" design. He did 70% of the work himself.
JAX
29 Jan 2011
Great plans
Great plans and pretty easy build. With some imagination, you can get really creative with it. Get a toy tank, dissasemble it, and use parts off of it for the pinewood car!
AK
16 Jan 2011
2nd Place overall!
Won best paint job and won favorite design! Came in 2nd place overall. The 1st place winner was super fast! Got lots of compliments on this car. It's very easy to use the directions on building this car. I used a turret from a toy tank instead of cutting one out and this car was just beautiful! I place a weight from the scout shop on behind the turret and painted it to match, was 5 oz exactly. File your axles smooth and plenty of graphite and it will go fast!
Army Tank M
06 Apr 2010
Faster than it looks...
My 6 year old just wanted to have a "cool" looking car that he could be proud of - he wanted to be fast but wasn't obsessed (like some parents) with winning. Anyhow, this plane was simple (modified it a bit) and fun. As a bonus, we were about the middle far as speed goes... and there were 60+ cars.
CWT
29 Mar 2010
Speedy tank
Who knew a tank could be so fast! 1st place overall in his pack.
DarbSkull
28 Mar 2010
Cool Car
Instructions were easy to follow, especially for someone with my lack of skills. My sone won 2nd place for coolest car.
Cool T
27 Mar 2010
Pinewood
easy to follow the directions
TT
17 Mar 2010
Easy to follow
This was a great help and a great step by step plan to follow.
David
16 Mar 2010
A WINNER DESIGN!
My son won most creative design at his Cub Scouts Pinewood Derby race last month. It was easy for him to paint the camouflage and it turned out great!
Glenn
16 Mar 2010
ARMY TANK
WE LIKED THE WAY IT LOOKED AND THE WAY IT RACED WE ARE GOING TO USE YIOUR HELP AGAIN NEAXT YEAR. SINCE DAD WILL NOT BE HOME TO HELP AGAIN.
GRANDMA
15 Mar 2010
Army Tank Pinewood Derby design
Overall body design is great. The car is still heavy so you don't need a lit of extra weight. Turret design can be modified with a dremel tool to round out the gun. Polished axels and wheels made all the difference! Son loved the car and was a 2nd place winner!
FFD649
15 Mar 2010
great
Very easy to follow and able to do.
Jedi
15 Mar 2010
Army Tank
Bought this for my nephew that came over to build his car and had no idea where to begin. He liked the looks of the army tank. Ordered the plans at noon and we were done with everything but the painting by 5 PM. He reported that the car did very well in the races
Jake
15 Mar 2010
The instructions were very easy to follow.
Alicia L
16 Feb 2023
Customers who purchased this product also purchased: