Skateboard - Pinewood Derby Car Design Plan
$4.95 each
The coolest fastest car on the track
---
Get this immediately! Instant Download
No Shipping Cost for this item
"The plans were very user friendly and written well. They were detailed and specific with measurements and tools that were needed to complete the project."
Skate to the finish with your skateboard pinewood derby car!
Complete pinewood derby design plan includes AutoCAD graphics showing each cut of the car and full instructions!
We'll even show you where to put the weight, include building tips, a tool list, and extremely clear cut-outs to use as a cutting guide.
We'll even let you see your car in 6 different colors, to save you the paint of experimenting, plus you get a 360 degree animation of the skateboard pinewood derby car so you can view it from all angles!
Pinewood Pro 3D derby car designs are the best on the market, guaranteed!
Kids love the Skateboard car because it looks just like the skateboard they fly down the street with. They can paint their skateboard car just like the one they roll around with or use our cut-out Spiderman template.
This car is deceptively easy to build but needs a lot of care around the wheel supports. Our cut-out templates and step-by-step instructions with fully illustrated with 3D AutoCAD images show each cut so anyone can build this car. The plan includes weight placement building hints, speed tips and a painting guide.
Skate by your competition on your very own skateboard derby car!
Each of our Car design plans include:
Cut-out printable car design template patterns
Building hints and shortcuts
Safety tips
Building tips, including do's and don'ts
Weight placement to maximize speed
Six painting schemes
cut-out decorative patterns
360 animations so you can see your car from all angles
Tools list
Embedded links for everything you need to build this car and make it fast.
Download the Skateboard car plan direct to your computer instantly!
Below are some sample pages from one of our car design plans: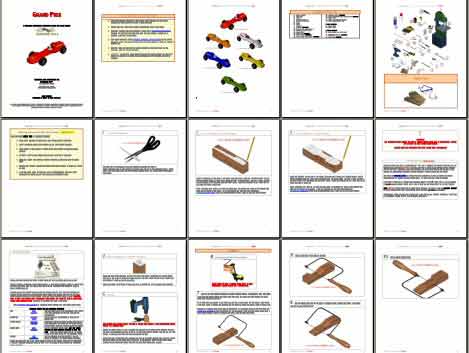 Good tips for someone new to building pinewood cars
Donald H
28 Jan 2019
This is great!!
This allowed me to download a plan for a Pinewood Derby car as soon as I paid for it. I plan on reviewing more plans with my son, to download plans for the future.
Skateboard
18 Feb 2016
Good fun plan, easy for kids
My son and I used this design to create this years pinewood derby car. Overall we are very pleased with the design and we are very glad we used it. Here are some thoughts
Greg
04 Jan 2014
Isaiah
Really cool design! Grandson got lots of compliments. We got is to weigh in at 4.55 oz and he beat everyone at the practice races. We will get the weight up to 4.99 oz. for the Finals in 2 weeks.
I'
12 Jan 2015
awesome
My 10 yr old grandson loved it.
TJ
14 Feb 2013
Cool skateboard
Had to add a lot of weight with little room to put them. Suggest tungsten canopy for top weight or drill holes for cylinders and BB's.
Bpb
25 Jan 2013
Great
Awesome
None
29 Apr 2012
Coolest race car!!
The skateboard race car was a great pattern and the quick download was a plus! Our grandson's model won "Coolest Car in the Den". Many thanks!
Grif
10 Feb 2012
Easy, Fast and Fun Design
This template worked extremely well and it was very easy for my son to follow. He enjoyed creating the car and it came out looking awesome. Received several compliments at the race.
Surge
05 Feb 2012
Cool Skateboard
My Bear had a great time building this car - it was very easy to do! The only tip is to be careful when cutting out near the axle groove - we cut too close and the wood split when we put the axle on. After lots of wood putty and a weight that screwed on, we were able to get the wheels on.
Jake's M
27 Jan 2012
fast, fast
this pattern was very easy to complete. I cut away too much near the front wheels and the wheels had a hard time staying on (my mistake), but in the end this model flew down the track. we would have won first place had the jerry-rigged wheel not have turned inward on the third leg. Would highly recommend this design!!
alwaysridin
22 Apr 2011
Best in Show!
My son loved this design! It was unique and easy to use and he even one "Best in Show"! Great product.
Tiger C
30 Mar 2011
great design!!
wonderful instructions! very easy to follow and great photos...my son won best eye appeal with this design! Thanks!
carrico27
23 Mar 2011
Very Easy, Nice Design
Instructions were very easy to follow. Nice, sleek design - my 7 year old is into skateboards and loved this design right away. does take a lot of the wood off, so be sure to leave extra wood in the back for the weights - you will definitely need to add quite a bit of weight.
YogaMama23
11 Feb 2011
1st Place, Non-Car Design!
4th overall in speed, 1st in Design! Fun "car" type for adults and kids alike!
Derby D
09 Feb 2011
1st Place Design!
Awana Grand Prix!
racing J
31 Dec 2010
Fast Skateboard
Use a band saw or scroll saw to cut for Tigers & Wolves; Bears and WEBELOS might like the challenge of cutting with a coping saw. When printing, trial and error is necessary because printer scaling errors occur, as with all drawings. Use your printers properties page to enlarge/reduce to get the drawing to scale when printing. My son added a "curl" at the front (like the one in the back) to get some extra lead time coming off the starting pin. Thanks for giving us "creatively challenged" racers plans like these.
Tony
26 Mar 2010
took 2nd place
sleek and fast.won almost all the races.lost first by split seconds plus ribbon for sporty design
bulldog
20 Mar 2010
1st place in the pack!
My son won first place in the pack with this design this year, and last year another boy with this same design won second place in our pack. It almost came completely apart for my son however when the wood holding the axle broke in the second to last race. THE SAME THING HAPPENED TO THE CAR THAT GOT 2nd PLACE LAST YEAR! I thought it was all lost but another dad grabbed a hot glue gun and put it back together quickly. The heat in which the wood broke was the only heat the car didn't win. If you are making this design, err on the side of leaving too much wood around the axle area when you make your cuts and have some hot glue ready. I give this design four stars because it is simple, which makes it a great car for your son to do a lot of the work on, and it's fast which means he sees a reward for his work.
Cubmaster D
15 Mar 2010
Fun
Cool design and turned out just as good as the ones being sold pre-cut by revil. My ten year old had a great time
dae
15 Mar 2010
Skateboard
He had fun making it with his PaPa it took 4th place in his Pack and Best in Show. Thanks for the help.
Kaleb
15 Mar 2010
This was a big hit!
My son was excited about his first Pinewood Derby. He didn't have any ideas he loved (but he's really big into skateboards) so when we browsed the plans at Pinewood Pro, he lighted on this one immediately. i ordered it, and had it right away. He worked very hard on it, and he got tons of great comments on how great his "car" looked. He won his pack and is heading to districts...
CeltsFan
15 Mar 2010
Totally Satisfied
My son took first place in the Pack and I fully believe it was because of these quality products
None
15 Mar 2010
Great Product
The plans were very user friendly and written well. They were detailed and specific with measurements and tools that were needed to complete the project.
Nate
15 Mar 2010
Great Design
We followed the directions and every body loved the design.
JB
15 Mar 2010
My son was happy with it!
Rachel W
10 Feb 2023
Great digital files
My son and I really want to do a skateboard for his derby car this year, so this is great.
Brandon S
14 Jul 2022
2nd place in our den for my scout!
Monica B
28 Jan 2021
Customers who purchased this product also purchased: