Spiderman - Pinewood Derby Car Design Plan
$4.95 each
Nobody catches the Spiderman car...nobody.
---
Get this immediately! Instant Download
No Shipping Cost for this item
"My grandson won every race in his den and set a new speed record. Aerodynamics were perfect"
Build the Spiderman pinewood derby car with our step-by-step design plan! Spin your web and race to the finish line!
Complete pinewood derby design plan with full instructions, 3D AutoCAD images of the car showing each cut, weight placement, hints, building tips, tool list and car cut-out templates to use as a cutting guide.
We even show you the car in 6 different colors!
NOTE: Spiderman Decals are NOT included.

Plus you can watch your car rotate around with a 360 degree animation so you can view it from all angles!

Pinewood Pro 3D Pinewood Derby car designs are the best on the market, guaranteed!
You can build this car! Our car design plans are the best on the market, guaranteed! We show you how with simple step-by-step clear, 3D images.
We show you every cut so you can't make a mistake...
Plan includes cut-out car design template, building hints, tips, weight placement for speed, six painting schemes, tools list, links for help and everything else you need.
Below are some sample pages from one of our car design plans: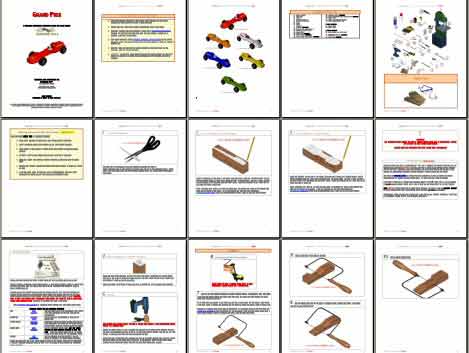 Download the Spiderman Template direct to your computer in minutes.
Our 3D derby car designs are the best on the market, guaranteed!
They download worked well.
Stephen P
06 Jan 2019
Derby Car
This design is super easy to build and we did really well in our derby. We had the 2nd fastest time ran overall and finished 2nd in our division. We will be running in regionals and we are hopeful it will do well there.
DJ
24 Jan 2014
Great!
Made this project SO much easier for a Grandma to help her best and only grandson with!
KMG
13 Jan 2014
Winning Design
We got this design the day before the Pinewood Derby. It took us no time to cut it out. My son has fun working with me on the car. He ended up winning 1st Place in the Weblo's 1 & 2 !! Needless to say he was THRILLED!! We will be back to your sight next year!!!
Howard
04 Mar 2013
Great Design
My son took second overall in his local competition with this design. He won all races. Fastest time was 2.68 seconds.
Tim
18 Feb 2012
spiderman derby car design
my grandson won every race in his den and set a new speed record. Aerodynamics were perfect
Kobra K
11 Feb 2012
Customers who purchased this product also purchased: