Army Humvee - Pinewood Derby Car Design Plan
$4.95 each
The Army Humvee crushes the competition
---
Get this immediately! Instant Download
No Shipping Cost for this item
"Excellent design...easy to do. We made "bore holes" in front, top and the two recommended in the back to add weight, then covered with wood glue. The design won award for best looking car, and we also won the local race...faster then it looks."
Roll over the competition with the Army Humvee Hummer pinewood derby car design.
This is an easy car to build!
This design comes with a complete 3D plan with clear, step-by-step instructions, as well as 3D AutoCAD graphics to help you build your car.
This plan also helps you with weight placement, gives you speed and building hints, tells you exactly what tools you'll need, and includes car cut-out templates for use as a cutting guide.
We'll even show you your Humvee rotating 360 degrees so you can view it from all angles and we'll let you see your car in 6 different colors to help you decide your own color!
Pinewood Pro's 3D derby car designs are the best on the market, guaranteed!
Build The J19 Army Humvee Pinewood Derby car with our easy step-by-step instructions, fully illustrated with 3D images that show each cut, along with templates, weight placement, speed tips, building hints and painting guide.
Each car design plan comes with cut-out templates so you can't make a mistake.
We even show your car in 6 different camoflage colors,
plus give you a 360 degree animation of the final car so you can view it from all angles!
Below are some sample pages from one of our car design plans. Each plan is over 30 pages of detailed step-by-step instructions, essential speed tips, color schemes along with direct links to everything you need to make your car.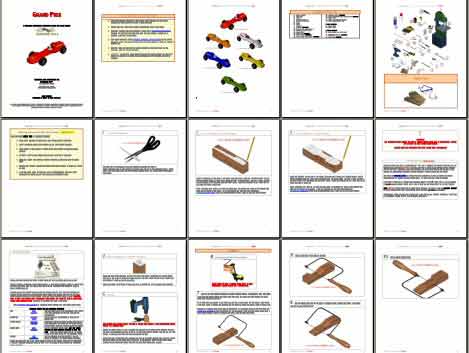 Nothing stops the Humvee....nothing.

Pinewood Pro 3D pinewood derby car designs - the best on the market, guaranteed!
Visit our full pinewood derby car picture gallery and enter a picture of your car!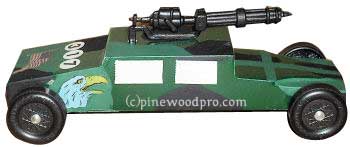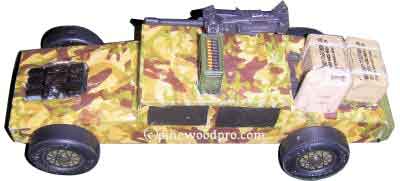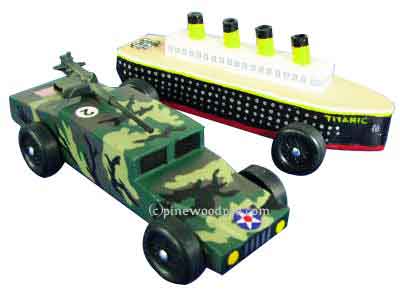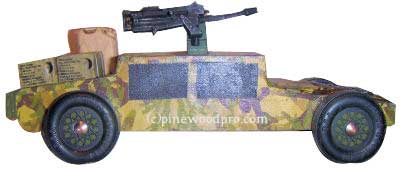 Excellent guidance. Thanks!
Stephen T
28 Feb 2019
Humvee
This was a great car to build. My 8 year old and one of his buddies did most of the work. I helped with the cutting and final weight installments, but my son did the rest. The large flat surfaces were easy to cut, paint, and add accessories. He really tricked it out with extra guns, shields, exhaust stacks, etc. Even though it wasn't very sleek it was still very fast. He placed second in his den and was one of the fastest cars in our pack (45 cars racing)
Fisher K
06 Feb 2015
Fastest time of the day!
The plan was simple to follow. We added the gun and some exhaust stacks, (purchased at Hobby Lobby) and painted it. This was our first car so I was surprised at how much weight we had to add to get it to the 5oz. But we took 1st place in the Tigers and had the fastest time of the day! Thanks for the help! PS It looked like the one I used to drive!
Hummer
15 Feb 2014
Easy and Effective
Easy to cut, and the flat camoflauge paint job is easier and more forgiving than a highly polished model. Won 1st place in my son's Den race, and also won Concours. Had some trouble in the Pack finals though, and only placed 4th, but still a good design overall.
Brian
09 Feb 2014
Humvee design
Easy download, easy design. My son had a lot of fun helping paint this car. Didn't place but the memory will last forever!!
May
26 Mar 2013
Easy!
I have used these plans 2-3 times now. Money well spent given the amount of time saved. Good design, easy to use directions. Only trick is to ensure your printer settings are set properly to print to scale.
Joe B
20 Mar 2013
Great Instructions
While one could imagine making these cuts without the instructions, the template made it easy to get the proportions right. The car looked very good in the end.
Mark
11 Mar 2016
Army Humvee
My son's Humvee came in 1st place in the first round of races
Kathleen
11 Mar 2015
Humvee Heaven
nice, cool shape, ran like a champ and had fastest time overall at his school Family Fun Day
big b
23 May 2014
Awesome
This plan had great information and advice. My son went from last place in 2012 to 2nd place finish in 2013! Thank you for all the tips, hints and tricks on making the car faster and getting just the right weight! thank you! We will definitely be ordering another card design next year!
speedy c
03 Apr 2013
Great Plans!
These are the second set of plans I've purchased from Pinewood Pro. They are well thought out and easy to follow. Bothe of our cars have turned out great, and they raced very well!
Mayo5150
19 Feb 2013
Easy to follow dirctions
I followed along page for page and I could not have completed the project with out it.
Mov'in Down the T
18 Jan 2013
Army Humvee Plans
Pinewood Pro makes car design and layout simple and easy to master. The templates and extra information are great and simple to use to create a different car/truck that will set my son's entree apart from the rest.
GPE
09 Jan 2013
3-D army humvee car design
it was a success at the race. everyone there loved it. my son took first place for most realistic, second place in his pack, and third over all. the only thing i would have done different is, i would put something on the tires to make them spin more freely. but otherwise well worth the money.
Bobby
02 Mar 2012
Great Fun
The car was a lot of fun to build My son and I painted it purple, black and white. we added some stickers and made it a Baltimore Ravens hummvee. Looked fantastic but wasn't that fast.
LPRMRR
02 Mar 2012
excellent car design plan
My son won 1st in show for the kids and adults with his Humvee Car! Very satisfied this car design plan. This was his last year in Cub Scouts. Thx!
heady
26 Feb 2012
Army Humvee
This was a fun and great first time durby car project for me and my step son. He loved the design of the Humvee and he did everything except for most of the wood cutting he got tried so I had to finish the job. Thanks for the easy instructions and this was a great project to be able to do with him.
Lilman
25 Feb 2012
Great plams
We liked the Army Humvee plans. It was easy to cut. I had difficuty wiith making the hood rounded as pictured but other than that it was easy to do. We won our pack's derby oiut of 27 cars!
California
19 Feb 2012
great plans
My son came in second place! Easy to follow and included good hints in directions.
laprincipessa40
18 Feb 2012
Army Humvee Pinewood Derby
Instructions were well documented and pictures were clear, easy to build and great looking car.
Humvee
12 Feb 2012
Very Helpful
My son won first place in the Wolf den races and most creative in the pack.
Jonathon D
10 Feb 2012
Army humvee car
Son loved building this car and it came out cool.
Bill
27 Jan 2012
wicked cool
best car design ever!
army m
23 Jan 2012
Army Humvee
My son loved it and so did everyone else . He took 1st place in his heat and eventually took grand champion .
Steve
08 Apr 2011
First Place Winner/Third Place for Pack
Our grandson in California wanted a military vehicle for his pinewood derby. We sent him this one, along with the military skin we purchased from this site. The car was easy to replicate, the skin, not so much!
Oma
18 Mar 2011
My son loved this!!!
For a first timer like myself this product made everything so easy. I'm not a handy man but I didn't need to be, I just had to know the basics.
GunShow
22 Feb 2011
My son loved it!
Our car turned out great this year. Much nicer than last year and I only had a week to build it. It wasn't a difficult shape to cut. I would have liked to front to have been a bit more authentic in the shape. Not sure it the weight holes caused the car to be too back heavy. I would build it different with the weight a bit more forward over the back wheels.
kjellster
19 May 2010
Easy Car to Build
I have purchased plans from pinewoodpro.com for the past two years. These plans are very well written and easy to follow. Almost idiot-proof. My son finished in 5th out of a field of 36 with this car. That marks his highest finish in his career. I highly recommend this, and any other plan that is available at pinewoodpro.com
Marc
09 Apr 2010
Army Humvee
My son loves camouflage designed cars so we picked this one. The instant download is great for beginning quickly and having plans uploaded on the computer to read or print as needed. The design came in 3rd place in his race and at times beat other cars. The winning secrets book with prep ideas was a tool I used but didn't follow all the steps so our car could have been improved with using some or all of those ideas.
Debbie
02 Apr 2010
Army Humvee
Great instructions...easy to follw & build!!
Connor
19 Mar 2010
Great design!
My son really liked hte end result of the Hummer. We used a dremel, so it didn't turn out exactly as the pictures, but it was definitely close enough. I liked having the ability to download the plans immediately as well.
Nick
17 Mar 2010
Army Humvee
Had a great time working with my son on this project. He is only 7 and was able to do all the cuts himself, with some guidance and supervision from me. He also did a mojority of the painting. We did 3 colors and made a nice camoflage Humvee. He just missed the finals as well. Very fast vehicle despite the "clunky" looks of a Humvee.
Roland
16 Mar 2010
Good plans
The plans were excellent. I'm not very handy with toold, so the step by step really helped a lot.
pabloc
15 Mar 2010
Army Humvee - pinewood derby 3D Design Plan
I really liked these plans because they were easy for my boy to follow and we were able to be creative with the plans. Won best in show with this plan
Phil
15 Mar 2010
2nd place overall design!
This one was a lot of fun. My son picked out all the colors we used, and added a lego soldier to it, along with a couple other details.
Roscoe
15 Mar 2010
awesome
Excellent design...easy to do. We made "bore holes" in front, top and the two recommended in the back to add weight, then covered with wood glue. The design won award for best looking car, and we also won the local race...faster then it looks.
Mike
15 Mar 2010
Army Humvee 3-D Design
My son and I really enjoyed these step by step plans they made this project a great success, and our second year running a major difference knowing we didn't have to stick to the same plans year after year. Please continue to help inspire us with grand ideas.
R. Lake Toop 4044
15 Mar 2010
It was great. Easy to build and was able to do it together with my son. Sneaky fast too as he took 2nd place in his den.
Randy S
30 Jan 2023
N/A
Ronald Mickler J
07 Mar 2022
Great Item
Great item
Richard J
11 Feb 2021
Customers who purchased this product also purchased: