Batmobile - Pinewood Derby Car Design Plan
$4.95 each
Nothing beats the batmobile...nothing.
---
Get this immediately! Instant Download
No Shipping Cost for this item
"The plans that I downloaded were 30 pages long and walked you each and every step for making the car. Great for someone who is not a savvy wood worker or carpenter!!"
You can build the Batmobile, batman car! Illustrated step-by-step with 3D graphic images makes it a snap.
Batmobile derby design plan comes with complete, clear instructions, 3D images of the car showing each cut, weight placement details, speed hints and building tips, as well as a tool list and car cut-out templates to use as a cutting guide - it doesn't get any easier.
You can even see your car in 6 different colors schemes, to help you customize your own Batmobile.
Pinewood Pro 3D derby car designs are the best on the market, guaranteed!
Our Batmobile car design plan shows you how to build the batmobile from the standard pinewood derby wooden block. The plan includes simple, clear step-by-step 3D images showing each cut so you can't make a mistake.
Car design plans include:
Cut-out printable car design template patterns
Building hints and shortcuts
Safety tips
Weight placement to maximize speed
Six painting schemes
cut-out decorative patterns
360 animation so you can see your car from all angles
Tools list and embedded links for help and everything you need...

Below are some sample pages from one of our car design plans: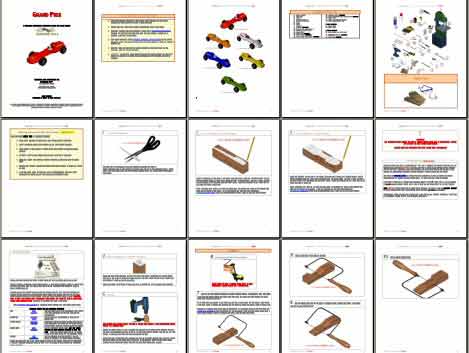 My husband and grandson had fun making this derby car.
Cheryl M
06 Feb 2019
Satisfied Customer
Templates and instructions were on point and my Grandson and I made a great looking "Batmobile" and placed second in our race.
Batmobile
30 Jan 2019
great product!
This was our sons first attempt at pinewood derby. His love for Batman clenched the purchase of this design. My husband and son enjoyed the challenge & having a pattern made all the difference. Best part is his car took first place for speed!
Mania
14 Mar 2014
Awesome Design
This was the second year in a row that I used pinewood pro for a car design (my first design was lightning McQueen). My sons car came in 1st 15 of 16 races for pack 64 and took first in the den and pack finals. Then we went to district finals and came in second by 0,005 seconds, THREE trophies for my $4.95 was definitely worth it!
Ken
08 Jan 2014
batmobile
Very good plan, gives step by step cuts. Cool car!
bat
14 Feb 2013
Helpful plan
I sanded mine more to make it more streamline with no box edges. I would have won best looking , but I guess they don't do that anymore..Take a look on my FB page.
Dark Knight F
09 Feb 2013
Batmobile
The Batman body design is a really cool and sleek design. Good Design plan, tail fins slightly challenging. The car performed great and was fast
Reece R
03 Feb 2013
Great Car and Fast
Excellent Car!! Plans were easy to read and to construct!! I am NOT a wood worker or a shop person so the rear was a little complex, but I got through it and we took 1st in our Den and 5th overall in our Pack as Tigers!!! With a little tweaking we could have done even better but it was our 1st year racing!!!
Yooper B
30 Nov 2012
Batmobile 2012
We loved making this car. The only issue we had was the tail fin, it was a bit much to cut so we modified it ever so slightly. It still looked amazing and he got compiments on his sleak design. It raced awesome. It was first in several of the races and then the big guns won,lol.
WEBELO M
09 Nov 2012
BATMOBILE CAR DESIGN PLAN - EASY AS 123
THE PLANS WALKED YOU STEP BY STEP LETTING YOU KNOW EXACTLY WHAT YOU WOULD NEED TO DO. SO EASY THAT MY NINE YEAR OLD COULD FOLLOW THE STEPS. HIGHLY RECOMMEND.
BATMAN
24 Feb 2012
Batmobile
Overall a great way to build a unique and exciting derby car!
Sarah
12 Feb 2012
Great Plans at Great Price
The plans that I downloaded were 30 pages long and walked you each and every step for making the car. Great for someone who is not a savy wood worker or carpenter!! Plans were easy to understand and went into good detail. The price was fantastic and getting the plans instantly was a bonus!!!! We finished 1st in our Tiger Den and 7th overall in the Pack (out of 50 boys) It was our first Pinewood Derby. Would definately recommend Pinewood Derby Pro to anyone!!!!
Tiger Den 1 L
03 Feb 2012
Barnobile 3D Design
My son and I were pleased overall with the out come of this design. I lacked the proper power tools to build exactly as imagined however the design we ultimately finished with was very similar, and he finished second in his division and we're off to Districts on March 19. Wish us luck!!! Thank you guys, we WILL be using your methods again next year as well!
JC
18 Mar 2011
Pinewood derby batmobile
I was very happy with the whole instructions, it was very informative!
jerseycow2000
11 Mar 2011
Great Design
This was our first car and it came out great. I had to do most of the cutting as my son is only 6, but we came in second in our pack and 9th overall in the pack. My son loved the look (we ended up painting it like a hot wheels car rather than batman) and has played with it constantly since the derby. Directions were very clear and made the project fun!
Matt
26 Feb 2011
Great Plans!
The plans were very clear and easy to follow. I have seen terrible plans, but these are great! The car performed well, just missed out on a trophy!!! Also, the plans provide plenty of opportunity for customizing to individual tastes.
Mayo5150
31 Jan 2011
Batmobile
My grandson was excited to get it after I cut it out and had fun painting it along with racing it. It was his first and didn't win a trophy ,but he was happy. That's what matters !!!
Jay
21 Nov 2010
Pinewood Derby
We varied the body desing by making the cockpit rounded with more grooves for the fins, making it look more bat-like and sleek. Painted it purple and added the decals and the accessories, hood scoop and much urethane. My tiger cub finished 2nd, got best superhero car, and is on his way to districts. Overall, good experience.
Rob
05 Apr 2010
Great design
Has great directions. Easy to follow and understand. Good illustrations. Some paint stencils were not included. But, after emailing website about omission, they were immediately emailed to us. My son did not win, but he had a great looking car.
K.
25 Mar 2010
Batmobile (A Winner)
My son won 2nd place in design with the Batmobile. The first place winner was the bathtub. The Batmobile design was fairly easy to do and stood out against all other cars. Both my son and I enjoyed doing this project together and now we have a trophy and newspaper article to stand for all our hard work.
Rebecca
18 Mar 2010
Batmobile
My son loved his car. Although he didn't win any prizes, he still had loads of fun.
Bubby
16 Mar 2010
Great Buy!
This was a great buy. My Cub Scout was extremely happy with the design. Great service from the company! Detailed instructions and excellent designs.
D. Groth
13 Mar 2023
My son was very happy with his batmobile
Thomas D
27 Feb 2022
This was a great design and ended up winning the best design in the troop.
JASON R
15 Mar 2021
Customers who purchased this product also purchased: